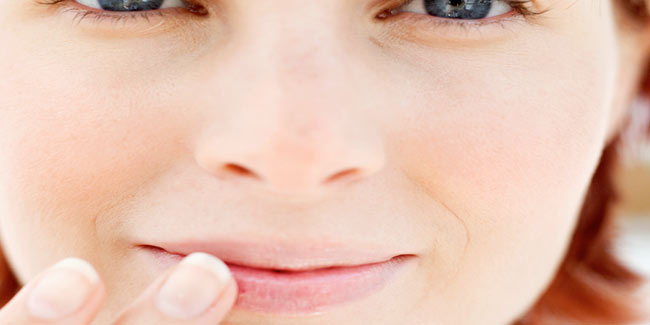 Lip balm is elementary to lip care, which shields lips from sun, wind, dry air, bacteria and salt from food. Lip balm help reduce dryness and protect lips from the elements. Sometimes an expensive cosmetic product or something containing petroleum or other chemicals, the natural alternatives of lip balm seems better.
Homemade lip balm, prepared with natural ingredients, serves the purpose of lip balm, i.e., to moisturise your lips. There are many ways you can make your own lip balm at home to care for your lips. With A few ingredients that can be found in your kitchen shelf, you can create a lip balm that will make your lips soft and supple.

Recipe #1: Lip Balm of Natural Oils and Aloe Vera
A lip balm of natural oils and ingredients such as aloe vera can be truly healing and moisturising for lips. For this recipe, you need with you beeswax pellets, safflower oil, sweet almond oil, grape seed oil and aloe vera concentrate.
Measure the beeswax pellets, safflower oil, sweet almond oil and grape seed oil into the top of a double boiler.
Heat it slowly on low heat, stirring it continuously until the wax melts completely.
After turning off the heat, once you see that the solution is thickening, add the aloe vera concentrate to it. Stir it for 2 minutes.
Allow the balm to cool. Make sure you pour it in a container that has a lid on.
Recipe #2: Lip Balm of Cocoa Butter, Almond Oil and Honey
For this recipe, you will need beeswax, cocoa butter, sweet almond oil and honey.
Mix 1 teaspoon packed beeswax, half teaspoon cocoa butter and 4 teaspoon sweet almond oil to heat-proof measuring cup. Add up to 1 teaspoon honey for flavouring.
Take a pan with 1-inch deep water and set the measuring cup in the pan.
Place the pan on the stovetop and heat on low.
Stir it until the wax melts.
Add a few drops of essential oils.
Pour the solution into containers and allow it to cool.
Recipe #3: Lemon Lip Balm
Take a teaspoon of beeswax in a pan and heat it.
Add a teaspoon of petrolatum jelly and 4 to 5 drops of lemon oil to it.
Turn off the heat lid and pour the solution into a container with a lid on.
Recipe #4: Honey-Petroleum Jelly Lip Balm
Heat a tablespoon of petroleum jelly and half a teaspoon of honey.
Heat it and stir it for at least 3 minutes.
Remove it from heat and pour it to a container.
Let it cool.
Read more articles on Skin Care.