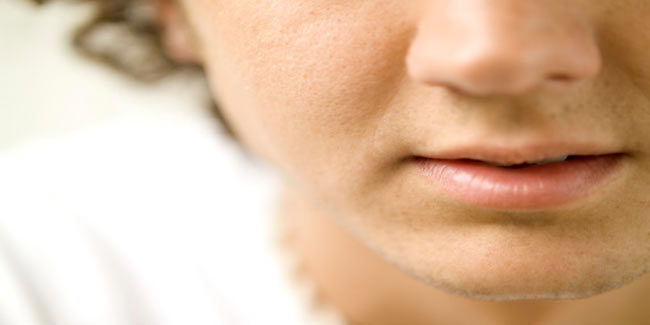 Pores, they are like the wrong colour of the sky in a Picasso painting, a beautiful creation that is marred with hateful external force. They are a tragic consequence of many skin care mistakes.
To have a pore that refuses to stay clean is a terrible plight. If it is any consolation, open pores on the face is one of the most common skin issues that people experience. But, a news you'd like to hear is that it is easy to shut the pores close with the help of home remedies. Yes, the good old remedies from your kitchen can work wonders in preventing and healing open pores on the cheeks or pretty much anywhere on the face.



Clean up
One of the best home remedies for open pores on the cheeks is to keep them clean. As long as you sleep on the dirt accumulated throughout the day, you are very likely to never let the pore close. Wash your face at least a couple of times a day, but make sure that you do not use a highly acidic face wash or worse, soap.

Method of application: Try taking a spoonful of an over-the-counter cleanser and pour few drops of hydrogen peroxide onto it. Now try to wash your face with this mixture; as this concoction bubbles upon application, it will lift the dirt and prevent further damage and pollution of the skin.
Ice pack/water
Another of the many home remedies for open pores on face is one that involves the use of ice. This hard form of water is a simple and effective home remedy as it helps in shrinking large pores due to its ability to tighten the skin. Rubbing an ice cube on the sin can minimize enlarged pores before you are able to apply make-up. Besides, the sudden change in exposed temperature will set the blood circulation right, promoting a healthier skin.

Method of application: Can't figure out how to go about using this remedy? Well, wrap a few ice cubes in a clean washcloth and hold this on your skin for about 15 to 30 seconds. Do this a couple of times every day. You can mellow the frequency down to just a few times every day if you see things changing for the better. If you do not want to get into the whole business of getting a pack out of the refrigerator, etc., just wash your face with ice cold water.




Apple cider vinegar
One of the best treatments recommended for people with open pores by all the dermatologists is the use of astringent on their face to remove excess dirt. But, if you are apprehensive of buying OTC astringent, you could just use apple cider vinegar, which is a natural astringent and skin toner. Not only does it tighten your skin, but it also reduces the number of large pores, restoring the skin's pH balance. Besides, it has immense anti-inflammatory and antimicrobial properties that help it to treat acne breakouts (a common problem among people suffering from open pores). Apple cider vinegar therefore, proves to be one of the best home remedies for open pores on face.

Method of application: Mix Equal parts of organic apple cider vinegar with water in a bowl. Now, soak a cotton ball in the solution. Apply the mixture on your face with the cotton ball. Let this mixture on your face to stay for a couple of minutes until it dries before rinsing it off with water. For the best results, use this home remedy after cleansing your face every night.
Sugar Scrub
Sugar scrub acts as a great exfoliant and is therefore, one of the most popularly use home remedies for open pores. As it exfoliates the skin and removes excess oil as well as impurities, it reduces the number of large pores and tightens the skin. Make sure to use sugar powder instead of granules, which will in fact, turn out to be counter-productive.

Method of application: Take two tablespoonfuls of sugar, one tablespoonful of olive oil and a few drops of lemon juice. Mix these ingredients well and gently rub it all together on your skin for about 20 to 30 seconds before washing it off with cool water.

So, now you know what you should do the next time you look into the mirror and are terrified looking at the open pores. They will soon be history!

Read more articles on Home Remedies for Skin.

Image Source: gettyimages.in