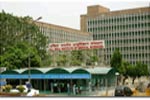 Dr Chandralekha, HoD at AIIMS, after her husband suffered reactions from two drugs provided by the hospital, has written a letter to the chief, about the substandard quality of those drugs.
AIIMS, for several years has been able to maintain high standards of quality while seeing large numbers of patients (3.5 million in 2006) at very low cost to patients, many of whom live in extreme poverty.


But what if the head of the department of anaesthesiology at AIIMS would write to the medical superintendent over the "poor quality of life-saving drugs"?

This is exactly what has happened. Dr Chandralekha, after her husband suffered reactions from two drugs provided by the hospital, has written a letter to the chief on March 25, quoting the brands of the drugs supplied by the hospital.

She also sent samples of the drugs to him for testing. The second of the two drugs- prednisolone was allotted to control the reaction from the first drug. This medicine is commonly used to treat inflammatory and auto immune conditions in patients.

"Such spurious life saving drugs should be withdrawn and banned immediately... in the "interest of patient safety. Prednisolone is a life-saving drug and used in emergency situations quite often. I am seriously concerned with substandard life-saving drugs," she said.

According to Dr Chandralekha's letter, her husband had first developed uticaria (deep rashes) all over his body after taking amyril. Amyril is a drug that helps control blood sugar. He had been taking the medicine for 3-4 years. He was diagnosed for "drug reaction" and was allotted several anti-allergens, including predisolone for five days.

"Despite giving such heavy doses of anti-allergic drugs, response to treatment was not satisfactory, rather negligible," Dr Chandralekha wrote.

"It was decided to stop tablet amyril immediately which he was taking for the last 3-4 years and change the prednisolone brand. Advice was taken and the brand was changed and procured from the market," she said.

The same drug from a new brand procured from outside the hospital, and stopping the other drug, resulted in a "dramatic" response to the treatment within eight hours, she said.

"This problem was detected just because we are living on the campus with a pool of doctors around us, watching the patient personally," Dr Chandralekha.

The brand of the drug amyril, purchased by the hospital, was also changed recently, she said.
Sources said the supplier of the emergency drug predinsolone, which Dr Chandraleka quotes as having been given to her husband, has already been barred by the institute.

Source: Financial Express

Image Courtesy: http://www.brovis.com
Read more Health News.