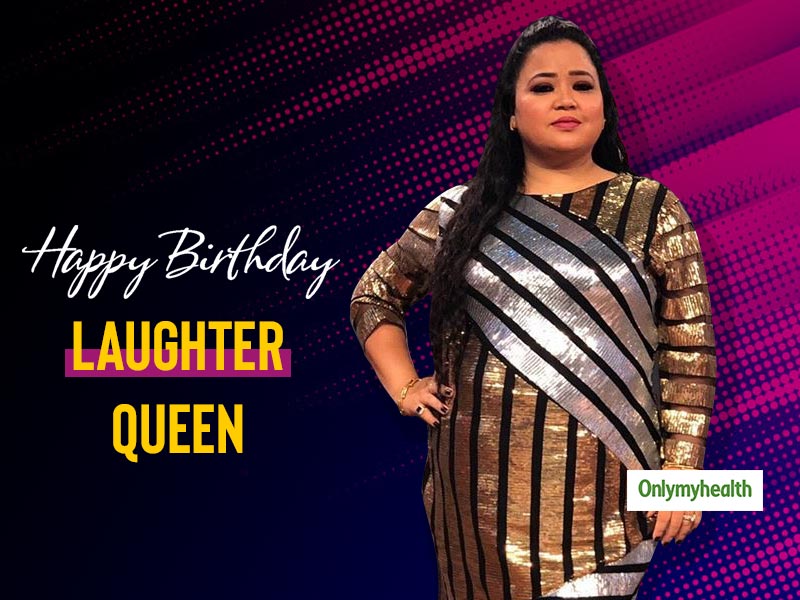 Happy Birthday Bharti Singh: Bharti Singh jumped from a whopping 92 kilos to 82 kilos in no time. Read to know more.
Happy Birthday Bharti Singh: Bharti Singh is a well-known icon of television and a Bollywood industry. She is famously known as the comedy queen of industry and is Eveready to tickle the funny bones and make you laugh aloud. The bubbly 'Punjabi Kudi' who will turn a year older tomorrow has seen various ups and downs in her life, but she fought from all the obstructions and achieved her goals. Bharti was an NCC Cadet, and she never planned to enter the entertainment industry, but it's the destiny that guides you to your path. However, her punches and one-liners were noticed by seniors in college, and she was asked to audition for the star one show 'The Great Indian Laughter Challenge'.
Since then, we are watching our favourite Bharti Singh in various characters and attires performing several acts to entertain her fans. Bharti aka our Lalli got married in December 2017 to Haarsh Limbachiyaa, who is a screenwriter by profession. She was also seen with Haarsh in a reality show 'Fear Factor: Khatron Ke Khiladi'. But, do you know that she lost 10 kgs of weight? Surprised? Bharti wanted to be fit before her wedding. As far as the show was concerned, she had to perform various stunts, which was not possible with her previous weight. According to Singh, she does not want to lose any task (given in the show) due to excessive weight. Here, on her 36th birthday, we bring you the fabulous inspiration from Bharti Singh, to lose weight.
Bharti Singh's Diet
Being from a Punjabi family, Bharti is a super-foody. She loves to eat paranthas and omelettes. She says that she never bounds herself from eating. She eats whatever she feels like. Talking about her working schedule, she said that she works till late and sometimes takes her dinner at 5 am, which is the reason behind her health suffering.
READ: Workout Schedule for Women Trying to Gain Weight
Singh further mentioned that she doesn't want to become 'sukhdi' (zero-figure); she only follows simple advice by her hubby Harsh. The recommendation is to drink green tea after every meal. You will be shocked to know that she does not follow a dietician or has a diet plan.
However, she further shares that she is an addict to home-cooked food. She prefers daal (cereal, protein), roti (chapati-carbs), subzi (veggies). She also settles for Maggi or Subway. But she cannot follow a 'salad-diet'! Lalli has cut down on carb-laden foods. But she denies being on a liquid diet. She stated that surviving on juice and soup cannot be handled by her.
READ: Tackling the Sedentary Lifestyle: 64% of Indians Say They Don't Exercise
Bharti Singh's Fitness Regime
Bharti said that she would push herself and rehearse almost 6 hours daily. This resulted in a considerable weight loss, inching close to ten kilos. Bharti is not into a hard-core workout; she only follows, 20 minutes of cardio and 20 minutes of cycling. Bharati Singh is an all-rounder, as she is not only good at comedy but, she is also best in dance. She also took part in the dance reality show 'Jhalak Dikhla Jaa -5' where her moves and grooves were highly appreciated.
Read more articles on Weight Management