No matter how pumped we all are about the gym's opening, but is it completely safe to go now? Know what experts have to say on this
Starting now, the gyms and fitness institutes are all set to open after a prolonged period of lockdown owing to COVID-19 spread. But, just so we know that despite relaxations in lockdown and other restrictions in the country, the fear of COVID-19 still looms large with various cases surging daily. Despite the news of having a great recovery rate, there is still a need to be extra cautious and take all the necessary precautions when required. With the gyms reopening, a lot of many people are pumped to get back to their fitness journeys, but what about the fear now of getting infected with coronavirus?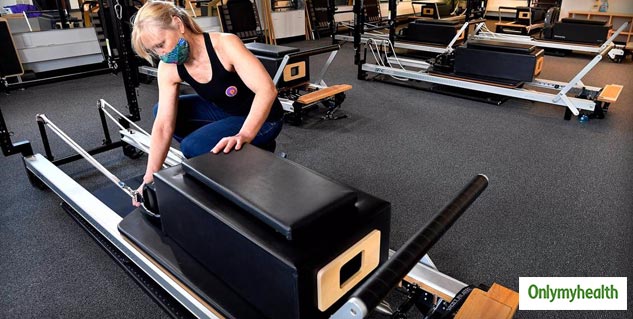 Also Read: Are You Excited About Gyms Re-opening After Months? Here Are Some Do's and Don'ts To Follow
No matter how happy everyone is, WHO has expressed high stress on the need of taking extra safety measures to be safe and free of COVID-19. This means following a lot of precautions, which are sort of mandatory for gyms and fitness institutes to follow for their services to s resume. But what about the doctors who are day in and day out treating one and all, and urging everyone to be indoors for safety? Onlymyhealth got in touch with two healthcare experts and here's what they have to say on this:
Transmission Is Likely In Gyms
Gyms are usually a closed environment with a high density of people sweating in a contained space. This makes transmission of infectious diseases more likely than open space or an open-air gym. Besides, the equipment used in gyms is high-traffic surfaces that can be difficult to sanitise due to their quirky shapes. Keep in mind few things as one plan to resume going to the gym like, avoid gyms if one is in a high-risk group, Checking of temperature at entry, Ensuring hand hygiene, Allowing a lesser number of people at a time," explains Dr Manjeetha Nath Das, Internal Medicine, Columbia Asia Hospital, Gurgaon.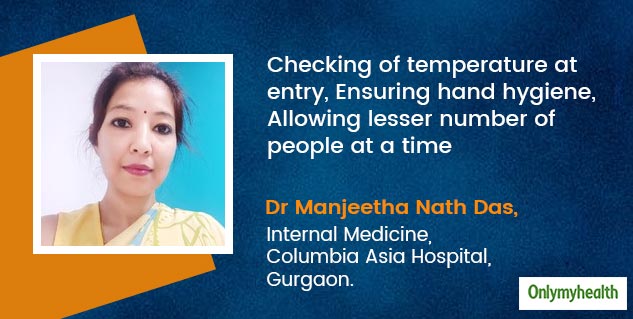 Assuring the healthcare experts around, there are necessary precautions that one must take while heading to gyms, as told by WHO. Some necessary precautions that one must consider while heading to a gym are listed below:
Take your linen like towels, robes, etc while heading to a gym
Carry your water bottles and water, is possible.
Go on your designated time slot to exercise as most gyms are now supposed to follow the rules of having limited people in one go.
Always sanitise equipment before using it after someone's use.
Social distancing is a must in gyms too. Do not crowd the gym or any equipment while someone is exercising.
Always use a spray sanitiser before touching or sitting on anything.
The mask should be on and only off the face while going high-intensity workouts. As wearing a mask while exercising can be harmful
Outdoor Workouts Are Safer Than Gym Workouts
There is a lot to consider before you decide to go back to the gym. We still feel that the safest place for one to exercise is outdoors. Even CDC suggested that opting for outdoor workouts or virtual workouts is your safest bet. Don't forget that virtual workouts are also an option, and many are entirely free. However, if you still feel that your gym is the best option, then go to such gyms where you have adequate ventilation. An indoor location that is not properly ventilated is a cesspool for all types of bacteria and viruses, especially since persistent sweating also adds to the humidity and heat levels inside the gym. : Do not step outside if you are not feeling well. Whether or not you have COVID-19, it is not a good idea to go to shared places like offices and gyms when you are ill because the infection spreads at these places at a very high rate. Make sure that your fellow gym members follow the same rules for mutual protection," concludes Dr P Venkata Krishnan, Internal Medicines, Paras Hospital Gurugram.
Also Read: Bad Breath Under Your Face Mask? Here Are A Few Tips To Freshen Up
It is now public responsibility that those who are going to a gym are following are necessary precaution as listed by the gym authorities, the World Health Organization and other global health agencies' as only being careful can help prevent the spread of COVID-19. Ask yourself these following questions before stepping out of the gym and then only decide whether you still have to go or not:
Do you have a headache?
Do you have a slight tingling in your throat or have sneezed 4-5 times or more than that in a day?
Do you feel tired, sluggish and fatigued?
Do you have an upset stomach?
Did you sleep well the last night?
Watch: How To Wear A Mask While Exercising:
All these may not be any reasons to worry about COVID-19 but certainly could be factors of compromised immunity, making you extremely prone to various bacterial and viral diseases. Also, now your safety is in your own hands. So ensure that you keep washing your hands, wear a mask and do not forget to maintain social distancing, the easier and simplest ways to stay away from the virus.
Read more articles on Other Diseases