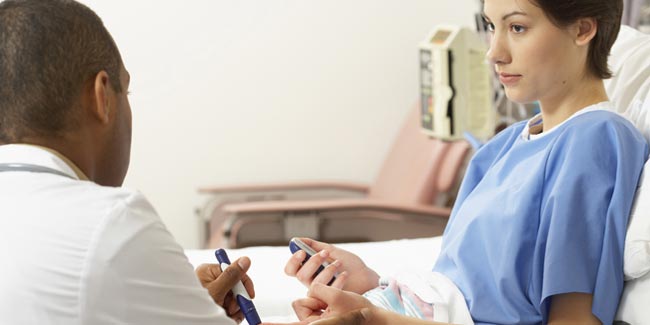 Some women who have diabetes prior to getting pregnant can present themselves as well as the growing baby with several challenges. If a pregnant woman has diabetes, she may give birth either before the schedule time or give birth to an unusually large baby among other complications. If you are diabetic and planning to conceive, it is important that you plan it ahead because management of blood glucose levels is very important even before one has conceived. Knowing diabetes during pregnancy can present you may help you take the necessary steps. Some of the effects of diabetes on pregnancy include the following:
[Read: Sample Meal Plan for Gestational Diabetes]
Congenital Malfunctions

Congenital malfunctions include heart defects, defects of the respiratory system that may give rise to ARDS or acute respiratory distress syndrome. These types of birth defects are seen to be occurring mostly in diabetic mothers.

Fetal Macrosomia

In fetal macrosomia, the baby is larger than the normal size. When a diabetic woman's blood sugar levels are high because of insulin resistance, the extra blood glucose travels through the placenta into the fetus, resulting in high blood glucose levels in the baby stimulating the baby's pancreas to increase insulin production. The baby, as a result, receives more of the energy that gets stored as fat resulting in a large-sized baby with an increased muscle mass, increased size of the organs and increased subcutaneous deposition of fat.
[Read: Gestational Diabetes and Baby Care]
Hypoglycemia

Once the baby is born, it may have hypoglycemia or low blood sugar levels in the body because the baby's pancreases have been stimulated to produce more insulin. When there is this over production of insulin in the baby's body, which generally continues for a while after delivery, the baby is subjected to careful monitoring by way of restricted feeding post delivery.

Tips for Diabetic Women before and during Pregnancy

• Let your doctor know that you have diabetes and coordinate with him/her to help you be closer to your normal blood sugar range.
• Take extra care of your eyes and kidneys during pregnancy as these can get worse with diabetes. Make sure you do not hold yourself from urinating for too long and visit the loo as soon as you feel like urinating.
• Quit smoking, stop drinking and avoid using harmful drugs.
• Consult with an experienced dietician to help you plan your meal and remember to follow it strictly. Doctors' may advise you to keep checking your blood sugar levels and keep it to normal to keep yourself and the baby safe and healthy.


Read more articles on Gestational Diabetes.