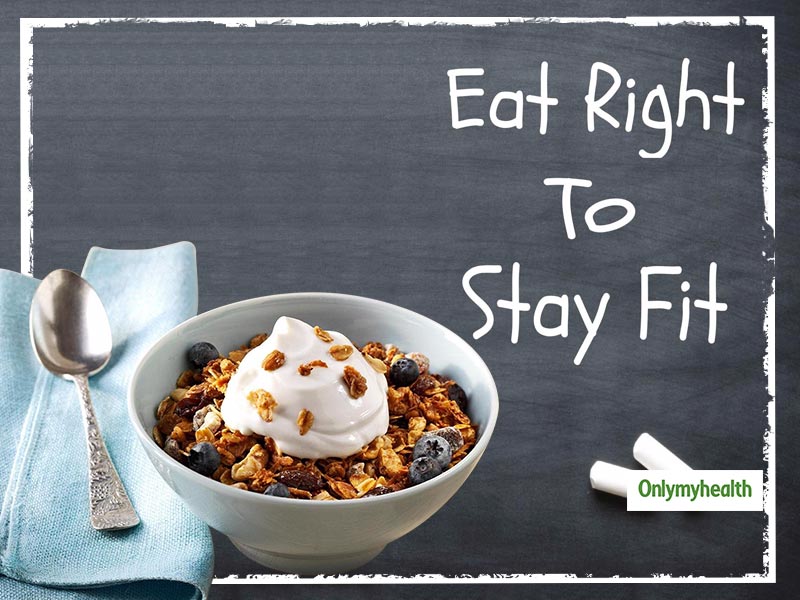 Eat Right To Stay Fit: Granola is supposed to be one of the most popular healthy breakfast cereal as well as a snack food in the world due to its wealth of nutritional benefits. It is a mixture of various healthy ingredients such as oats, nuts, and seeds. For additional flavour, many prefer to add dried fruits, chocolate, grains and spices in their breakfast pallet along with the healthy granola. Whilst granola snack bars have gained much popularity, we have discovered that granola in its original form is exceptionally nutritious. It is a super snack and breakfast cereal that is not just easy to carry but also healthy to consume.
Try This Granola Fruit Salad by Chef Purvi Pugalia
Ingredients:
1 cup of Granola
1 Kiwi
1 Medium-Sized Apple
4 Strawberries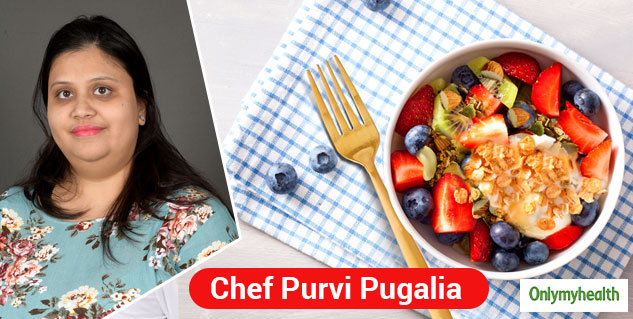 10 Blackberries
1/2 cup Pomegranate Seeds
2 Tbsp Honey
1 Tbsp Lime Juice
Method:
Chop all the fruits in a bowl
Add Granola to the bowl of fruits and mix them
Drizzle honey and lime juice dressing and serve it fresh
Honey and lime juice dressing: Mix honey and lime juice well
Let us have a closer look at the nutritional benefits of Granola and its ingredients when consumed as a healthy breakfast option.
Strengthens Immune System: The immune system naturally defends our body against nasty germs and bacteria. Granola, packed with ingredients like oats, nuts, seeds, and dried fruits, is rich in vitamins, minerals, and antioxidants. So, when we wake up in the morning and consume granola, our immune system gets stronger.
Reduces Cholesterol Level: Our body encompasses good cholesterol and bad cholesterol. The bad cholesterol can cause numerous diseases like stroke, heart attack, kidney failure, blocked arteries, hypertension, and many more. Ingredients in granola like oats and nuts provide beta-glucan that lowers the cholesterol level in your body.
Good Skin: Oat, nuts and seeds in granola are rich in Vitamin E that affects several bodily processes like protecting the skin, slowing the ageing process, strengthening capillary walls, improving blood flow to the hair follicles, and many more. Thus, improving your skin and hair.
Balanced Sugar Level: As soon as we wake up in the morning, we are slow and also feel a little lethargic, one of the many reasons for this is that our blood sugar levels are low in the morning. The ingredients in granola such as sunflower and pumpkin seeds, give us a hefty dose of Omega 3, fatty acids, and fibre that stabilizes our blood sugar level in the morning. It thereby makes us feel fresh and full. Hence, Granola is the best breakfast option to include in our diet.
Also Read: Grandma's Kitchen Rules: Top Rules One Should Follow For Better Health, Explains Dr Swati Bathwal
Conclusion: Granola serves as a healthy nutrient-rich breakfast, and although it can be consumed anytime, it's best suited to have in the morning. You can relish it with milk, yoghurt, topped on smoothies or straight out of the box. Here's a healthy granola recipe that one can try for their next breakfast.
[With inputs from Chef Purvi Pugalia, Founder, Munchilicious Granola (A SOCH Foods LLP Product)].
Read more articles on Diet and Fitness