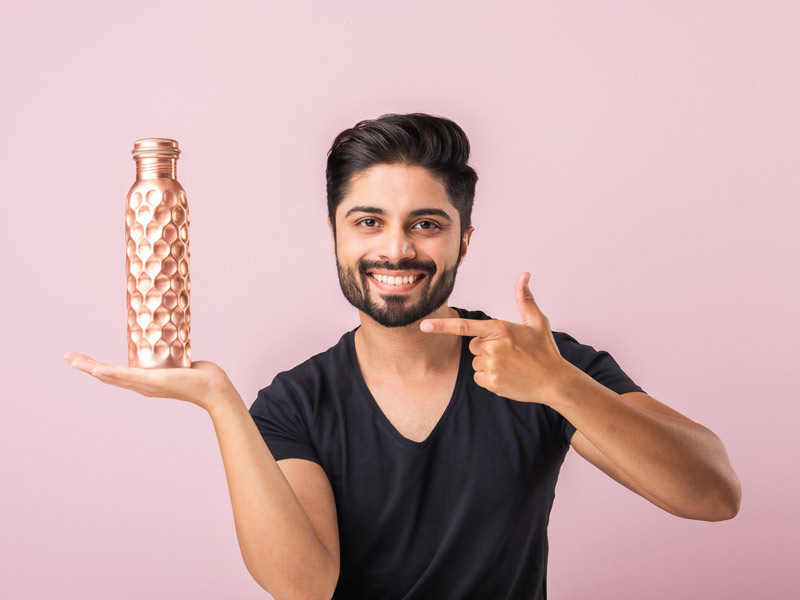 Did you ever heard from your parents and grandparents to consume water from a copper vessel? This is because they know the importance and benefits of drinking water copper vessel. Earlier, people used to use only copper jugs and glasses which is why they were so healthy and hearty. One of the major reasons why copper is good for water storage is because it is a natural detoxifying agent that filters water and increases its mineral value. Particularly, it is said that you must drink overnight stored copper vessel water first thing in the morning, especially if you have stomach problems. However, drinking this water at any time of the day is beneficial for health. Let us tell you in detail what all benefits copper water provides.
7 Copper Vessel Water Benefits
There are not just one or two but plenty of copper vessel water benefits that you can avail if you drink it daily. We have listed seven such benefits here, check them out.
Boosts gut health
First things first, drinking water from a copper vessels helps keep your stomach healthy. A larger part of the population is troubled with sas, acidity, constipation and indigestion-like stomach issues including adults and kids. Copper helps to regulate bowel movements that aid all these common issues. For better results, drink 1-2 glasses of water daily on an empty stomach. By doing this daily, you can see results within a couple of weeks only.
Also Read: 7 Reasons Why You Should Drink Surahi Water This Summer
Body Detoxification
If you are someone who eats out most of the time, detoxifying your body is very important. This not only reduces ill-effects of toxins but also prevents weight gain. Besides, detoxification also helps in warding off potential stomach ailments that arise due to increase toxicity. Copper is a great filter and by drinking water kept in a copper vessel on an empty stomach in the morning, the toxic substances accumulated in the body are also easily removed. This purifies the blood, detoxifies the body. Copper water can be a great way to remove the dirt of the body.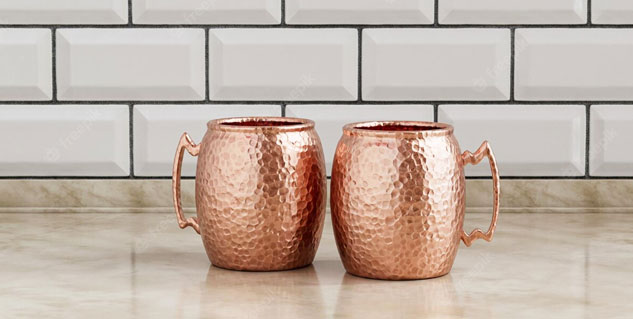 Rich in Anti-inflammatory Properties
If you have inflammatory issues like joint pain, arthritis, etc. drinking water from a copper vessel can alleviate inflammation thereby providing relief in pain and other symptoms caused due to inflammatory diseases.
Copper pot water benefits for skin
Drinking water from a copper vessel in the morning on an empty stomach detoxifies the body which eventually aids breakout, acne, pimples, etc. Most of the times, a person gets acne when there are toxins in the body. As copper releases toxins, the aforesaid problems will also be relieved. So, if you wish to keep your skin youthful and glowing, drink water from a copper pot daily.
Also Read: Tips To Detox Lungs Naturally As Per Ayurveda
Purifies Water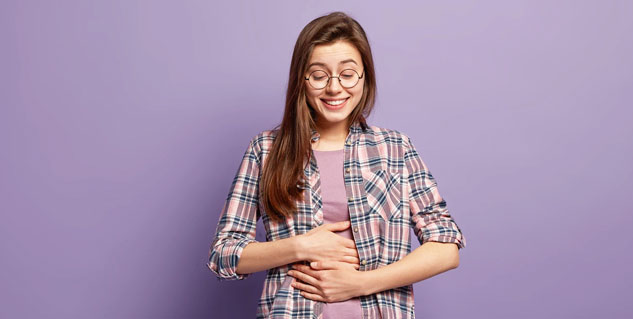 The copper vessel destroys all the bacteria present in the water. It purifies the water and makes it safe for consumption. In this era, where water pollution has compromise the quality of drinking water with limited availability, it is important to utilize what we get. Keep the water in a copper vessel for at least 8 hours will destroy all the microorganisms from it.
Boosts immunity
Drinking water kept in a copper vessel on an empty stomach in the morning also strengthens the body's immunity. Along with boosting immunity, copper water also helps in the production of new cells.
There are so many health benefits of drinking water stored in a copper vessel, particularly on an empty stomach. We suggest that you replace your regular water bottle with a copper bottle and carry to work.
Image credits- freepik