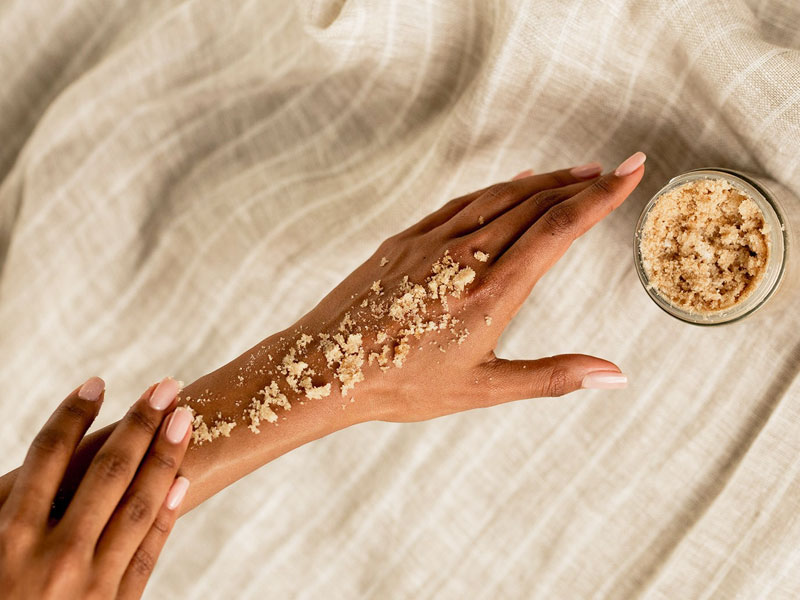 Accept it or not but we all love that soft, smooth and supple skin, that too not just for our face but for the entire body. While just bathing with those soaps and body wash is not enough and there is much more that your skin needs, here are some all natural DIY body scrub recipes that will help you exfoliate your skin, get rid of dead skin cells and give you a smooth skin without the use of any harsh chemicals. Without a further ado let us jump right into the article and learn how to make some simple and natural body scrubs with some easily available ingredients.
3 DIY body Scrub For Soft Skin
Try out these simple body scrub recipes to exfoliate your skin and make it look healthy and vibrant without spending a dime with things easily available in your pantry.
1. Coffee Scrub
An ingredient which has been taking over the beauty industry in recent years coffee is used in various beauty products like scalp scrub, bathing bar, body lotion, face wash, face scrub, serum, face mask and even shampoos.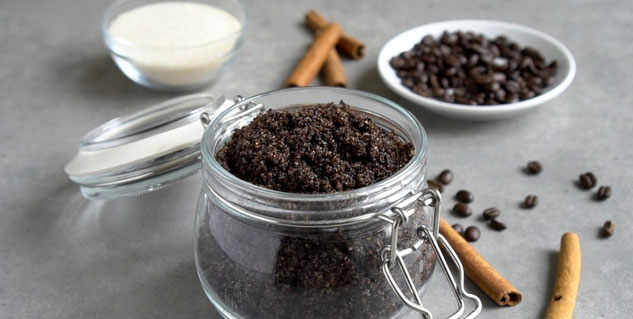 Image Credits- The Coconut Mama
Also Read: Coffee Benefits Skin? Use These 3 Coffee Masks For A Glowing Face
The reason why coffee has grabbed so much attention lately is because of the various skin benefits it has like-
Has a calming effect on the skin due to presence of antioxidants
Helps to reduce the appearance of cellulitis
Helps in preventing skin cancer due to the presence of Vitamin B3
Helps to soothe sunburned skin
Has anti aging benefits
Helps to reduce the appearance of dark circles
Is beneficial for acne treatment
Here is how you can prepare an all natural coffee body scrub at the ease of your home
Ingredients
¼ cup of sugar
½ cup of ground coffee
3 capsules of Vitamin E
2 tablespoons of Extra virgin olive oil
Directions
Take a bowl and mix all the ingredients in it in order to form a coarse paste.
Cleanse your skin with mild soap and water.
Take the coffee scrub and apply it on your skin with the help of your fingers in a circular motion.
Exfoliate gently for about 2 minutes at a spot and then move ahead.
2. Oatmeal scrub
A healthy breakfast ingredient which has come all the way from your bowl to your skin care station and has some amazing benefits not just for your health but oats are actually great for your skin too.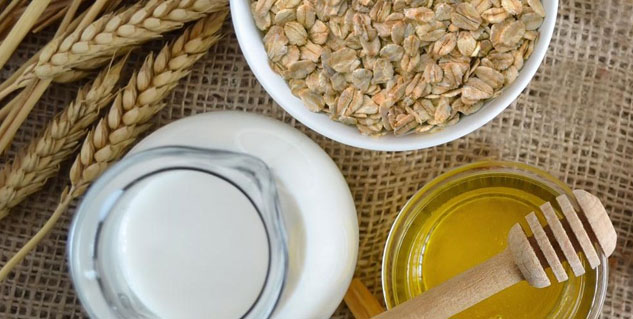 Image Credits- Wax Kara
Also Read: 7 Health Benefits of Overnight Oats And Why They Are Better Than Regular Ones
Oatmeal is one such ingredient which helps to achieve a supple skin and have some other benefits like-
Soothes red, itchy and dry skin
Is a gentle exfoliator
It helps to reduce inflammation
Helps to slough dirt, dust and dead skin cells away from your skin.
Is used to treat eczema
Protects the skin from harmful UV rays
Locks moisture
Here's how you can reap the benefits of this amazing ingredient in the form of a DIY scrub
Ingredients
½ cup oatmeal
½ cup raw honey
½ cup brown sugar
2 drops of lavender essential oil
¼ cup jojoba oil
Directions
Grind the dry ingredients into a coarse powder with the help of a mixer-grinder
Take a bowl and add all the ingredients to it.
Mix everything well with the help of a spoon in order to make a thick paste.
Apply this paste on clean skin in circular motion
Massage it for 2 minutes and rinse off with some cold water.
3. Coconut oil scrub
The last scrub recipe is made with a wonderful ingredient which can be used in your kitchen and also makes a cut to the list of best hair care and skin care ingredients. Coconut oil has a heavy consistency and is known for its moisturizing properties.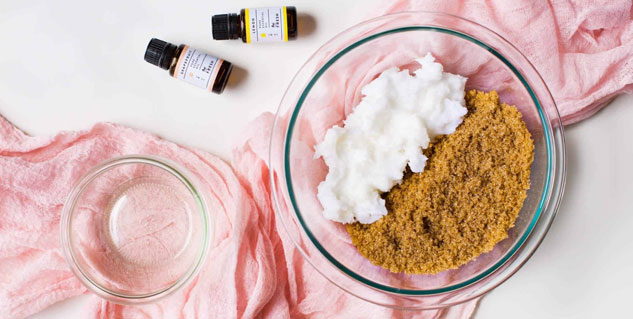 Image Credits- A Beautiful Mess
Also Read- Are You Exfoliating Your Skin More Than What's Required? Know Signs of Over-Exfoliated Skin
Here we have listed some amazing benefits of coconut oil which can be very beneficial for your skin.
Rich antioxidant property helps to boost the nutrient factor and fights against the environmental factors.
It gives the skin a nice smoothening effect instantly.
Provides the skin with instant hydration and gets absorbed easily.
Helps to soothe irritated skin
Acts as a barrier and protects the skin from harmful environmental factors such as dirt, dust and toxins.
Has anti-aging properties and can fight early signs of aging
Follow this quick recipe to prepare your very own DIY coconut oil scrub
Ingredients
½ cup coconut oil
½ cup of granulated sugar
Direction
Combine both the ingredients in a bowl and mix them well.
Massage this mixture gently in a circular motion on clean skin.
Massage it for 2 minutes and wash off with some cold water
Exfoliating is an important part of any skincare routine and should be done after regular intervals in order to get rid of dust, dirt and dead skin cells accumulated on the skin. Try these DIY scrubs made out of all natural ingredients which will help you to get soft and smooth skim. Although all the ingredients used for these DIY recipes are natural, make sure you take a patch test before using them in order to check if you are allergic to any of them.
Read more articles on Skin Care