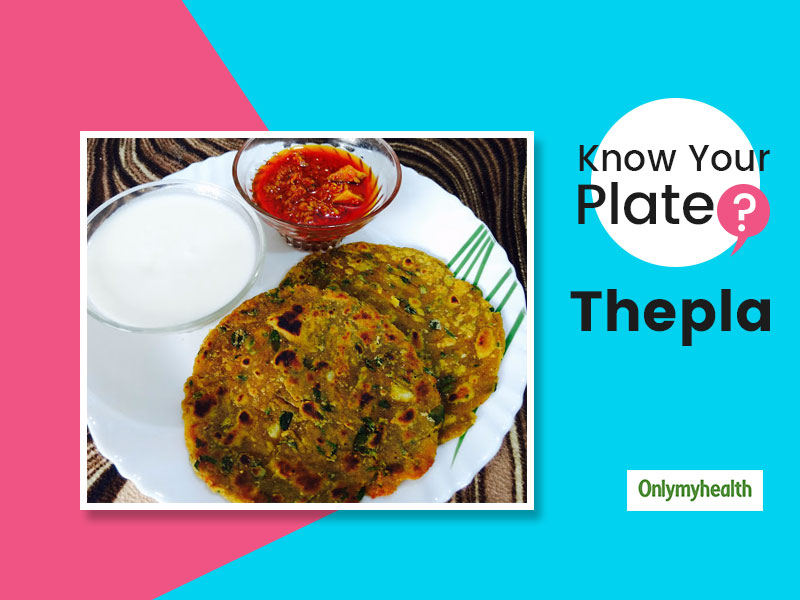 Know your plate: Thepla is rich in soluble fibre which helps in reducing cholesterol and control blood sugars.
We've all been a fan of this, no matter how much you cringe or tease your Gujarati friends, you had always savoured these when they got it in their lunch boxes whether it was school, college or work. It is none other than the famous Thepla or methi ka paratha as people call it in some parts of the country. It does not only add flavour to food but also improves health and other maladies of the skin. It helps balance cholesterol, soothe the stomach, reduce cramps, maintain kidney and liver health and is an excellent source of nutrients. So one should include theplas in their diet, every day. But eating theplas every day can get monotonous, for the one who cooks as well as for the one who eats. But don't worry, we've got you covered because we have five quick and easy ways by Bansari Bhagat, Founder, Trupt to eat theplas every day.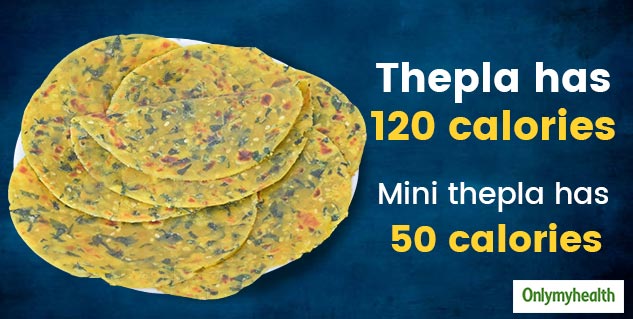 Veggie Thepla
With this one, you can up the health quotient. You can add a couple of vegetables like chopped spinach leaves or heated bottle gourd and some carrom seeds for taste. This is a very healthy recipe since bottle gourd helps keep your body fresh, keeps your heart healthy and also relieves stress. While spinach also contains several other vitamins and minerals, including potassium, magnesium, and vitamins B6, B9, and E.
Also Read: Know Your Plate: A Bowl Of Coconut Fish Curry Guarantees Fewer Calories and More Taste
Thepla Taco
We're trying to make it Mexican and exciting for people to eat, especially kids. We've experimented this and trust us, and we loved it. Prepare a Mexican salsa(onion, garlic, tomato, lime juice) and add spices of your choice. Also, boil and coarsely grind rajma(red kidney beans). Spread both the things as you like on the thepla, roll it and you're good to go. This way, the salsa contributes a right amount of Vitamin C, stabilizes blood sugar, helps burn fat, healthy for the heart and is low on calories but full of flavours.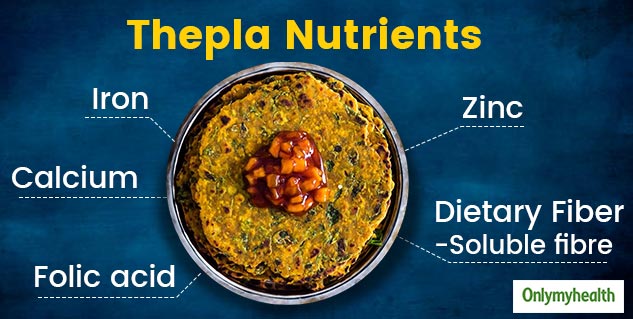 Thepla Marmalade
This one's my favourite kids. Make no or less spicy theplas and smear them with homemade marmalade for your kid's lunch box or evening snacks. Stick to low sugar marmalade, as they have tons of health benefits because of all the fruit content they have. It also is rich in pectin, which helps the human body in many ways possible.
Also Read: Know Your Plate: A Plateful Of Sarso Ka Saag And Makki Ki Roti
Substitute Thepla
Thepla is an excellent substitute for common whole wheat Rotis. It does not only have fenugreek for all the benefits that tiny leaves of fenugreek contribute to but also can be made with variations according to one's taste and made healthier. You can eat theplas with cooked vegetables or paneer. You can even eat cottage cheese theplas, ricotta cheese being a boost to your dental health, source of calcium, protein, vitamins, essential fats and CLA.
Gujarati style thepla pizza
Again a very healthy yet tasty and flavourful recipe. It helps you cut off all that plain flour from your diet and adds a couple of healthy supplements to the pizza. You can use thepla as your base and use other usual and already known healthy vegetables as toppings like baby corn, capsicum, onions, tomatoes, etc.
Thepla Ingredients: Thepla is made with maize or chickpea flour which is rich in protein and low in GLycemic index, and this makes it a good meal when combined with yoghurt and pickles. We hope you used to enjoy theplas and you will continue to savour them even more with all these unique recipes that we curated for you keeping your health and taste in mind. Cheers!
Read more articles on Healthy Diet