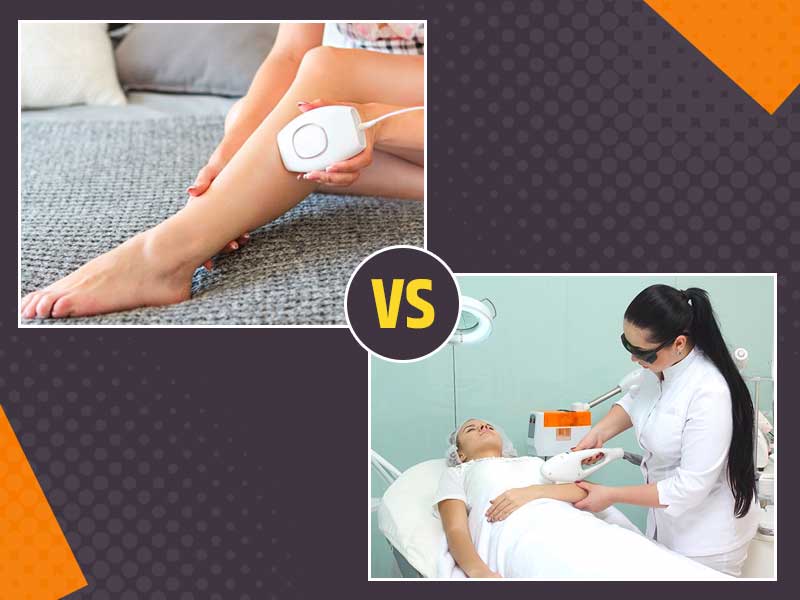 While some DIYs are popular, are they a safe bet, especially when it comes to laser hair removal at home? The revolutionary grooming procedure started as a professional aesthetic service at reputed skin clinics, but these days, you can zap unwanted hair at home using sleek laser-based devices that make tall claims about their effectiveness and great results. So, if you are confused between the two options, this article will help you make an informed decision as Dr. T.N Rekha Singh, Senior Consultant Dermatologist and the Training Head at Oliva Skin and Hair Clinic shares the differences between laser hair removal at home and at clinic.
Pros And Cons Of Laser Hair Removal At Clinic Vs Home
If you are wondering whether to invest in a professional laser hair removal treatment or a home machine, just read ahead to resolve your doubts.
The technology used
Top clinics use the latest laser technologies like Diode, Alexandrite etc that emit a focused beam of a specific wavelength to target unwanted hair follicles with precision. LHR leaves the surrounding tissue unharmed, giving you hair-free, silky soft skin. It is suitable for all skin and hair tones and types.
Home-based laser devices use intense pulsed light or IPL, which has a broad spectrum of visible light of 400-1200 nm over a range of wavelengths. Since it is not a precise technology, it is not suitable for darker skin tones and lighter/finer hair.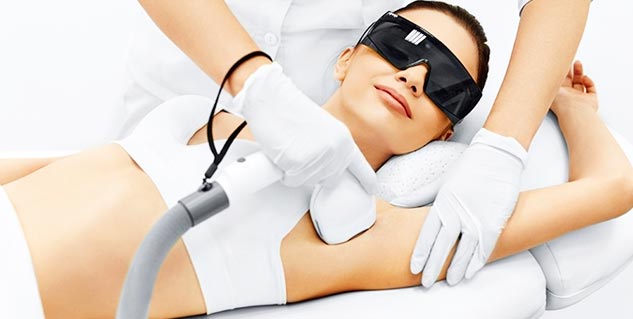 Medical expertise
Expert dermatologists at advanced clinics have a holistic approach and excel at medico-aesthetic treatments. They try to identify and treat the cause of excess hair growth, like PCOS etc before performing laser hair removal treatment. They not only treat the underlying cause for unwanted hair but also select the suitable laser technology, customise the fluence and pulse duration that works best for your skin and hair, tone and type after a patch test to provide optimal results.
On the other hand, incorrect use of home laser devices in the absence of medical supervision can result in severe side effects, including sunburnt-looking skin.
Safety
Leading clinics follow the highest safety standards for laser hair removal service as they use USFDA-approved machines to eliminate hair growth from all areas of the body, including sensitive zones like underarms, face and private parts.
While at-home laser devices are simple to use and affordable, most do not have proven safety and efficacy for all skin and hair types. So self-use, though convenient, maybe a high-risk option. Please note that you should strictly avoid using a laser at home for hair removal from any part of the body including sensitive areas such as the bikini line.
Also Read: All You Need To Know About Laser Mole Removal
Accuracy
The expertise and skill of dermatologists operating professional laser machine in a clinic are unmatched. The professional laser hair removal treatment ensures higher accuracy by deeply penetrating and destroying the melanin in each follicle of unwanted hair.
With a home-based laser, one might end up having irregular patches of hair growing back even after repeated use.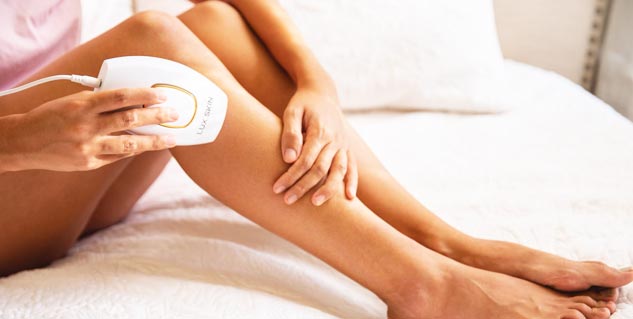 Faster results
The intensity of a professional laser device makes it faster to treat large areas in less time than using an IPL device at home, which takes a longer time and more effort to make even a tiny area of the skin hair-free. You can opt for quick laser hair removal from full–body or full legs and full arms or hard to reach areas like back and private parts safely at a clinic. Professional laser treatment requires less than half the number of sessions compared to prolonged home-based laser hair removal treatment that may need more sessions with extensive maintenance. It is a tedious option that demands multiple sessions to achieve subpar results compared to professional laser treatment.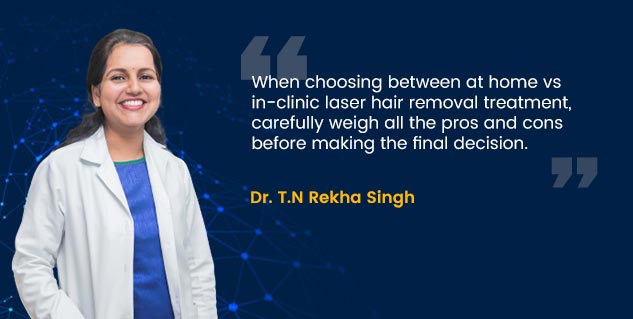 Pain
The use of diode or alexandrite technologies at advanced laser clinics ensures that the clients have a comfortable and painless experience during hair removal. The cooling tip prevents any thermal damage to the surrounding tissue even while eliminating dark and thick hair.
Home-based laser hair removal involves a high risk of burns and pain. Also, you may end up suffering from redness and swelling.
Also Read: Learn How Doctors Turn Your Beauty Guides With This Technique
Long-lasting results
You can enjoy permanent hair reduction by opting for a laser treatment at a renowned aesthetic clinic as an experienced dermatologist will plan your sessions to systematically target hair in the growth phase. It will help you break free from the cycle of removal and repeat.
Home-based laser hair removal may be erratic and may give you temporary results at best with additional risk of skin burns.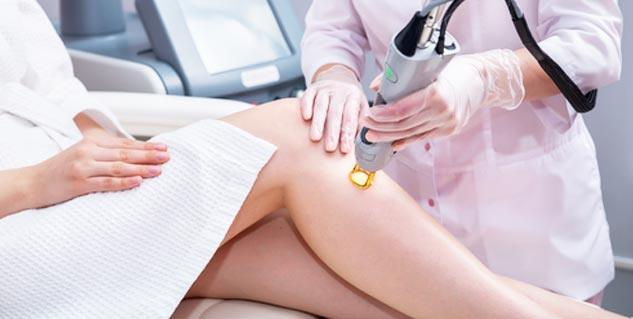 Cost factor
The cost of sophisticated laser hair removal treatment at a leading skin clinic may seem more expensive than home-based laser devices. However, it is a cost-effective solution and a lifetime investment worth making as you enjoy customised care from experienced and medically qualified and experienced professionals who use revolutionary technology to help you achieve hair-free, silky smooth skin permanently.
A word of advice, when choosing between at home vs in-clinic laser hair removal treatment, carefully weigh all the pros and cons before making the final decision. If you choose professional laser hair removal treatment, visit only a clinic that offer world-class treatment with high safety standards. Always do a patch test first before getting full-fledged treatment to prevent injuries.
Read More Articles in Hair Care