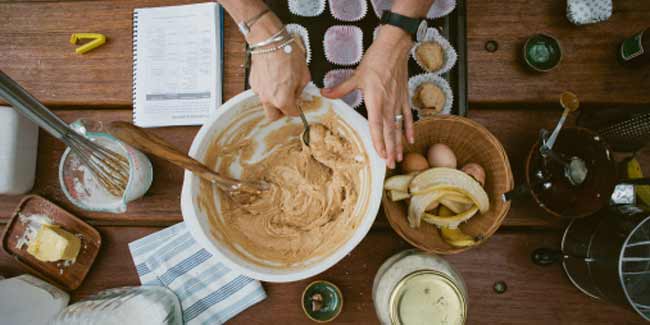 Gluten is a protein that is found in the grains wheat, barley, and rye. It is also found in any foods that contain these grains. When someone follows a gluten-free diet, they eliminate all sources of gluten from their meal plan.

There are many healthy foods you can include in a gluten-free diet. Vegetables, beans, fruit, milk, many yogurts and cheeses, and healthy fats (vegetable oils, avocados, nuts, seeds, etc.) are all naturally gluten-free.

These days, you'll find many products in the gluten-free aisle at the grocery store such as breads, muffins, pastas, and other snacks. These are usually made with a combination of the gluten-free grains and flours instead of wheat flour.

Many people assume that a gluten-free diet is always healthy diet. While there are many nutritious gluten-free foods (such as beans, vegetables, fruit, and nuts), there are also many processed gluten-free foods available now. Remember that a package of gluten-free cookies or buttery crackers is not any better for you than wheat-based cookies or crackers. These are still highly processed foods that are usually high in calories and added sugar. Like any other eating plan, it is still important to choose the most nutritious foods whenever possible.




Going gluten-free doesn't have to mean sacrificing your favourite dishes. These tasty recipes for breakfast, lunch, and dinner are smart choices for a diabetic and gluten-free diet.

Meatball Skewers
Ingredients
2 egg whites
2 tablespoons grated Parmesan cheese
2 cloves garlic, minced
20 ounces lean ground turkey (93% fat free)
½ teaspoon salt (optional)
¼ teaspoon pepper
8 ounces fresh cremini mushrooms (baby portabella mushrooms), cut in half if needed to make 12 pieces
24 grape or cherry tomatoes
1 medium onion, halved, then quartered, and then each quarter cut into 3 (for a total of 12 onion
pieces)
¼ cup balsamic vinegar
1 teaspoon olive oil
12 bamboo skewers

Instructions
Preheat the oven to 375 degrees F. Coat a baking sheet with cooking spray. Set aside.
Combine the egg whites, Parmesan cheese, garlic, ground turkey, salt (optional), and pepper. Mix well and make 12 meatballs. Refrigerate the meatballs for at least 30 minutes.
Skewer 2 meatballs, 2 tomatoes, 1 mushroom, and 1 piece of onion alternating on each skewer.
In a small bowl, whisk the balsamic vinegar and olive oil together.
Place the kabobs on the baking sheet and brush the kabobs on all sides with the balsamic and olive oil mixture. Reserve the marinade.
Bake the kabobs for 10 minutes. Brush all sides with the marinade again and bake for an additional 10-15 minutes. The meatballs should be cooked to an internal temperature of at least 165 degrees F.

Fish Fillets
Ingredients
4 to 6 fresh rosemary sprigs
8 ounces trout or sole fillets, about ¼ inch thick, rinsed and patted dry
1/2 teaspoon olive oil
1 teaspoon fresh lemon juice
1/8 teaspoon salt
1/8 teaspoon pepper

Instructions
Preheat the oven to 350 degrees F. Place the rosemary in a single row in a small baking pan, such as an 8-inch square pan. Top with the fish. Brush the fish with the oil. Sprinkle with the lemon juice, salt, and pepper.
Bake for 7 to 8 minutes or until the fish flakes easily when tested with a fork.
Roasted Cauliflower
Ingredients
Cooking spray
1 large cauliflower head, cut into small florets
2 tablespoons olive oil
¼ teaspoon ground black pepper
¼ teaspoon salt (optional)

Instructions
Preheat the oven to 425 degrees F. Spray a baking sheet with cooking spray.
In a small bowl, mix together the cauliflower, olive oil, black pepper and salt. Pour the mixture onto baking sheet.
Bake for 15-20 minutes, until the cauliflower tips are slightly brown and tender.
Confirm ingredients are gluten-free and this recipe can be made gluten-free.

Oatmeal with Strawberry and Almonds
Ingredients
1 cup gluten-free rolled oats
2 cups water
¼ teaspoon salt
¼ cup raspberry fruit spread, slightly melted
½ almond extract
2 cups strawberries, quartered
1 ounce slivered almonds, toasted

Instructions
Combine water, oats, and salt in a medium-size pan. Bring to a boil, reduce heat, and simmer 10 minutes uncovered. Remove from heat and let stand 2 minutes.
Place the fruit spread in a small microwave-safe bowl and cook on high setting for 15 seconds or until slightly melted. Remove from heat and stir in the extract.
Spoon equal amounts of the oatmeal in 4 bowls. Top with 1 tablespoon fruit spread, ½ cup berries, and 1 tablespoon almonds.

Cod on Roasted Pepper and White Beans
Ingredients

Fish
½ teaspoon paprika
¼ teaspoon salt
¼ teaspoon black pepper
4 fish fillets such as cod (about 5 ounces each), rinsed and patted dry
1 teaspoon extra-virgin olive oil

Beans
¼ cup water
1 (15-ounce) can no-salt-added navy beans or Great Northern, rinsed and drained
16 pitted kalamata olives, coarsely chopped
½ cup diced roasted red peppers
2 medium garlic cloves, minced
2 teaspoons extra-virgin olive oil
½ teaspoon chopped fresh rosemary or to taste
1/8 teaspoon salt

Instructions
In a small bowl, combine the paprika, ¼ teaspoon of salt, and black pepper. Sprinkle both sides of the fillets with the paprika mixture. Heat 1 teaspoon of the oil in a large nonstick skillet over medium heat. Cook the fillets 4 minutes, turn, and cook 3 minutes or until opaque in center.
Meanwhile, bring the water to a boil over medium-high heat in a medium saucepan. Add the remaining bean ingredients. Cook 1-2 minutes to heat through. Remove from heat, cover, and let stand while fish is cooking.
To serve, place equal amounts of the bean mixture in each of 4 shallow soup bowls or rimmed dinner plates and top with the fillets.

All these recipes are designed to be prepared with gluten-free ingredients and may be suitable for people who live with celiac disease and diabetes. Check the ingredients lists on foods you use in these recipes to ensure they do not contain gluten.

Source: American Diabetes Association
Image Source: Getty Images

Read more articles on Healthy Recipes.