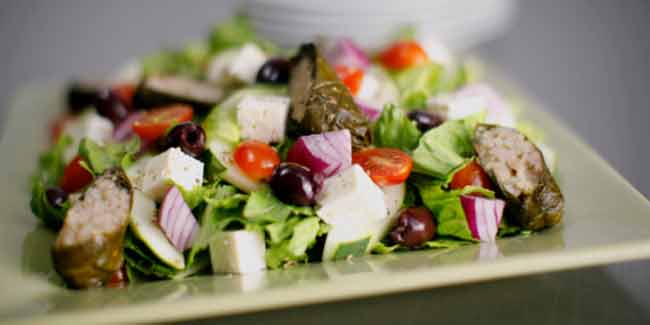 Most summer salads are synonymous with salads tossed with fruits salads and greens. Sure, summer salads with fruits are great and titillating, but one must not forget the vegetables. Here are a few summer salad recipes that are made of fruits and vegetables.
Summer Vegetable Salad
To make summer vegetable salad, pick vegetables that are fresh, firm and in season. Some of these vegetables include red bell peppers, asparagus, cucumbers, fresh corn, cauliflower, broccoli, radishes, beets, squash, wax beans and green beans. Summer vegetables are likely to vary depending on the location.

Choose your favourite vegetable for a raw salad. If you do not like vegetables much, you may brush them with olive oil, season with pepper and salt and lightly grill them. Ensure that you don't grill them too much else they would become too soft for the salad.

Wash vegetables and dry well. Cut them into bite-sized pieces. Place the raw vegetables in a large salad bowl and season them with pepper and salt to taste. Toss the mixture with vinaigrette dressing and allow them to marinate for a minimum of 60 minutes. Grilled vegetables should be allowed to cool before handling. Finally add extras such as almond, walnuts, cheese, chopped hard-boiled eggs, pine nuts or sesame seeds into the salad bowl for intense flavour.
Summer Fruit Salad
To make a summer fruit salad, choose fresh and ripe fruits. Avoid adding fruits that would overwhelm the taste of other fruits. For instance, grapefruit works well with citrus fruits but not with delicate fruits such as berries.

Sort the fruits out by clearing those that may burst or stain the other fruits such as blackberries and raspberries; those that will oxidise such as apples. The key to a good fruit salad is striving for fruits of similar texture but different colours. Once you have sorted the fruits, peel and seed as required. Cut the fruits in uniform sizes and make sure that you cut them when you are close to the serving time. If you are preparing the salad ahead in time, store it in a colander atop a bowl and allow it to drain. Dress the salad just before you are about to serve. Use only the required amount of dressing to coat the fruits.
Refresh your mood with these delicious salad recipes and kill the effect of heat this summer.
Read more articles on Healthy Recipes.