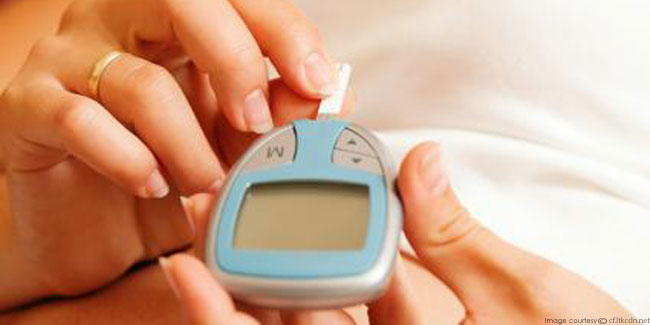 Gestational diabetes is not good news to come by your way when you are pregnant, it can out you and your baby at potential risks. Much like the usual diabetes, gestational diabetes also needs to be treated the same way. In fact one should be extra careful with it, because it involves the life an unborn child. The simplest way to deal with gestational diabetes is to stay healthy and fit, nutritious food, and a bit of exercise on a regular basis will do the trick.
[Read: Gestational Diabetes Concerns]

The First Trimester Scare

Gestational diabetes occurs in some women who cannot produce enough insulin that is required to meet the needs of pregnancy, especially during the third trimester. In some others it can be found right in the first trimester, here the condition is likely to have been existed even before the pregnancy. Hence you are required to take blood sugar a test immediately after the pregnancy news gets announced. This can help you to avoid a lot of complications in the near future.

During such a time it is very important that you get treated and take advice from your doctors who will form a road map for your pregnancy. The most important thing is to understand that while gestational diabetes can harm you and your unborn child, it is pretty easy to minimise the effects and go through a rather normal delivery.

[Read: When to seek help for Gestational Diabetes?]
Dealing with the Problem

Healthy Diet

This is the first in your checklist that needs to be checked, not just because you have diabetes but also because you are pregnant. Consult your doctor and he or she will give you a well planned diet routine that you must follow at all cost. You will be asked to control carbohydrates, as it they happen to have a hand in affecting blood sugar. You can also opt for healthy cooking methods such as grilling, steaming or microwaving food rather than frying or roasting food. You will do well by cutting down on food high in sugar or fat, your mantra should be fresh fruits and vegetables.
[Read: Gestational Diabetes and Diet]

Physical Exercises

We aren't expecting you to go to a gym and slog out every day for a couple of hours, but instead just be active on a daily basis. You can contact a physiotherapist and he or she will guide you in accordance to your need. You can merely walk some distance everyday and you will be surprised to see the change in you.

Blood Sugar Levels

Test your blood sugar levels on a daily basis, and keep it under control. There are many kits for home blood sugar tests and you should get one for yourself in order to keep a check at yourself. This is a good way to know what is happening with you and saves you time and energy that would have been wasted if you had made trips to the clinic for a test every day.

Insulin Shots

Some women tend to take insulin in the event of gestational diabetes, but this must be approved by your doctor. This is usually required when the blood sugar levels remain high even after following a routine diet and exercise.

There is a probability that your blood sugar levels will go back to being normal after some period of time, first trimester means you have a long way to go. Even if your blood sugar level becomes normal, never forget to get it checked especially three months before you plan to get pregnant again. This will avoid complications once you do get pregnant.

Read more articles on Gestational Diabetes