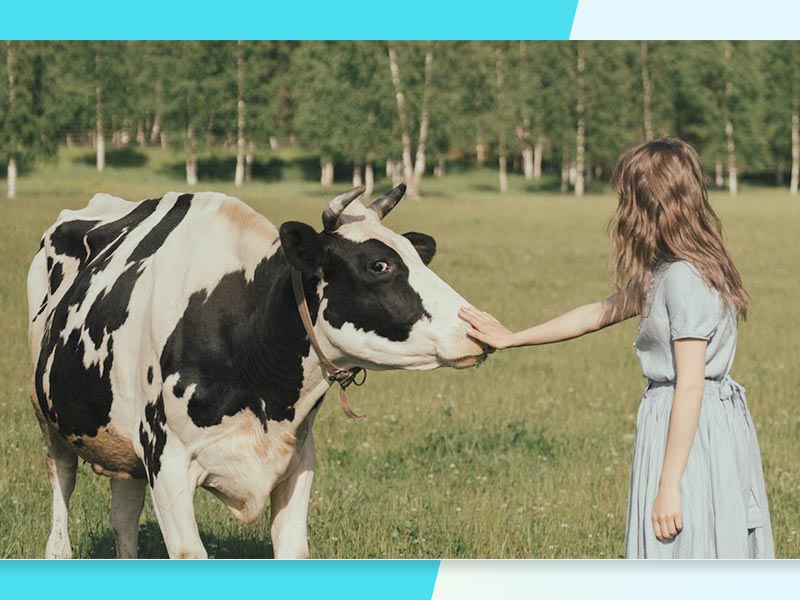 With many people looking for non-invasive and non-drug options to support their health, a range of alternative and complementary therapies are getting popular. Among these, cow-cuddling or hugging a cow is fast becoming the in-thing for health enthusiasts. It is considered to have many mental health benefits and has therefore emerged as a wellness trend in US and Europe. In India too, it is gaining acceptance and farms in and around the mega cities like Delhi and Mumbai offer cow-cuddling services.
Is Cow-Cuddling Really Effective In Beating Stress?
There is not much scientific evidence to prove the efficacy and effectiveness of cow-cuddling but those going for it have found the therapy useful. People going for cow-cuddling claim it has calming effect on the mind and could heal depression, anxiety, blood pressure, hypertension and other related ailments. As in case of other complementary therapies such as aroma, accupressure and latest ones like sound bath, cow-cuddling soothes the frayed nerves and bring mental peace.
Also Read: Pen Down The Anxiety: Writing Is A Great Therapy To Release Stress & Anxiety
Here Are The Benefits Of Cow-Cuddling
It is believed that cow-cuddling brings positivity and reduces mental stress by boosting the secretion of oxytocin in the body.
While cow-cuddlers hug and rest against the cow and experience calmness, licking by cow adds to the soothing effect.
It's not only the people who enjoy by reclining on the cow, it is the mammal also which relishes human touch.
Dr SP Gupta, former IAS officer and founder of Kamdhenu Gowdham and Arogya Sansthan on the outskirts of Gurgaon, said that cow-cuddling helps not only in case of depression and anxiety but also breathing issues which eventually reduces stress.
How The Therapy Works
Explaining that cow-cuddling involves touching the cow, hugging and caressing its body, Dr Gupta noted that because of low heart rates of the cow and the temperature of the body being a little high, a person taking the therapy feels calm and serene.
"In many countries in Europe and the US, cow-cuddling is quite popular. People don't mind paying higher charges for taking the therapy given its benefits. People coming into our cow-cuddling centre have shared the various benefits they felt after a few sessions," he said.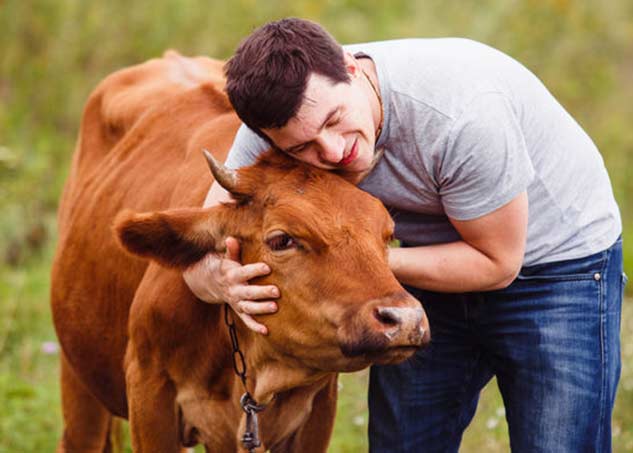 What The Psychologists Say About Cow-Cuddling
While psychologists confirm benefits of touching, caring and interacting with animals, enough scientific evidences are yet to endorse benefits of cow-cuddling.
Bangalore-based psychiatrist Dr BG Girishchandra says the company of animals have proven mental health benefits and can ease anxiety and other mental health issues of people.
"Specifically, if you want to ask me about cow-cuddling, I would not be able to say anything. But pet therapy and regarding people loving animals, there is certainly proven benefits. People especially those going through mental health issues benefit from any kind of pets or interacting with animals," says Dr Girishchandra.
"People suffering from anxiety or feeling of worthlessness, interacting with animals mitigate them. Even in terms of neuro chemistry, there are changes and release of happy hormones when you interact with pets or other animals. Response from animals is different from what one gets from humans. People enjoy them and feel better. Those kinds of things will probably happen in case of cows as well and therefore it should help," he adds.
Also Read: Easy Yoga Postures to Fight Anxiety and Stress in your Daily Life
Dr Samir Parikh, Eminent Psychiatrist and Director of Department of Mental Health and Behavioural Science, Fortis Healthcare, says that people should do what gives them joy and if cow-cuddling brings them peace of mind, then why not.
"Anything that gives you peace of mind. For instance, many people like plants. Some like pets, some like cuddling while some like art and painting. So, whatever gives one a sense of joy and peace it's good for them not as a treatment or for the disease but as well-being for themselves," concludes Parikh.
Read More Articles On Mind And Body