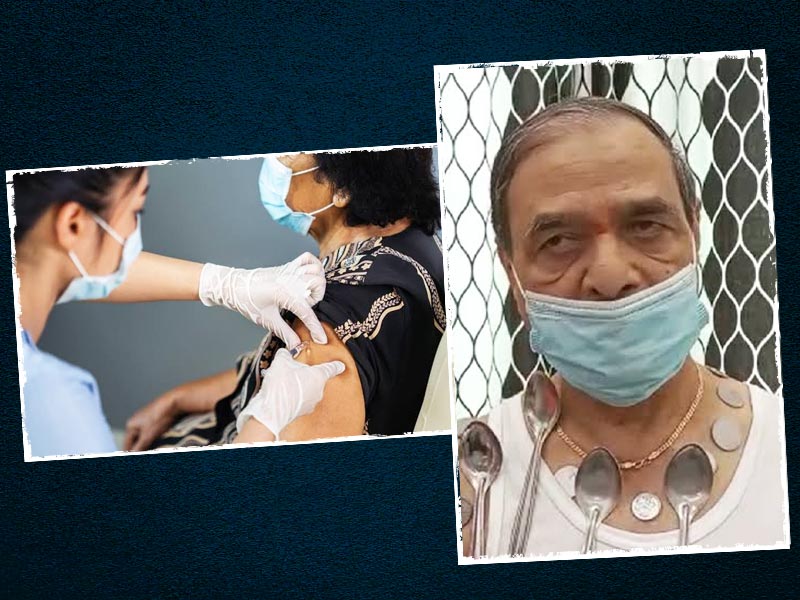 There are several myths surrounding the COVID-19 vaccines. And, the latest video that is doing rounds on social media is people claiming that they developed magnetic abilities in their bones after getting vaccinated. So, some people are now claiming on social media that magnets will stick to your arm after getting jabbed with the Covid-19 vaccine into your arm. The exact theory behind people saying this is that Covid vaccine injects metal into the arm, which is maybe enough metallic material to make magnets stick to your arm.
In the video, some men are claiming that they established magnetic powers after getting jabbed with Covid-19 vaccine. A man named Sahadev Kumbhar said that everything he tried to stick, stuck on his bones after getting vaccinated. From spoon to plate, everything is getting stuck on the bones, he further added. As per this viral video, The Press Information Bureau said that there were no metallic materials in the Covid vaccines. The U.S Centres For Disease Control And Prevention had also rubbished this theory. The vaccines are not even large enough to attract magnets or such large things. In fact, experts and even the government have strongly disagreed and refuted this theory, claimed by some people in videos and photos circling around social media.
Why is this claim just a myth?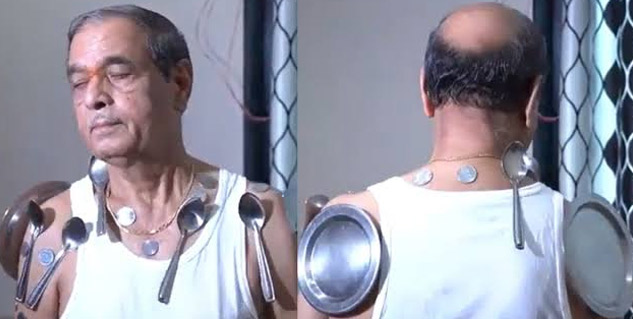 Covid-19 vaccines would require to contain a good amount of metal in them to induce metallic abilities in the bones, for magnets to stick on the body. A Covid-19 vaccine dose is even less than a milliliter (mL), with an average dose for the Pfizer/BioNTech vaccine being only about 0.3 mL. Due to this reason, this claim might be just a viral social media rumour and not a Covid vaccine fact, as the government has also rubbished these claims.
Also read: FACT! Covid Vaccination Does Not Impact Your Menstruation; Read On To Know More From An Expert
What are the ingredients in Covid-19 vaccines?
One should be aware about all the ingredient being used in the Covid vaccines. The substance lists for the Pfizer/BioNTech, Moderna and Johnson & Johnson Covid-19 vaccines have been posted on the website of the U.S. Food and Drug Administration (FDA). The Pfizer/BioNTech Covid-19 vaccine ingredient list has substances including mRNA, lipids, monobasic potassium phosphate, sodium chloride, potassium chloride, dibasic sodium phosphate dihydrate, and sucrose. The Moderna vaccine list is very much similar and it includes mRNA, lipids, tromethamine hydrochloride, acetic acid, tromethamine, sodium acetate trihydrate, and sucrose.
On the other hand, the Johnson & Johnson vaccine ingredient list is a slightly different with recombinant, replication-incompetent adenovirus type 26 indicating about the SARS-CoV-2 spike protein instead of the mRNA, but the other is not very different as it includes citric acid monohydrate, trisodium citrate dihydrate, ethanol, 2-hydroxypropyl-β-cyclodextrin (HBCD), polysorbate-80, and sodium chloride. Hence, the Covid vaccines basically have quantities of lipids, salts, proteins and sugars. Lipids, salts, proteins and sugars are the kind of ingredients you might see in a number of foods and supplements.
Read more articles on Mind body