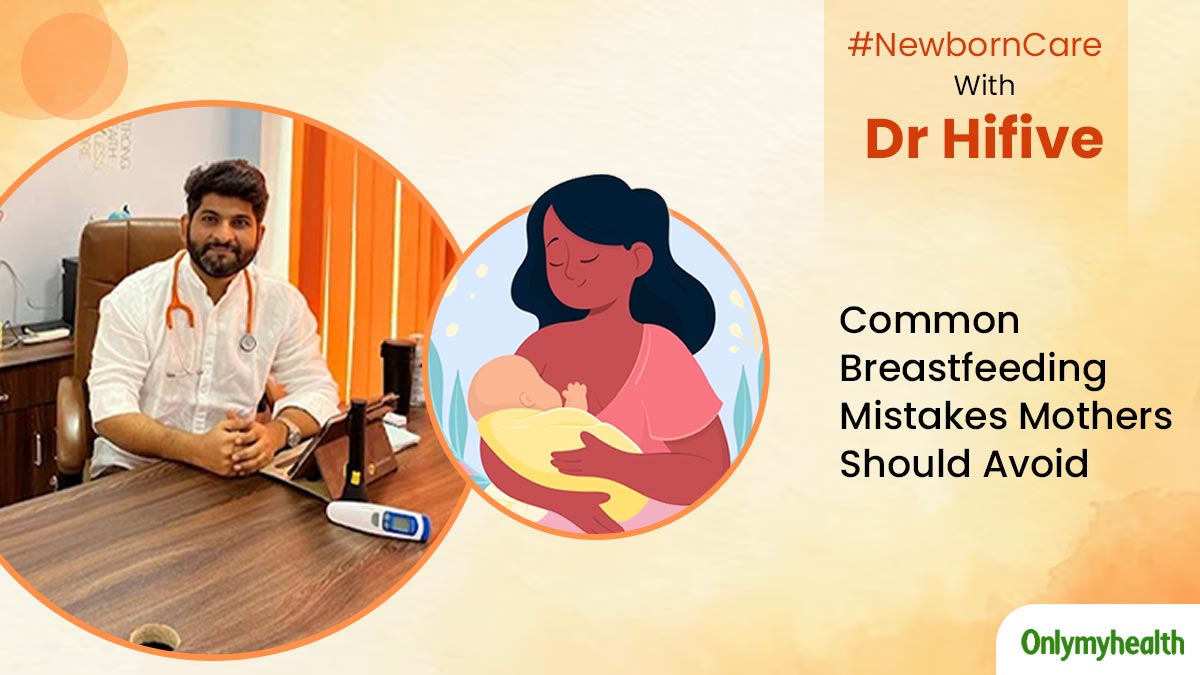 Breast milk is the most important source of nutrition for newborns, at least for the first five to six months of life. According to the World Health Organization (WHO), breastfeeding is one of the most effective ways to ensure child health and survival. Worldwide, exclusive and continued breastfeeding could help prevent 13% of deaths among children under five years old, reports the WHO. Speaking with the OnlyMyHealth editorial team, Bengaluru-based paediatrician and vaccination specialist Dr Sayed Mujahid Husain (Dr Hifive for Instagrammers), talks about the importance of breastfeeding and lists down some of the most common mistakes mothers make while breastfeeding.
Also Read: Nutrition For Newborns: A New Parent's Guide For The First 6 To 12 Months
Role Of Breastfeeding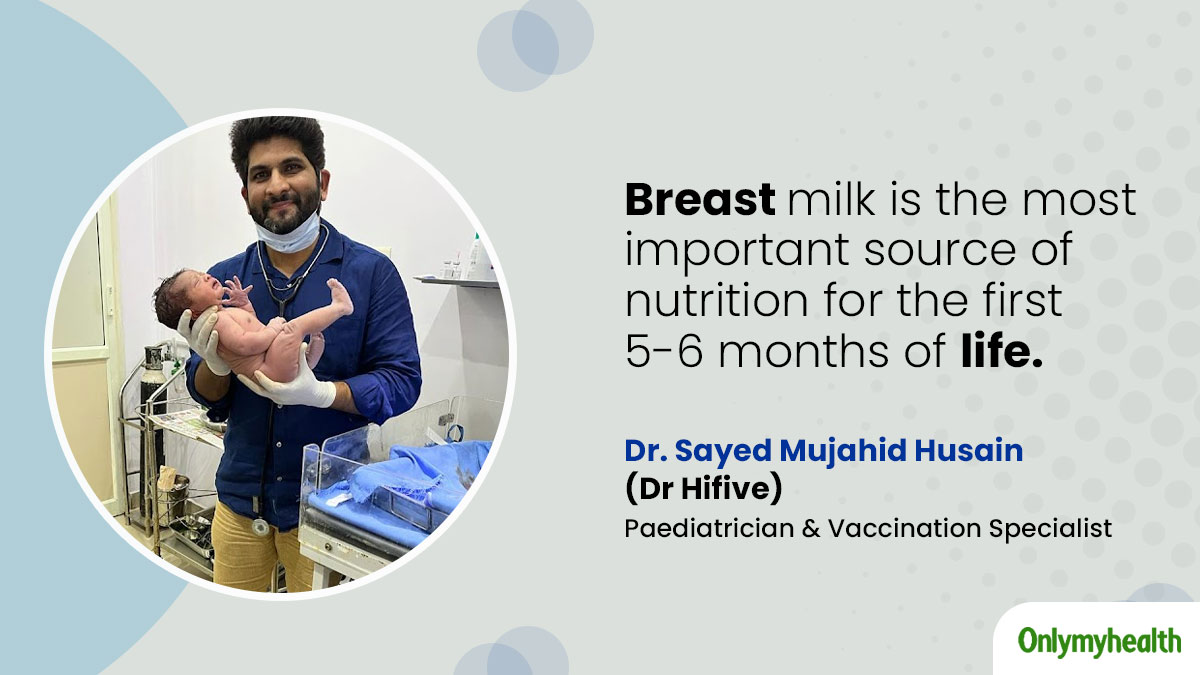 Breastfeeding is the best way to protect babies against some short and long-term illnesses and diseases, according to the US Centers For Disease Control and Prevention (CDC). The US Health agency further suggested that breastfed babies are at a lower risk of asthma, obesity, type 1 diabetes, and sudden infant death syndrome (SIDS). The WHO said, breastfeeding could save the lives of over 8.2 lakh children under the age of five years each year.
View this post on Instagram
Breastfeeding Mistakes Mothers Should Watch Out For
Breastfeeding while lying down
According to Dr Husain, one of the common mistakes mothers make is lying down while breastfeeding their babies. The WebMD suggests the lying-down breastfeeding position can be dangerous if the mother falls asleep. Furthermore, there's a risk of aspiration, which refers to accidental breathing in of food or fluid into the lungs. However, with proper safety precautions, side lying breastfeeding can be done with ease.
Long hours of breastfeeding
Another mistake mothers make is breastfeeding for too long. Dr Husain said, "Mothers go on feeding their babies for like one, one and a half hours in a stretch, which is absolutely wrong. 15-20 minutes of feeding is enough for the baby; they do not require any breast milk beyond that."
Perceived Insufficient Milk Supply (PIMS)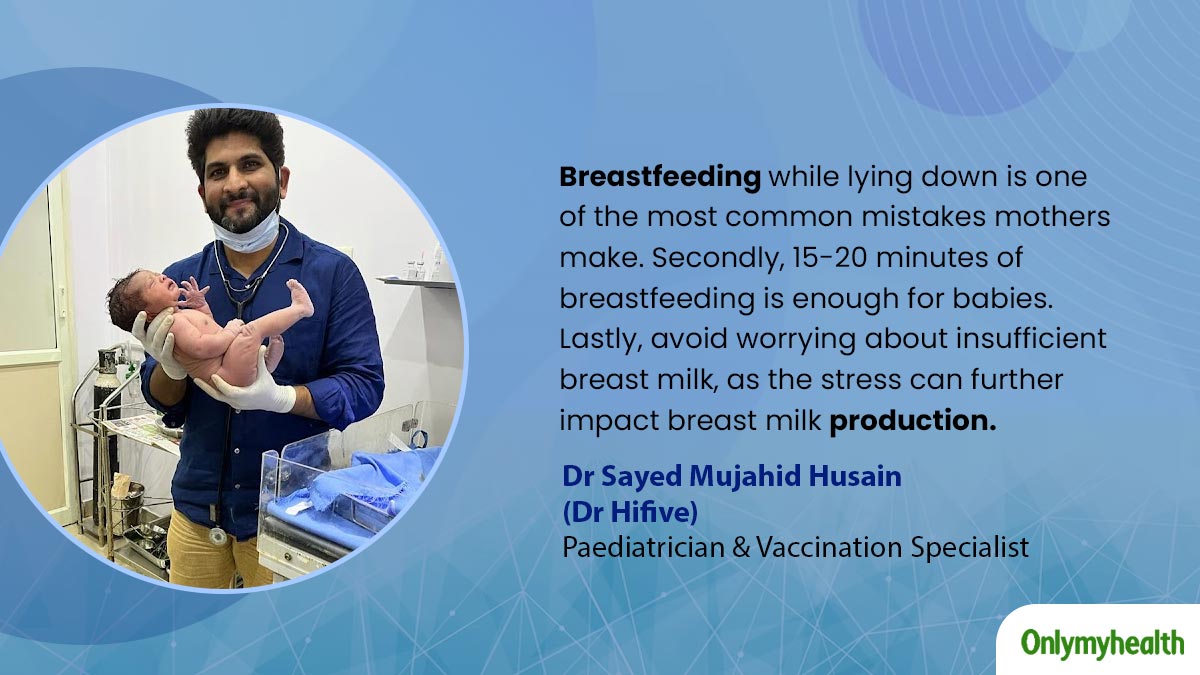 PIMS is when a person who breastfeeds thinks that they're producing a low amount of breastmilk. While there are times when mothers have low breast milk supply, the thought can come even when it's not the case. According to Dr Husain, such thoughts and feelings can lead to stressful situations, which in turn cause reduction of breast milk. With increased stress levels, certain hormones such as cortisol can rise, dramatically impacting breast milk supply. Therefore, the doctor advises mothers to lower their stress levels.
Also Read: #NewbornCare With Dr Hifive: List Of Common Vaccines For Babies And When To Administer Them
Unnecessary feeding of formula milk
In certain cases, due to perceived insufficient milk supply, mothers may unnecessarily start their babies on formula. Dr Husain said, "Exclusive breastfeeding should be done at least for the first five to six months of life." While the doctor shares that formula milk is safe, he believes that it does not provide the same nutritional benefits as breastmilk. According to him, it should only be given when the mother is unable to secrete breast milk and not just because they feel the breast milk is not sufficient. However, one should first discuss with the paediatrician.
View this post on Instagram
Conclusion
Breastfeeding is an important part of your child's growth and development, which is why it is important to do it the right way. To ensure your child's safety and to provide them with maximum breastfeeding benefits, avoid the mistakes listed above.