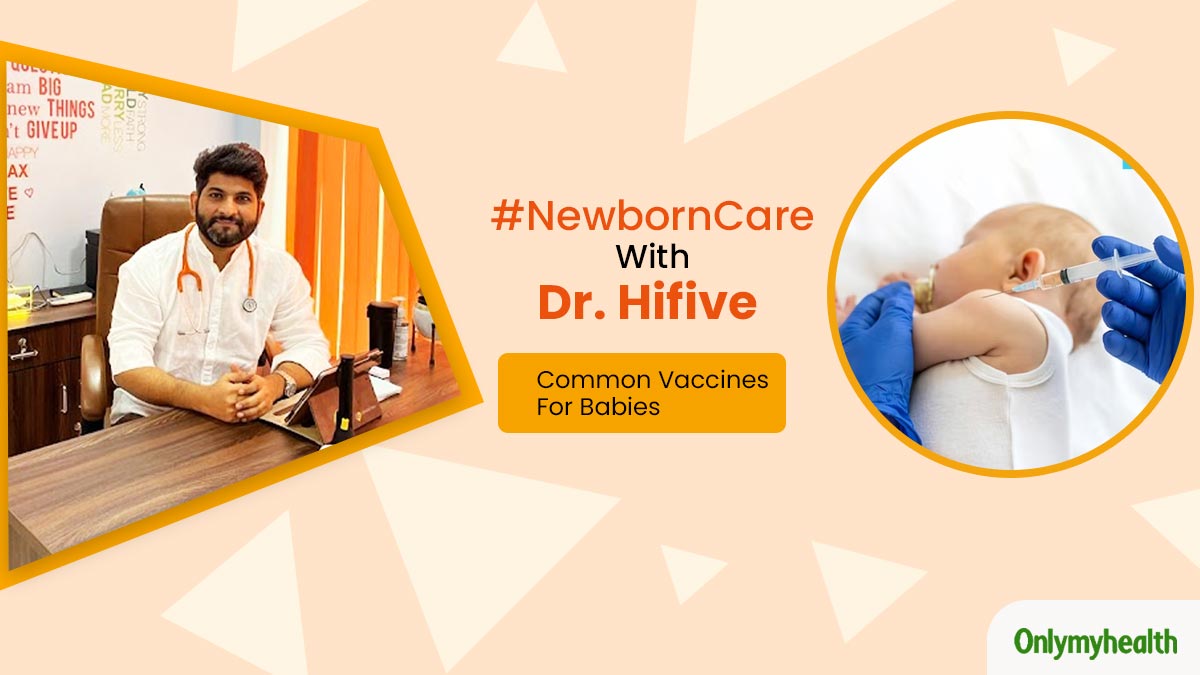 Every year, 2.5 crore children are born in India, accounting for nearly one-fifth of the world's annual childbirths. Shockingly, one of those babies dies every minute, reports Unicef India. According to the Non-Governmental Organisation (NGO), 'early and exclusive breastfeeding and immunisation' against vaccine-preventable diseases can increase survival rates in newborns. But this is only possible if along with accessibility, one acknowledges the need for awareness around the available vaccines and their schedule.
Speaking with the OnlyMyHealth editorial team, Bengaluru-based paediatrician and vaccination specialist Dr Sayed Mujahid Husain (Dr Hifive for Instagrammers), not only discusses the list of common and most important vaccines to administer in newborns but also talks us through how he masters the art of vaccinating small children without causing them any discomfort.
Also Read: Worried About Newborn Catching Infections? Here're 8 Tips To Strengthen the Immunity
List Of Common Vaccines For Babies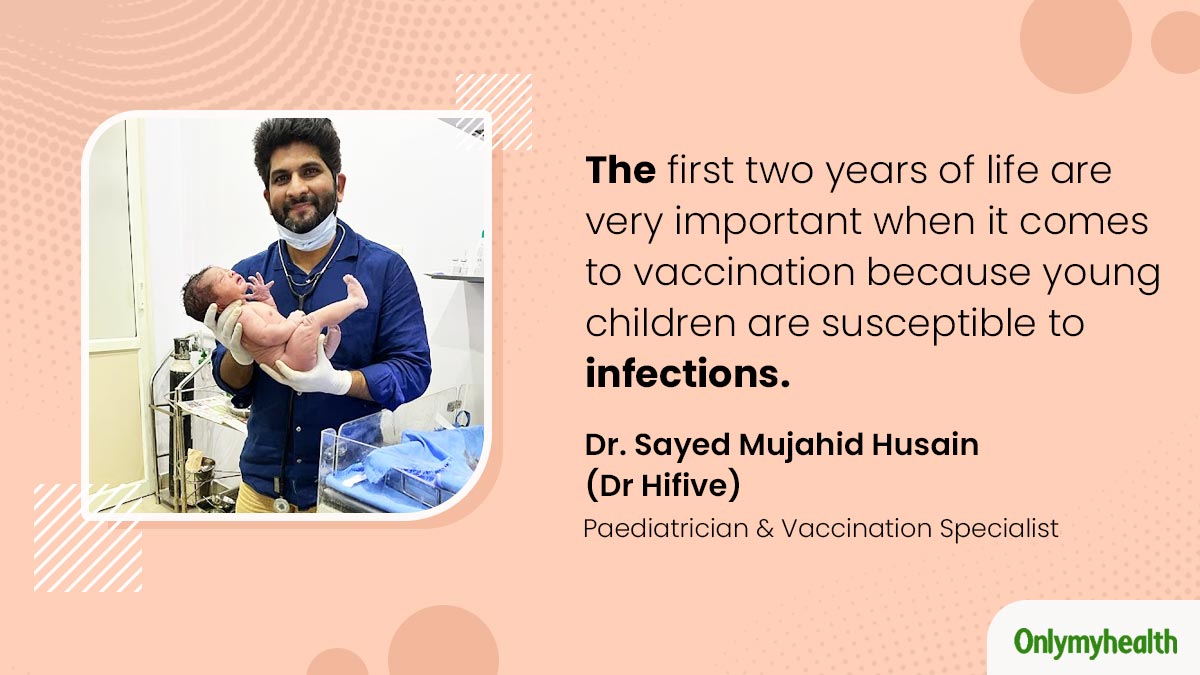 According to Dr Husain, there are two vaccination schedules in India; one is called the Universal Immunization Programme (UIP) or National Immunization Programme (NIP), which is run by the government. The other is the vaccine schedule in the Indian Academy of Pediatrics (IAP), given mostly in the private sector.
He says, "The first two years of life are very important when it comes to vaccination because young children are very susceptible to infections and potential pathogens." Stressing on the most important vaccines to be given at birth, he says, "Bacille Calmette-Guerin (BCG), Hepatitis B and Oral Polio (OP) vaccines are extremely important and should be given to a child at birth."
View this post on Instagram
As per the government immunisation schedule, here are the common vaccines for your newborns with a look at when they should be administered:
At Birth: BCG, Hep B1, OPV
6 Weeks: DTwP /DTaP1, Hib-1, IPV-1, Hep B2, PCV 1, Rota-1
10 Weeks: DTwP /DTaP2, Hib-2, IPV-2, Hep B3, PCV 2, Rota-2
14 Weeks: DTwP /DTaP3, Hib-3, IPV-3, Hep B4, PCV 3, Rota-3*
6 Months: Influenza-1
7 Months: Influenza -2
6 – 9 Months: Typhoid Conjugate Vaccine
9 Months: MMR 1 (Mumps, measles, Rubella)
12 Months: Hepatitis A- 1
12 – 15 Months: PCV Booster
15 Months: MMR 2, Varicella
16 – 18 Months: DTwP /DTaP, Hib, IPV
18 – 19 Months: Hepatitis A- Dose 2, Varicella 2
Also Read: Twin Pregnancy: Double Joy Or Double Challenges? Expert Weighs In
"Distract, Divert And Deliver"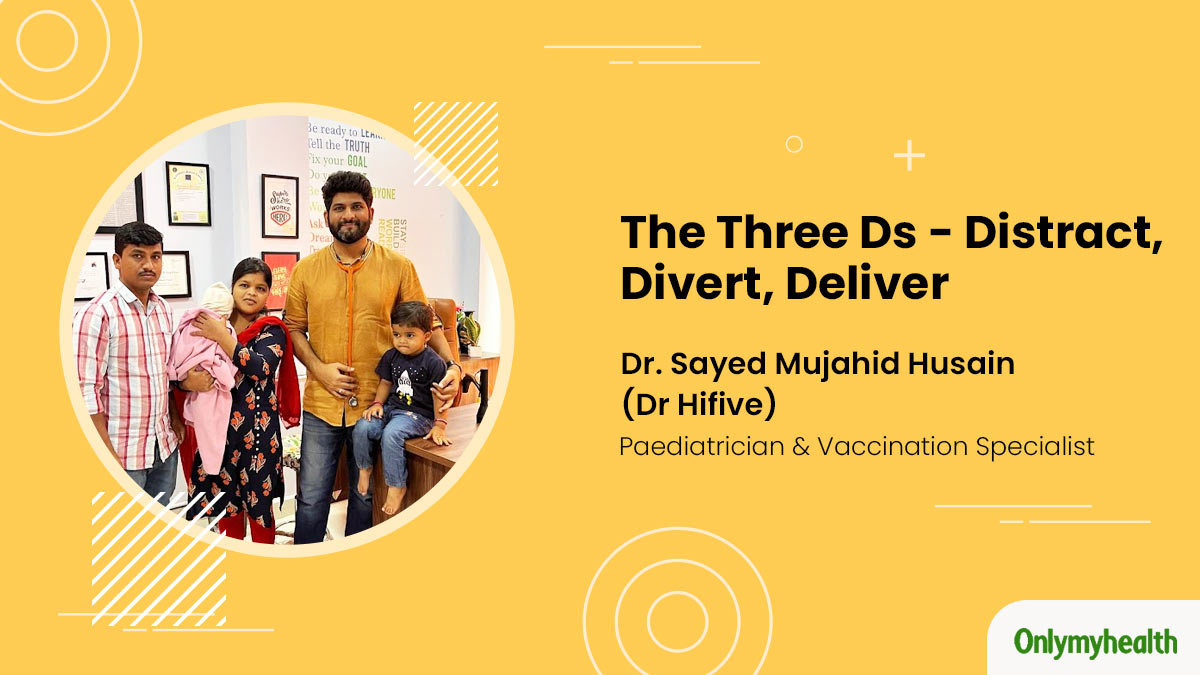 Over the years, Dr Husain has garnered a lot of love and admiration from parents around India; one of the reasons being his unique way of administering vaccines to newborns. "80% of children in my centre don't cry during vaccination" he says. When we asked him how he masters the art, he said, "I never practise any trick, it's just that I do it with a lot of passion and a lot of excitement and positive energy. It all started with the intention to minimise the pain, both for the mother as well as the baby. The mother feels equally anxious and worried as the child goes through the same kind of pain. That's when I started developing certain skills and started implementing certain tricks of my own."
For the doctor, it's all about interacting with the child, talking to the baby, distracting them with stuffed toys, and making funny faces. 'Distract, Divert, And Deliver' - the three Ds is what he calls his approach.
View this post on Instagram
Takeaway
Since vaccines do not provide 100% protection against illnesses, it may not be the silver bullet you want it to be. But vaccination is one of the most effective ways to reduce mortality and morbidity in kids. It helps shield children from preventable diseases and also reduces the risk of early infant deaths. If you're a new parent, make sure to educate yourself about vaccines and immunisation schedules. Talk to a paediatrician to get a more extensive understanding of the importance of vaccination.