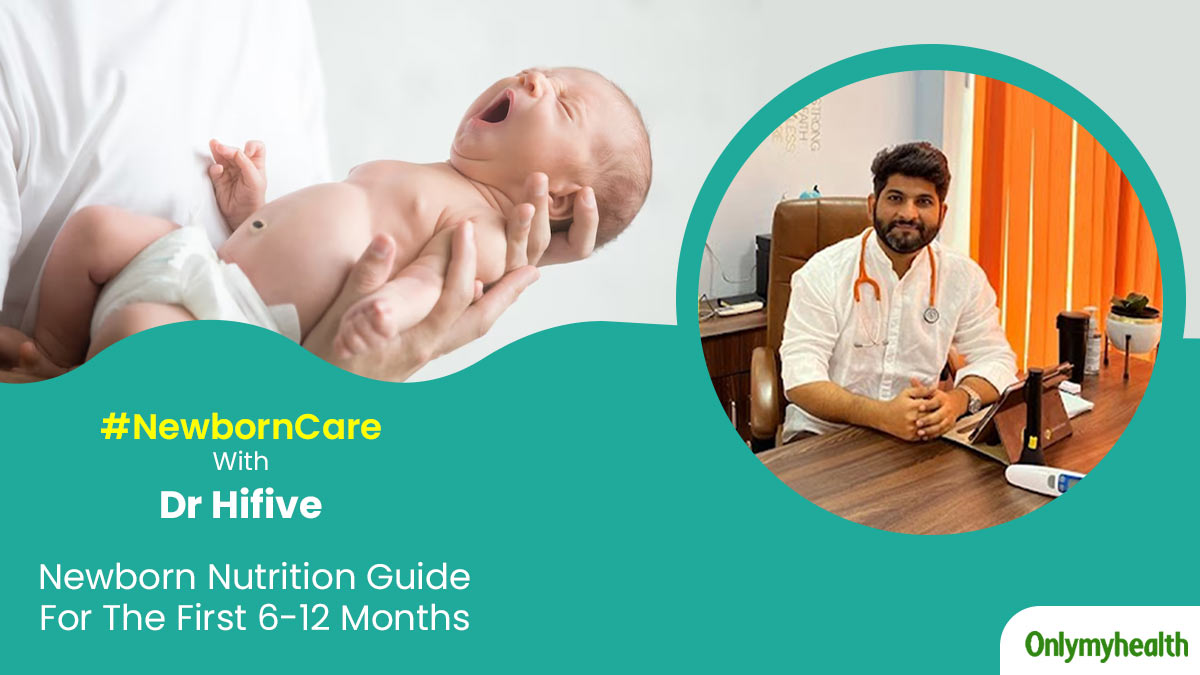 Providing children with proper nutrition is key when it comes to their growth and development. According to the World Health Organization (WHO), undernutrition is linked to 45% of child deaths worldwide. In 2020, an estimated 14.9 crore children under the age of five suffered from stunted growth, 4.5 crore kids were said to be underweight, while 3.89 crore children were obese, as per the global health agency. In addition, the WHO says that only about 44% of infants aged 0-6 months are exclusively breastfed.
The alarming data hints at the necessity to spread awareness around children's nutrition, especially in newborns. Proper and good nutrition in the first two years of life are extremely crucial for the baby's healthy growth and development, says the US Centers for Disease Control and Prevention (CDC). Therefore, we spoke to Bengaluru-based paediatrician and vaccination specialist Dr Sayed Mujahid Husain (Dr Hifive for Instagrammers), who answered some of the burning questions around nutrition in newborns.
Also Read: #NewbornCare With Dr Hifive: List Of Common Vaccines For Babies And When To Administer Them
What Is The Most Important Source Of Nutrition For Newborns In The First 6 months?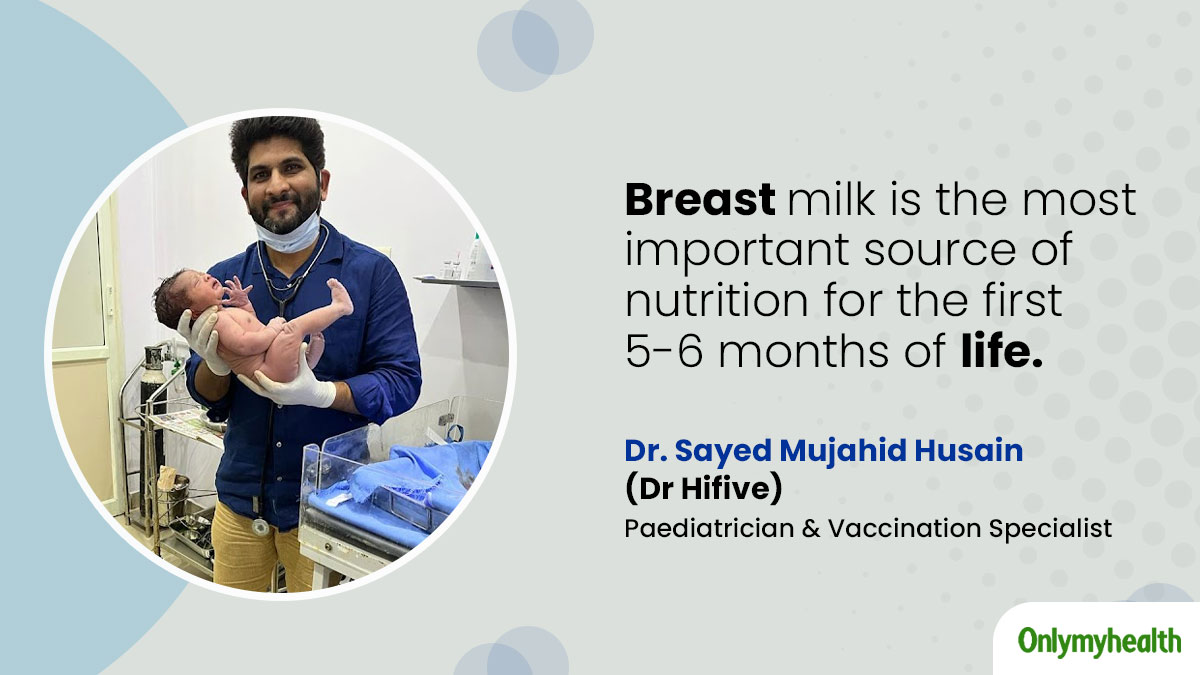 According to Dr Husain, the most important source of nutrition for the first six months is breast milk. A study published in the Journal Nutrients suggests that breast milk contains a variety of bioactive agents that modify the function of the gastrointestinal tract and the immune system, as well as in brain development. The WHO recommends that infants should be exclusively breastfed for the first six months of life.
In some cases, where the mother is unable to secrete breast milk, Dr Husain suggested the introduction of donor breast milk. Human donor breast milk is breast milk produced by another woman that is stored in a milk bank. It all comes down to accessibility and affordability, as per the doctor. In case, both the mother and the donor breast milk are unavailable, one can switch to formula milk, which is usually made from cows' milk, treated to make it suitable for babies.
View this post on Instagram
How Long Should Mothers Breastfeed Their Infants?
Dr Husain says, "Exclusive breastfeeding is done at least for the first five to six months of life, after which the child can be introduced to solid, semi-solid foods, also known as weaning food."
The American Academy of Pediatrics (AAP) and the WHO also recommend exclusive breastfeeding for the first six months, followed by continued breastfeeding along with appropriate complementary foods for up to 2 years of age or longer.
Also Read: #NewbornCare: Vaccination Specialist Dr Hifive Explains The Importance Of Vaccinating Newborns
When Is The Right Time To Introduce Your Baby To Solid Foods?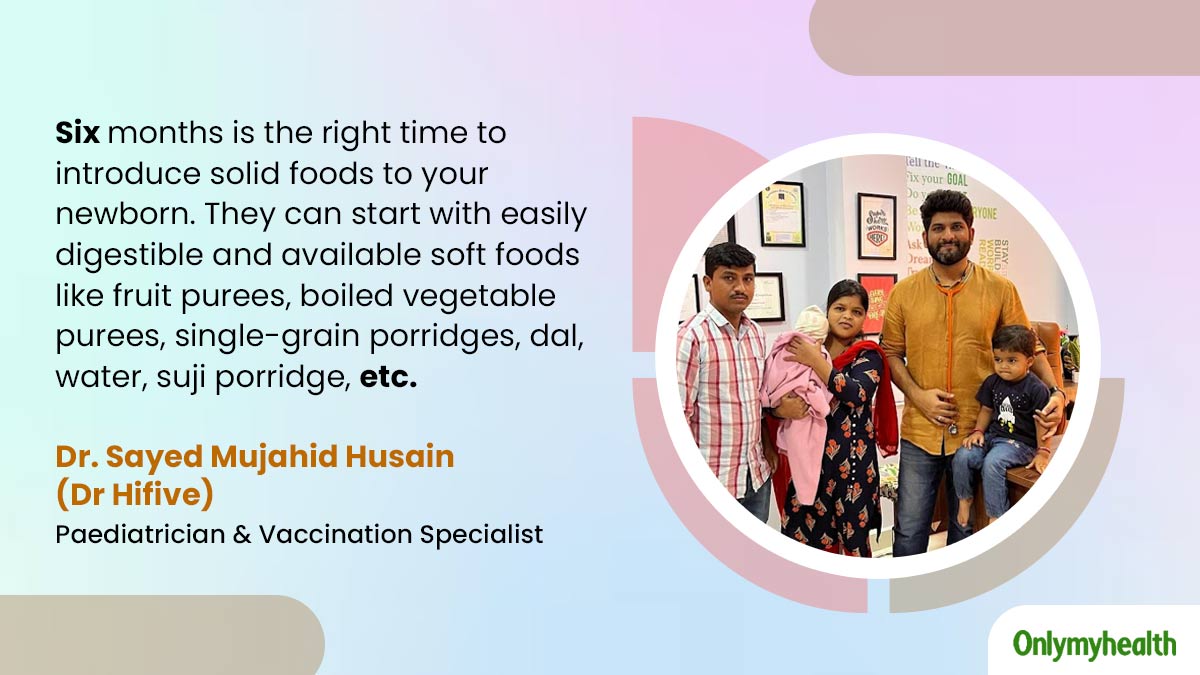 "Six months is the right time to introduce solid foods to your newborn," said Dr Husain. "They can start with easily digestible and available soft foods like fruit purees, vegetable, boiled vegetable purees, single-grain porridges, dal, water, suji, porridge, etc.," the doctor added.
In addition, the doctor encouraged parents to observe their children's eating behaviours. He recommended starting with one or two meals a day to see how the baby takes it and whether he or she is able to digest it properly.
View this post on Instagram
Bottomline
Infant nutrition can be a completely unique subject for new parents. It can be overwhelming to decide what to feed your child. However, for the first five to six months, mothers can breastfeed their babies and not worry about anything else. It is the ultimate source of their nutrition. But after six months, start introducing solids to infants, as per your paediatricians' guidance. Take your time and keep the transition slow.