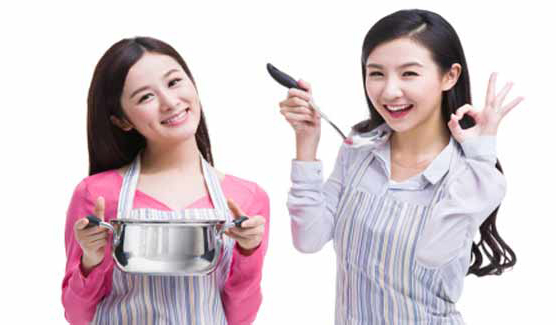 Utensils used for cooking food can be dangerous to health. Materials used in your cookware can leach into the food that is being cooked; so, be careful what you buy.
Hey what's cooking in your kitchen? Are you sure you are not cooking your utensils along with that food? Well, you may be. Next time you dash up something, make sure you do it in a utensil that does not peel, chip, crack, vaporise, dissolve or harbour bacteria.

Yes, your cooking ware can do all that and the utensils' material can leach into the food that is being cooked. Aluminium, copper, iron, lead, stainless steel, and Teflon are common materials used in cookware and utensils. Out of these, lead and copper have been linked with illnesses.

There is a health angle associated with cookware materials too. So, you must choose your cooking utensils carefully. The utensil should be a good conductor of heat so that the food is cooked uniformly. Though, no one substance seems to fit all health criterias, knowing their properties can ease choosing.



Teflon
Chemicals from the PFC (perfluorochemical) family make the coatings of your Teflon utensils. Growing body of evidence shows PFCs to be highly toxic, extraordinarily persistent chemicals- some of which never break down in the environment. They contaminate human blood and wildlife across the globe, which is why scientists have made it a regulatory priority.
According to research, exposure to PFCs before birth can compromise the child's immunity; it also puts people at the risk of arthritis.
Non-anodized Aluminium
If you are using second-hand aluminium utensils, you should check the label carefully and beware of non-anodised aluminium. Why? Because, it can leach aluminium salts into the food, causing variety of unpleasant symptoms. To recognise if a utensil is made up of non-anodised aluminium, you may check if they are heavy and look like pressed from a single piece of thick metal. Also, the inside is of the same colour as the outside. However, most cookware today is made of anodised aluminium.
Lead in Ceramics
According to the National Institutes of Health, "any ceramic cookware bought in another country or considered to be a craft, antique, or collectable may not meet FDA specifications, and should not be used to hold food. Test kits can detect high levels of lead in ceramic cookware, but may not detect lower levels that may also be dangerous."The line says it all.


Copper
According to the National Institutes of Health, the coating on copper and brass pans that prevent the food from coming in contact with copper, breaks down and allows copper to dissolve in food. If you use unlined copper cookware, you may be consuming large amounts of copper which may cause nausea, vomiting, and diarrhoea.

You should avoid using metal or hard plastic utensils on cookware. These utensils can scratch surfaces and cause pots and pans to wear out faster. Use wood, bamboo or silicone instead. Never use cookware if the coating has started to peel or wear away.

Stainless steel is a really great, safe and affordable cookware option. Be careful how you clean it, though, as frequent use of abrasive materials can scratch the surface and lead to the release of small amounts of chromium and nickel.

Image source: Getty