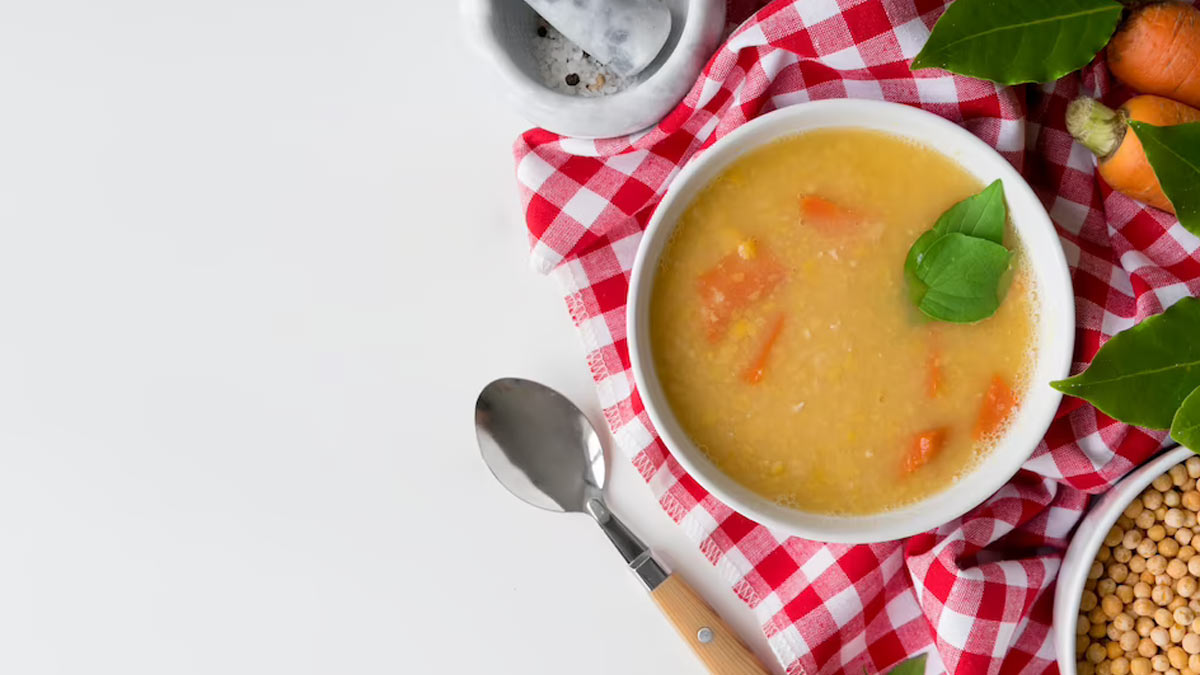 Nothing feels better than sipping a chilled and delicious soup to cool yourself during the scorching summer heat. Chilled soups not only help you beat the heat but also help you reap the benefits of seasonal ingredients. They're usually made using raw ingredients, including vegetables, fruits, herbs, and yoghurt. Cold soups, unlike hot soups, are not cooked or heated. Keep yourself hydrated by trying out these easy-to-make chilled soups at home.
Chilled Soup Recipes To Try At Home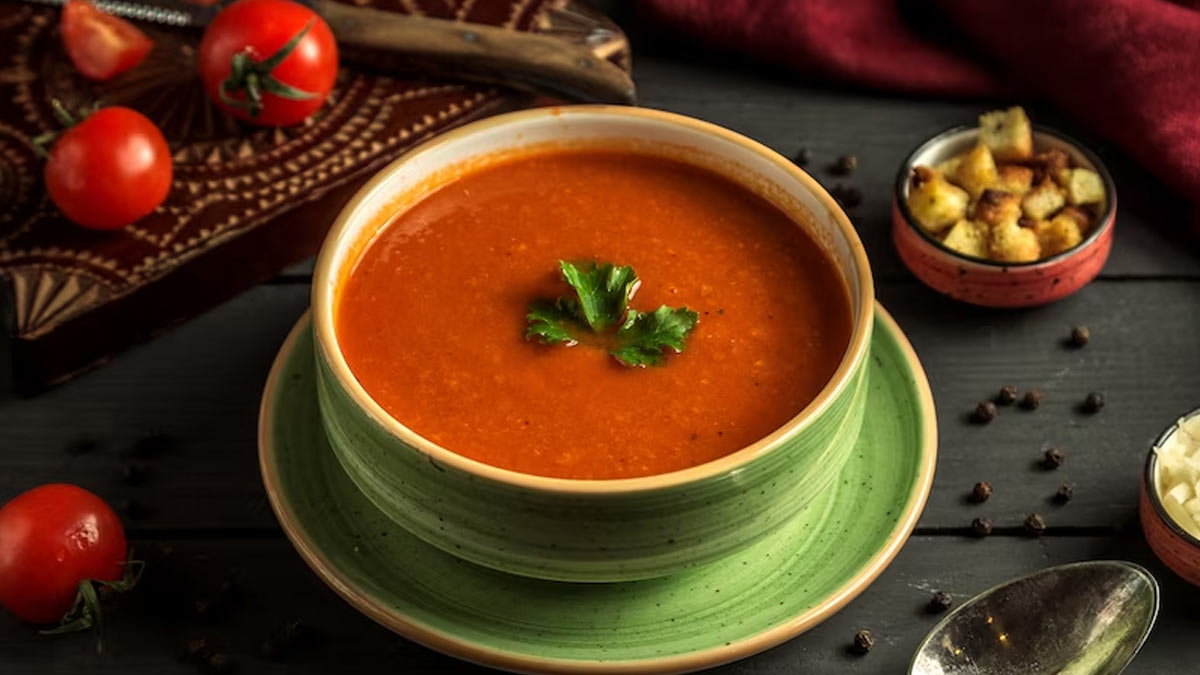 Gazpacho Soup
Gazpacho is a delicious chilled soup which originated in Spain. Try making this soup by following these easy steps:
Ingredients
10 tomatoes
1 Cucumber
1 Red onion
1 Red bell pepper
2 cloves of garlic
1/4 cup of olive oil
2 tablespoons of red wine vinegar
Step 1: Chop the tomatoes, red onion, and red bell pepper.
Step 2: Add the chopped ingredients, garlic cloves, and olive oil to the blender.
Step 3: Blend the mixture until smooth.
Step 4: Add salt and pepper as per your taste.
Step 5: Store the soup in the refrigerator for at least 30 minutes
Step 6: Garnish it with fresh herbs and sip it cold.
Also Read: Summer Weight Loss: 4 Healthy Smoothies For Healthy Weight Loss
Cold mango soup
Mangoes are one of the most loved summer fruits and what's better than enjoying chilled mango soup to beat the heat? Try preparing this soup with the help of this recipe shared by Masterchef Sanjeev Kapoor.
Ingredients
1 peeled ripe mango
2 peeled cucumber
1 roasted red capsicum
1 roasted yellow capsicum
2 cups orange juice
2 pickled jalapenos
4-5 basil leaves
2 teaspoons of sweet corn kernels
Half lemon
Step 1: Remove the seeds from the cucumber and chop it into large pieces.
Step 2: Add chopped cucumber pieces, roughly cut mango, garlic, four torn basil leaves, jalapenos, salt, and orange juice to a blender.
Step 3: Grind it until you get a smooth paste.
Step 4: Chop the roasted capsicum and place it in a bowl.
Step 5: Add drained corn and fresh coriander leaves to the bowl and mix.
Step 6: Extract juice from the half-cut lemon and transfer it to the blended mixture.
Step 7: Transfer the mixture to the bowl and keep it in the refrigerator to get chilled.
Chilled Watermelon Soup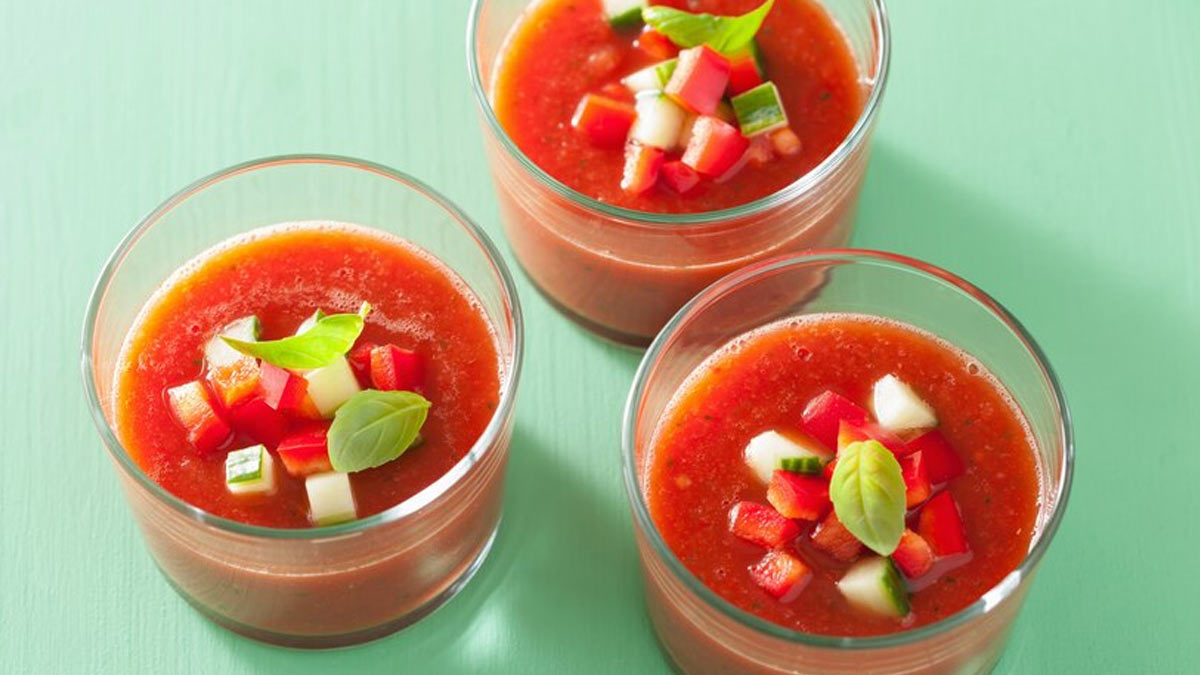 Ingredients
3 cup watermelon juice
1/2 piece ginger
1 small green chilli
2-3 tablespoon cream, whipped smooth
1 sprig of finely chopped mint
1 teaspoon Sugar
1 slice bread
Pepper
Salt
Step 1: Grate half a piece of ginger and keep it aside in a container.
Step 2: Blend watermelon juice, bread, and green chilli to form a smooth paste.
Step 3: Sieve the mixture.
Step 4: Add sugar and salt to the mixture and chill the soup for about two hours.
Step 5: Garnish it with black pepper and chopped mint.
Also Read: Summer Diet: 6 Ways To Reap Health Benefits Of Pomegranate
Cucumber Chilled Soup
Ingredients
2 medium-sized peeled and chopped cucumbers
2 fresh avocados
1/2 cup yoghurt
2 cloves of garlic
2 tablespoons of lemon juice
1/4 cup of fresh mint leaves
Salt and pepper to taste
Step 1: Add the chopped cucumber pieces, avocado, yoghurt, garlic, lemon juice, and mint leaves to the blender.
Step 2: Blend the mixture until smooth.
Step 3: Season it with salt and pepper according to your taste.
Step 4: Store the soup in the refrigerator for at least 30 minutes and serve it chilled.
Disclaimer
This article is for informational purposes only and it is advisable to consult with your dietician before trying any recipe if you're on a diet. Also, avoid adding ingredients that you are allergic to.