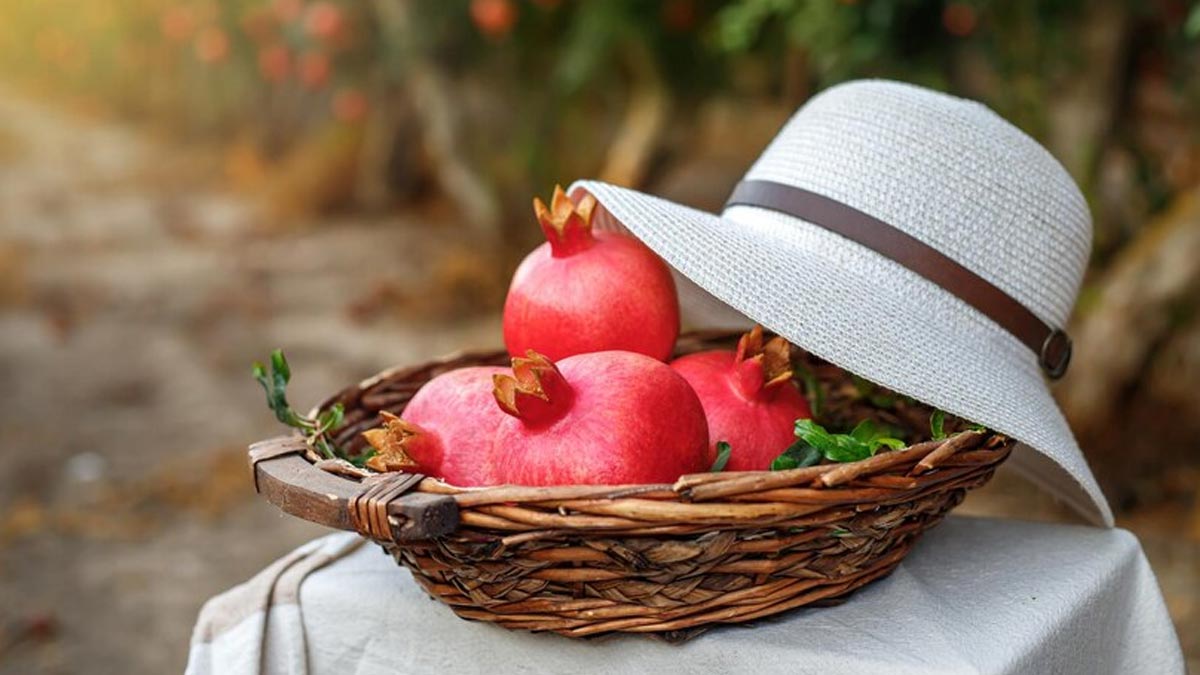 Summer is an ideal time to relish the benefits of juices and fruits, be it watermelon or pomegranate. Eating fruits in summer can help you beat the summer heat and provide the required nutrition. One such fruit that offers a plethora of benefits is pomegranate. It not only adds a tangy sweetness to your meals, but it also contains important elements including vitamins, fibre, and antioxidants. But, with so many ways to incorporate pomegranate into your diet, where do you start? Fear not, as these seven ways will help you incorporate this superfood into your summer meals.
6 Ways To Add Pomegranate To Your Diet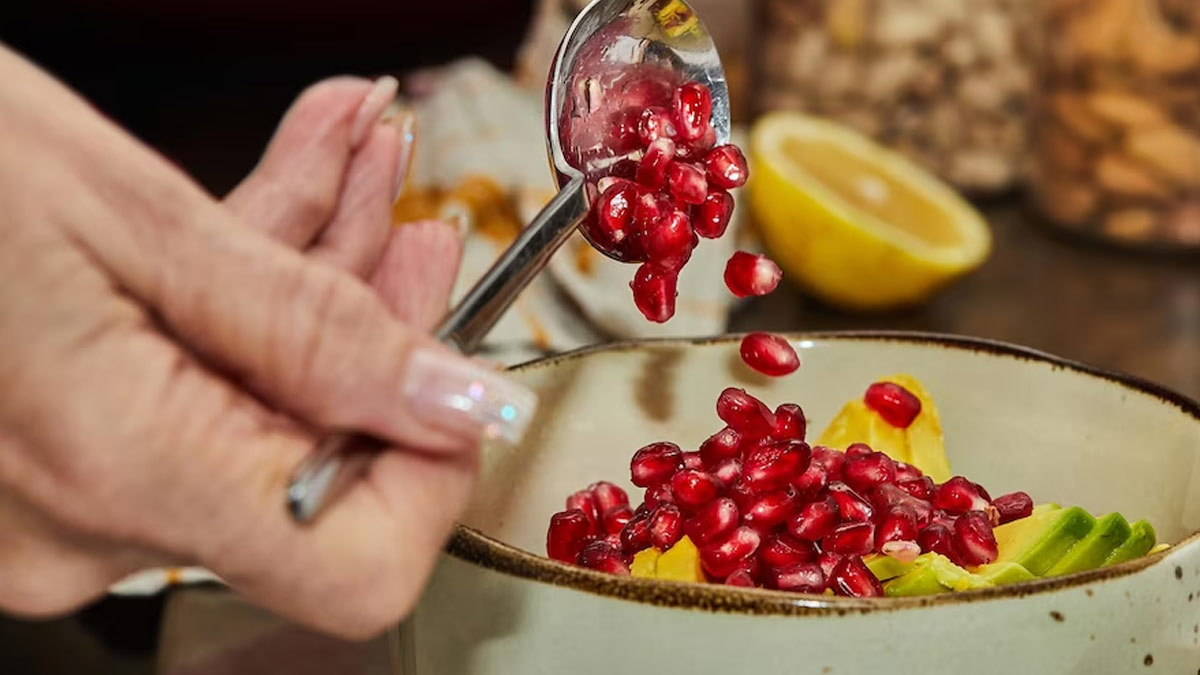 Pomegranate Salad
Adding pomegranate to the salad doubles its nutritional value. Combine pomegranate seeds with fresh greens like spinach or rocket to make a colourful and nutritious salad. The pomegranate seeds' sweet and tart flavours lend a burst of freshness to the salad.
Also Read: 6 Reasons Why You Should Start Eating Pomegranates
Add It To Yogurt Or Oatmeal
You can enhance the taste and texture of your morning yoghurt or oatmeal by adding pomegranate seeds. The juicy arils will provide an enjoyable contrast to the creamy texture of the yoghurt or oats. This simple addition will not only elevate the taste but also provide you with a good dose of fibre and antioxidants to start your day.
Pomegranate Popsicles
Pomegranate ice pops are a fun way to make your summer diet exciting. Simply combine pomegranate juice and your favourite fruits, such as strawberries, raspberries, or watermelon. Pour the mixture into popsicle moulds, top with pomegranate arils, and freeze until solid. These frosty delights are not only physically stunning, but they are also high in antioxidants, making them a guilt-free summer pleasure.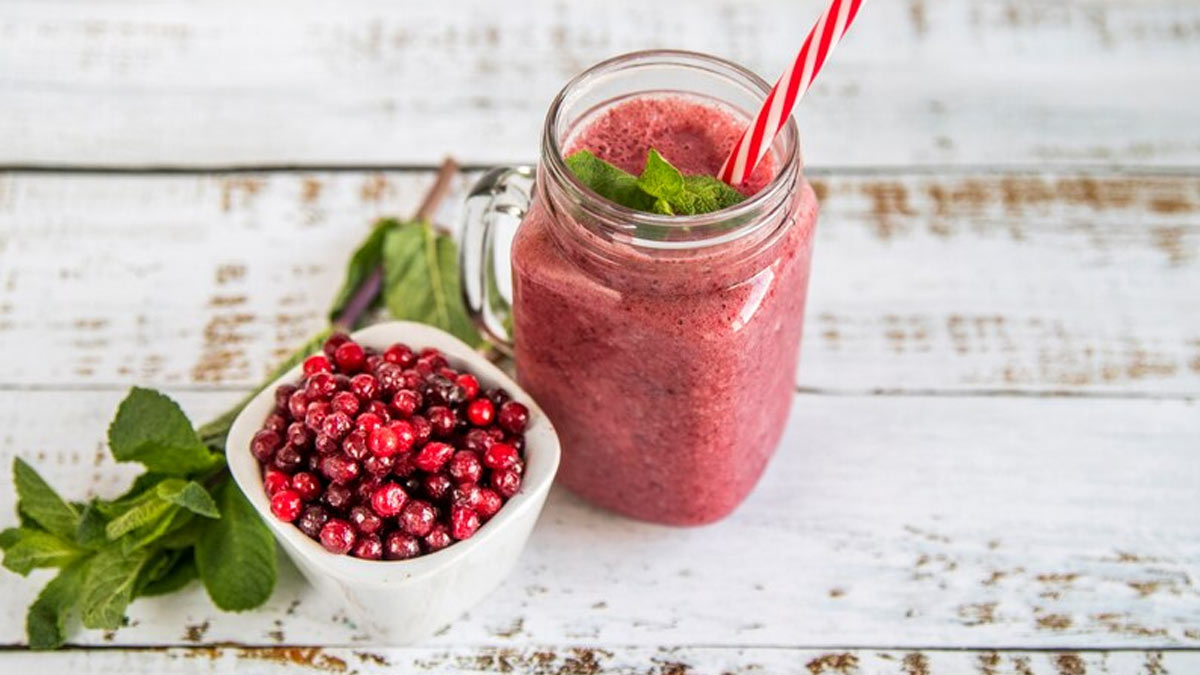 Blend It Into Smoothies
Summers can be a great time to indulge in smoothies, shakes and juices and what's better than blending pomegranate into smoothies? According to the National Library of Medicine, pomegranate juice helps lower macrophage oxidative stress, free radicals, and lipid peroxidation. For a refreshing and nutrient-packed smoothie, add pomegranate juice or fresh arils to your blender. The tangy flavour of pomegranate pairs well with a variety of fruits like berries, bananas, and citrus fruits.
Also Read: From Weight Loss To Good Skin: Here Are 8 Benefits Of Pomegranate Juice
Pomegranate Tea
Several studies, according to the National Library of Medicine, have highlighted the potential role of pomegranate in the treatment of cancer, diabetes, and heart disease. So, sip the benefits of this superfood. To infuse the flavours, add a few pomegranate seeds to a pitcher of water and set it there for a couple of hours. Or, you can brew a cup of your favourite herbal tea and drop a few pomegranate arils into the hot liquid.
Pomegranate Lemonade
You can quench your thirst by indulging in a glass of pomegranate lemonade. Squeeze fresh lemons, mix the juice with pomegranate juice, and add a hint of sweetness with a natural sweetener. Stir it well, pour over ice, and garnish with pomegranate arils and a sprig of mint. This tangy-sweet concoction will keep you cool and hydrated all summer long.
Disclaimer
This article is for informational purposes only and it is advisable to consult with a dietitian before trying these recipes if you are on medication.