Ayurveda calls ghee a satvik food or a positive food, with easily digestible fats, a product that nourishes us inside out
The Ayurveda swears by the benefits ghee provides. From a great taste, used in Indian delicacies, to enhancing skin and hair beauty, ghee or clarified butter (every grandma's favourite) has so many uses. Where we are trying to look for so many beauty products, which are natural but we often forget this gift of Ayurveda. A repository of super healthy fatty acids, vitamins, and antioxidants, ghee is one of the best boons for overall health, from which skin care and hair care can also be managed.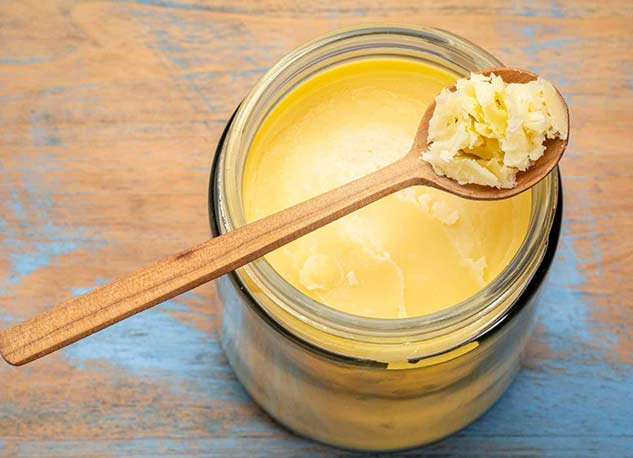 Let us see how ghee provides immense care for our skin and hair.
Ghee for Skincare
1) APPLICATION ON THE FACE: Get glowing skin by using ghee on skin. Application on the face enhances glow on the skin and hence can be used by sensitive or oily skin as well after mixing with gram flour or besan.
Ghee Face Pack: Mixing similar quantity of gram flour and ghee to make a fine paste, applying it on the face, hands. Let it dry for at least 10 minutes and wash off.
Repeat the use at least 3 times a week to get glowing and whiter skin.
2) AS A MOISTURISER ON YOUR WINTER FACE: Along with a glowing skin, with good quantity and quality of fat present in the ghee, it is also a great moisturiser. This works great for dry skin, especially in summers. Changing seasons exposes our skin to heat, dry air, taking away the moisture and then comes ghee for the rescue.
A tablespoon of ghee mixed with 2 tablespoon of water, applied to the face and neck area washing after keeping for at least 20 minutes, thrice a week, provides deep nourishment to the sk
Also Read: How Much Ghee Should Be Consumed By Different Age Groups In A Day? Suggests This Nutrition Expert
3) FOR DARK CIRCLES: Resort to ghee after your long working hours on the laptop. Apply ghee on your under eyes and eyelids before sleeping, leaving it as is. Wash it in the morning with plain water. A few weeks of daily application of it will show you the results.
4) FOR CHAPPED, DRY LIPS: The petroleum jelly can be easily replaced by this nutrient full and softness provider. Overnight results can be seen or maximum a week after, your lips will become soft and rosy.
Ghee for Haircare
Naturally smooth, shiny and stronger hair is possible and this is not an advertisement of a cosmetic product; but only through the easily available, ghee.
Ghee is a perfect nourishing agent for the hair, enriched with the fatty acids, helps in hair strengthening as well as growth. It works very well on the scalp, promotes blood circulation in the scalp, and hence enhances hair growth and making it thick too.
The second benefit is same as on skin that is, moisturising. For dull and dry hair, ghee goes deep in the roots and boosts from within, treating dullness and roughness. A mild application in the roots, covering hair with a cap for overnight and washing it in the morning will bring the required softness.
Hair texture also improves with direct application on the hair and scalp. Gentle rubbing of the scalp for a few minutes, letting it sit for an hour followed by shampoo wash will do the trick of giving smoothness and shine.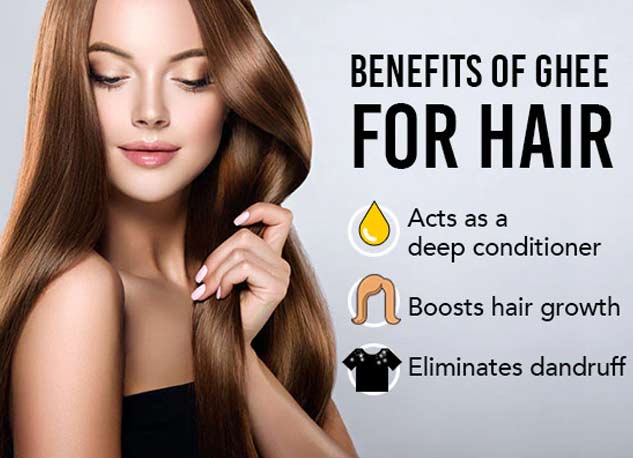 Also Read: These 4 Myths About Desi Ghee Are So Not True
Ghee is mostly obtained from cow, goat, buffalo or sheep's milk and is used in every Indian household. Its shelf life is very long and along with its use in food, it has been recommended for making many Ayurveda recipes and even for directly on various body parts as a beauty enhancer and for treatment through healthy products.
Read more articles on Home Remedies