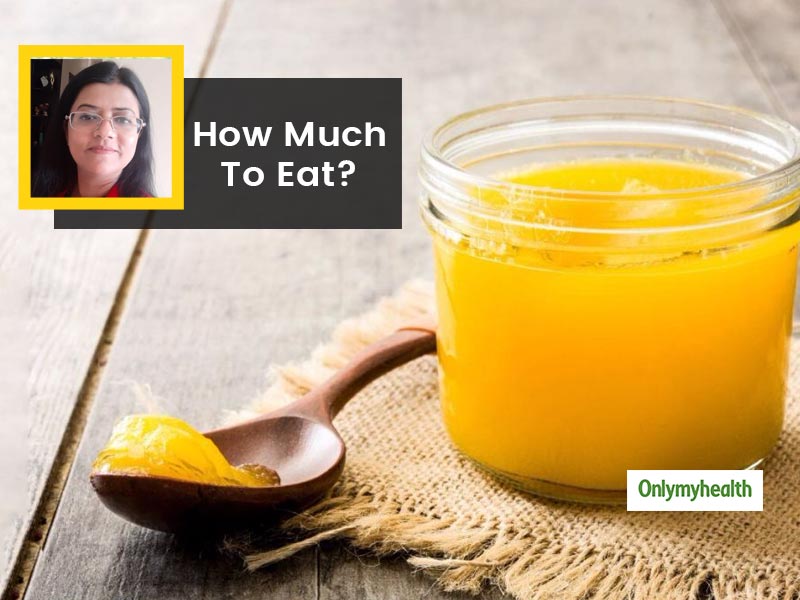 Experts suggest that consuming ghee in your daily diet helps maintain good immunity and has various other health benefits. But even if it is good, it cannot be included in considerable quantities to maintain a balance of other nutrients too in your daily diet. It is always recommended to take a combination of fats (saturated and unsaturated) to get the maximum benefits. Since time immemorial, ghee has been a much-preferred type of clarified butter, which has various health benefits. Even though it is categorised under the category of fat, ghee is considered better than any other oil that we use for cooking. Ghee is all-natural and is free of trans fat. Ghee has healthy acid, and other nutrients, including Vitamin B 2, vitamin B12, vitamin B6, vitamin C, vitamin E and is a source of vitamins. Ghee has Omega-3 and Omega 6 fatty acids, which helps keep the brain, heart, nervous system healthy.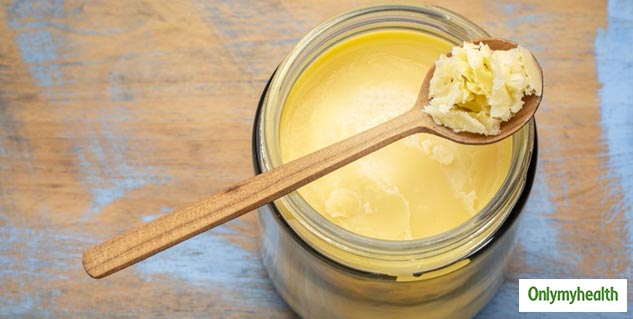 Also Read: Health Benefits Of Eating Cow Ghee On An Empty Stomach
We must understand that ghee if had in unrealistic quantity, can be a reason of various health concerns and illnesses too. But, if had in limited or in specified limits can do great wonders to your body. Onlymyhealth got in touch with Nutritionist Kavita Rastogi, Founder – Nutriremedy to understand how much ghee one must take in a day for different age groups.
How Much Ghee To Eat In A Day?
Nutritionist Kavita Rastogi explains that there should be 50 per cent of total visible fat allowance. Following are the quantity of ghee that one can take in a day:
Adult men and women: 2 tsp/day
Pregnant and lactating women: ~3 tsp/day
Infants:
0-6 months (only mother's milk)
7-24 months: 2-3 tsp/day
Children (3-9 years): 2-3 tsp/day
Adolescents (10-17 years) : 3tsp/day
Please note that the above recommendations do not take into account the patients with different disease conditions. Such patients should follow a customised regime as per their blood parameters.
Can Ghee Lead To Weight Gain?
We know how petrified we are when we think of the quantity of ghee and fats in our meals. This leads to various myths and misconceptions in regards to weight gain and healthy fats. Hence, those who think that even a slight amount of ghee can lead to weight gain, then one must know that eating healthy fats is as essential as we take protein in our diet. Healthy fats help our body with the required energy, and ghee as lubrication, keeping our joints healthy. If you think ghee can lead to weight gain, then Nutritionist Kavita Rastogi busts the myth, "Your weight does not go up if you incorporate ghee according to the total calorie limit, which includes other macronutrients like carbohydrates and proteins, as per your weight, height, age and activity levels. Ghee is also great to consume, as per ayurveda.
Watch: Some tips to reduce cholesterol to keep body weight in control:
Which Ghee Is Beneficial? Cow Or Buffalo Ghee?
With always a struggle on what is healthier, cow or buffalo ghee? We have various people talking about and resorting to the use of specific ghee for everyday use. But which one is healthier? To start with, here are some things you need to know about cow ghee and buffalo ghee:
Cow Ghee: Ghee made from cow's milk makes the body healthy in many ways. It is believed that regular intake of cows ghee helps in keeping the cholesterol in control, so it does not allow carcinogenic cells to grow in the body. Cow's pure desi ghee is great for migraine patients. Vitamin K2 is found in cow ghee, which works to remove calcium deposits in the blood cells. Desi ghee strenthens the immune system, which gives the strength to fight against infections and diseases.
Buffalo Ghee: Due to the excellent presence of vitamin A, consumption of buffalo ghee keep our eyes healthy. This ghee contains carotenoids in the form of antioxidants that help to eliminate free radicals and neutralise their effects. In this way, you can reduce the chances of macular degeneration and cataract by consuming this ghee.
But, the nutritionist suggests that one must take more of cow ghee for its various health benefits. She concludes," Cow ghee is the healthiest which is made by the method of churning. It helps in weight loss by regulating metabolism. It consists of short and medium-chain fatty acids which have various health benefits. Also, ghee helps eliminate toxins and boost immunity. It is rich in Vitamin A, D, E and K, thus keeping the gut, bones, hair, skin and joints healthy."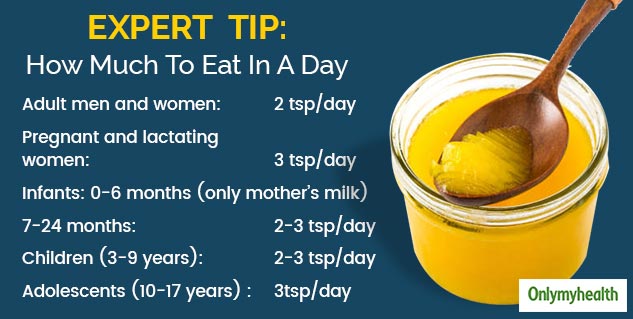 Also Read: Ghee Benefits: Basic Queries About This Elixir for Health By Dr Swati Bathwal
Also, in times when we are all running behind strengthening our immunity, the parting note here is to know ghee also has antiviral properties. You can use pure ghee of cow to increase immunity. Butyric acids present in ghee help increase the production of T-cells in the intestine. Also, the antiviral and antifungal properties present in ghee help in enhancing the immune system. If you are suffering from repeated infections, then to avoid this, you should consume ghee to increase your immunity.
Read more articles on Healthy Diet