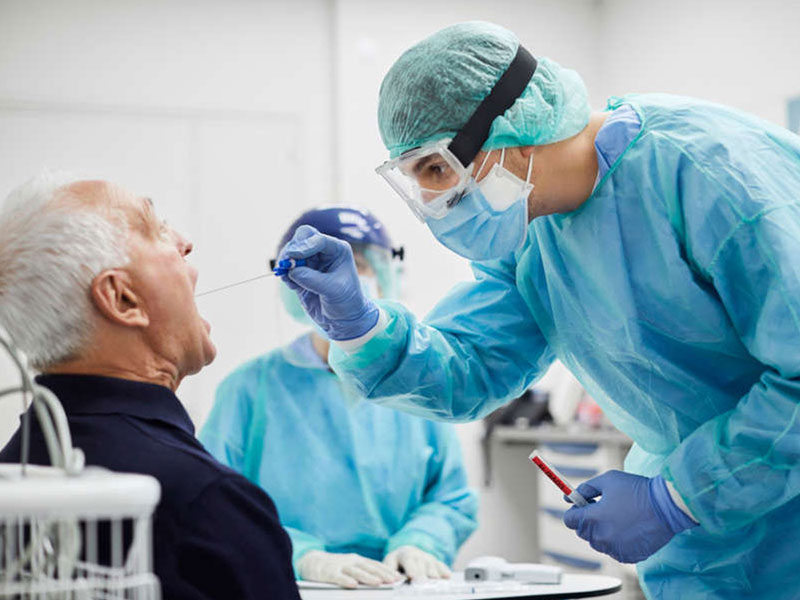 Cases of aspergillosis in Covid-19 patients are on rise. They can develop complications in brain and eyes. Know the symptoms, causes and treatment.
Aspergillosis has joined a string of fungal infections (black fungus, white fungus, yellow fungus) that are making the lives of many Covid-19 patients or even those who have recovered from it tougher. Cases of invasive aspergillosis – a type of aspergillosis – are on the rise and health experts across the country are spreading awareness about the same.
Aspergillosis is an infection caused by aspergillus, a type of fungus that lives both indoors and outdoors. While generally most people breathe in aspergillus spores on a daily basis without getting ill, in case of people with low immunity or on steroids, it may lead to serious complications.
Causes of Aspergillosis
Though there are different types of aspergillosis, but in case of Covid-19 patients, invasive aspergillosis is seen. It occurs when people whose immune system is weak or those who have lung diseases come in contact with the infection. It is dangerous because it spreads rapidly from the lungs to the brain, heart, eyes, etc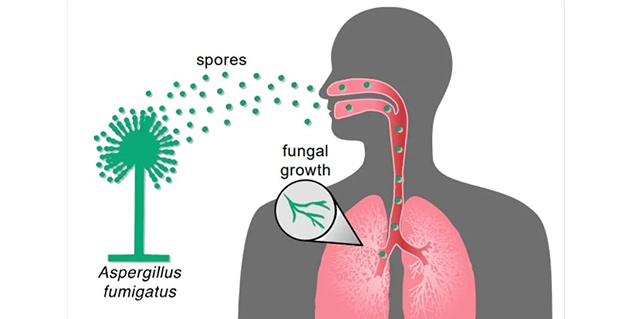 Due to the sudden surge of the cases of invasive aspergillosis, hospitals are taking adequate measures to control its spread. Many cases have been reported in hospitals in Vadodara, Gujarat. The good news is that early diagnosis of the disease can help contain it before they spread to the eye or even reach the brain.
"There is a sudden and alarming increase in the occurrence of Invasive aspergillosis. We are now routinely doing a nasal endoscopy for all post-covid patients for the early diagnosis of invasive fungal infections before they spread to the eye or brain," said Dr. Shalaka Dighe, ENT Surgeon, Zen Multispeciality Hospital, Mumbai.
Dr Dighe also informs what kind of patients can develop this condition and what are the red flags.
Also Read: Get Yourself Checked For Mucormycosis Or Black Fungus If You Have These Symptoms, Warns Top Doctor
Who Are At Risk Of Invasive Aspergillosis
Post-Covid patients especially the ones who have received steroids or long-term broad-spectrum antibiotics or have had a prolonged hospital stay
People with weakened immune systems
People who are on steroids as they reduce the inflammation in the body, but also suppress immunity.
Those who have uncontrolled diabetes
Organ transplant recipients
People certain types of blood cancer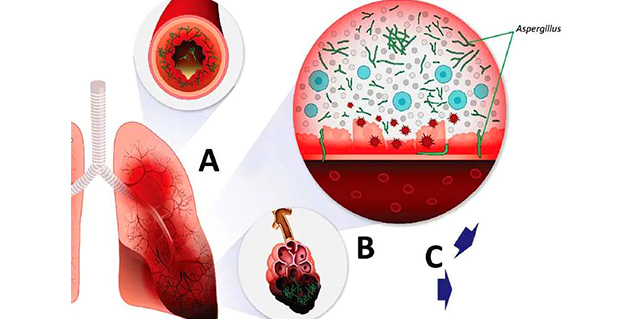 What Are The Symptoms Of Invasive Aspergillosis
Fever
Chest pain
Eye pain
Swelling of the eyes and cheek,
Nose block,
Cheek pain
Abnormal discharge from the nose
Cough
Coughing up blood
Shortness of breath
Other symptoms can develop if the infection spreads from the lungs to other parts of the body.
Also Read: Easy Tips To Avoid Fungal Infections Related To Head And Skin
Treatment of Invasive Aspergillosis
Anti-fungal drug Voriconazole is generally used for the treatment of aspergillosis. But, in patients where the nasal material called aseptate fungi also showed mucor but the fungal culture only grew Aspergillosis, the patients were not given voriconazole as it will suppress aspergillosis but can lead to a flare-up of mucormycosis.
"We used a newer anti-fungal called Isavuconazole to treat these patients, as it works against both mucormycosis and Aspergillosis," said Dr. Dighe.
What Can Be Done To Prevent Invasive Aspergillosis
Among the many Covid and post-Covid complications, the addition of aspergillosis raises concern but by taking appropriate measures and raising awareness it can be contained. One must exercise due care as far as usage of steroids, and other medication is concerned.
Dr. Roy Patankar, Director and Gastroenterologist, Zen Multispeciality Hospital has a word of caution.
"Invasive fungal infections such as mucormycosis have been associated with higher morbidity and mortality rates. Now, aspergillosis is also increasingly picked up among post-Covid patients. Avoid taking steroids for more than 10 days with good blood sugar control as it can invite fungal infections. The usage of steroids should only be under the supervision of the doctor. Avoid self-medication if you have diabetes or have undergone organ transplant to avoid aspergillosis," he concludes.
Read More Articles on Other Diseases