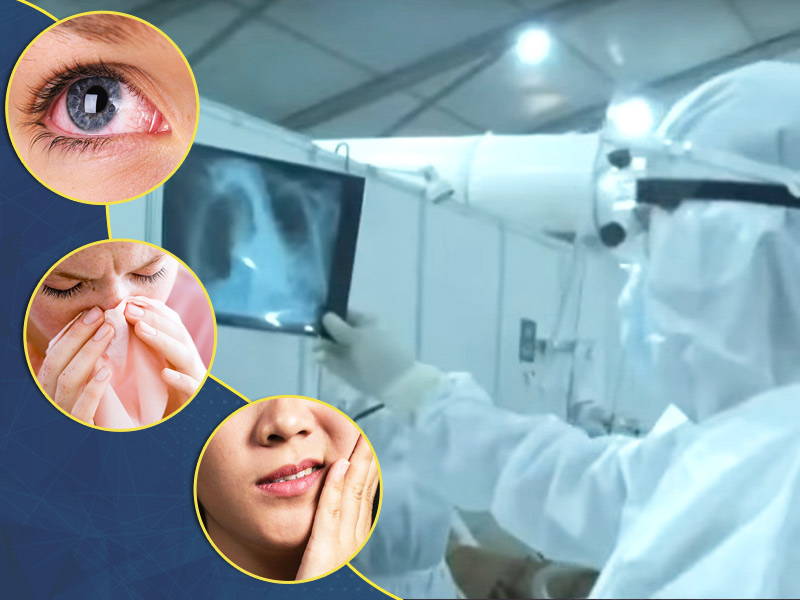 Even as people are waiting for the second wave of pandemic to subside, mucormycosis or black fungus is fast emerging as yet another risk to public health. Over 2,000 cases of the deadly fungal infection have already been reported from various hospitals including AIIMS, Delhi and unconfirmed reports suggest a spurt in the disease. So far, the infection has mostly been detected mostly in cases of patients in the process of Covid-19 recovery or already recovered from the virus. An advisory issued by Indian Council of Medical Research (ICMR) has said that Covid patients with co-morbidities, staying longer in hospitals or other serious medical conditions are more vulnerable to the risk of mucormycosis. While body normally fights such infection, weak immune system during Covid-19 makes a person susceptible to micro-organisms such as black fungus. Besides keeping the guard on for Coronavirus, there is a need to be more cautious against the new threat and watch out for any related symptoms of it.
Also Read: How Effective Is DRDO's New Anti-Covid Drug And Should It Be Taken Without Prescription?
What is Mucormycosis and how common it is?
Mucormycosis can be potentially life-threatening in diabetic or severely immunocompromised individuals. In Covid times, however, due to increase in patients getting steroids, the condition is on rise and has started appearing in clusters in hospitals.
"Black fungus is not a new thing but because there are lakhs of Covid patients right now and many of them are getting steroids. Patients who take more steroids and have uncontrolled diabetes are more at risk. So, we can say the combination of inappropriate use of steroids and uncontrolled diabetes leads to development of this disease," says Dr Anant Mohan, Head of Pulmonary Medicine at AIIMS in Delhi.
The common symptoms of mucormycosis include blackening or discoloration over the bridge of the nose, blurred or double vision, chest pain, breathing difficulties, one-sided facial pain and numbness.
As per Ministry of Health and Family Welfare, the fungal infection begins to first manifest as skin infection in the air pockets located behind forehead, nose, cheekbones, and in between the eyes and teeth. It then spreads to eyes, lungs and could even spread to the brain.
Dr Sweta Budyal, Senior Consultant Endocrinologist, Fortis Hospital, Mulund said that black fungus leads to worsening of the respiratory systems.
Signs & Symptoms Of Mucormycosis
Dr. Budyal says according to the taskforce advisory, following are the symptoms of Mucormycosis:
1) Sinusitis: It is basically swelling of tissues lining the sinuses. If one experiences nasal blockage or congestion or suffer a nasal discharge which is blackish or bloody, one should be worried and consult a doctor.
2) Facial pain, swelling or numbness: If you have a discomfort or experience local pain on the cheekbone, one-sided facial pain, numbness or any sort of swelling, it is time to get cautious.
3) If you notice blackish discoloration over the bridge of your nose/ palate, you should take appropriate measures.
4) Notice if there is any loosening of teeth or troubles with jaw, it might be mucormycosis.
5) The person who is suffering from mucormycosis may have blurred or double vision with pain.
6) Thrombosis, necrotic skin lesion are some other symptoms.
7) Chest pain, pleural effusion, worsening of respiratory symptoms are also signs that you need to consult a doctor.
"The symptoms may include one-sided headache behind the eyes, facial pain, fevers, nasal congestion that progresses to black discharge, and acute sinusitis along with eye swelling. Affected skin may appear relatively normal during the earliest stages of infection. This skin quickly becomes reddened and may be swollen before eventually turning black due to tissue death," says Dr. Budyal.
Also Read: Black Fungus Cases Being Reported In Delhi Due To Covid? Know Everything About Mucormycosis
She also warns that being more deadly for diabetics, they must keep their sugar levels in check. Also, while steroids are helpful in containing the damage to body due to Covid-19, it could also reduce body's immunity and increase blood sugar levels in both diabetic and non-diabetic Covid patients.
Read more articles on Other Diseases