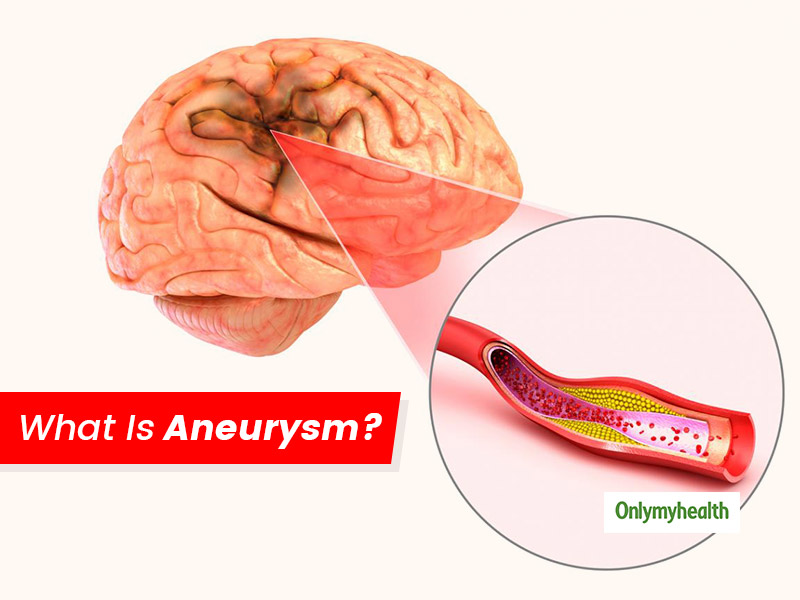 What Is Aneurysm? Who is at risk of developing Aneurysm? How one can survive and live with Aneurysm?
What is Aneurysm? The aneurysm is an outpouching from a defective or diseased blood vessel. It can be located in any part of the body, including the brain. It can be saccular or fusiform depending on the shape or small, large or giant depending on size. The aneurysm can be congenital (since birth), due to hypertension, post-traumatic or post-infection. The aneurysm is like a balloon arising from the blood vessel's weak wall. Usually, the artery wall is soft at that site since birth and outpouching grow in size with age. If the wall of this balloon-like outpouching is strong, it may not rupture and becomes very large. Rupture of the aneurysm may occur from its weakest part even when it is small in size. The aneurysm may clinically present as haemorrhage due to fracture or as a space-occupying lesion due to its size. Sometimes they are silent and detected incidentally on routine MRI or angiography. Brain haemorrhage due to aneurysm rupture leads to sudden severe headache associated with unconsciousness, vomiting, seizure or limb weakness.
What are the symptoms of Aneurysm?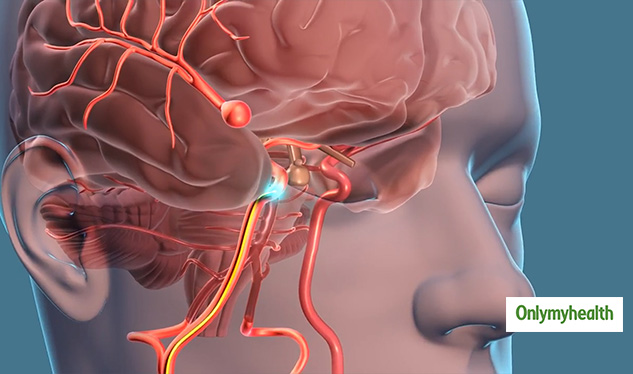 Sometime the aneurysm may arise from a diseased artery. The diseases can be a collagen vascular disease (defective tissue or building material of blood vessel wall), infection or inflammation (vasculitis) or trauma to the vessel wall.
Sudden bleeding from any part of the body
Double vision or other changes in vision
Feeling intense pain in nerves
Pain above or below the eye
Dizziness and giddiness
Increased heartbeat
What are the causes of Aneurysm?
The exact cause of this disease is not yet known, but there are some factors which increase the risk of this disease, such as -
The arteries' walls may be weakened due to the arterial tissue's malfunctioning, which may cause an aneurism.
High blood pressure also puts pressure on the nerves, which can cause aneurysm disease.
Those who suffer from polycystic kidney disease may also be at risk of aneurysm.
Veins can also rupture due to blood clotting.
Family history.
Other rare causes of aneurysms: What triggers an aneurysm? Aneurysms have various reasons, including trauma, atherosclerosis, and abnormal blood flow. Infections of the artery wall cause mycotic aneurysms.
What is the diagnosis of Aneurysm?
The aneurysm can be diagnosed on MRI and angiography. Giant aneurysms can be seen on a CT scan. Angiography is of 3 types: MRI based, CT angiography and DSA (digital subtraction angiography). DSA is the gold standard and gives complete information about the blood circulation in the brain and vascular abnormalities. Unruptured aneurysms are discovered incidentally during CT or MRI scan (routine imaging of the brain). One should be encouraged to perform screenings if a person has a family history of brain aneurysms.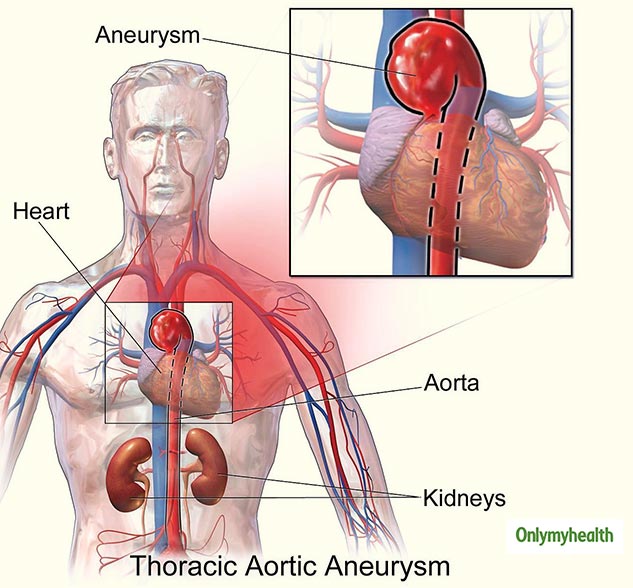 What are the different types of Aneurysm?
Aneurysm rupture can lead to the following types of brain haemorrhage. Subarachnoid haemorrhage- blood on the surface of the brain at its base near the main blood vessels. Intracranial hematoma- blood inside the brain tissue. Intraventricular hematoma- blood inside the regular fluid-filled spaces inside the brain. Subdural hematoma- blood is located between the brain and cranial vault; rarely seen. 1 in 50 people or 6.5 million people in the US (United States) have an unruptured brain aneurysm. About thirty thousand people in the US suffer a brain aneurysm rupture every year. Do you know that a brain aneurysm ruptures in every 18 minutes?
Also read: What are the symptoms of Cerebral Aneurysm?
Who is at risk of developing Aneurysm?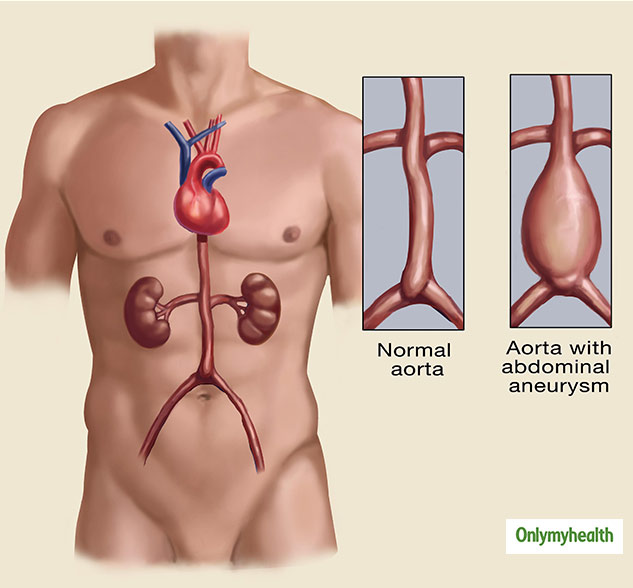 Risk of having an aneurysm is more in patients with collagen vascular disease and chronic hypertension patients. Brain infection and penetrating brain injury may also increase the risk. Risk of rupture is related to blood pressure. Any sudden increase in BP (blood pressure) can rupture the aneurysm's weak wall and cause haemorrhage. Amount of blood in the brain also determines the outcome of treatment. More blood inside the brain leads to a more unsatisfactory result. Aneurysms can occur at any age. But they are shared between the ages of 30 and 60 (in women than men). Do you have certain inherited disorders? Beware, as such people are at higher risk. The most common aneurysms locations are brain, aorta, artery behind your knee, intestines and in your spleen.
Also Read: 5 Yoga Poses To Try Out When Anxiety Strikes
How one can prevent and survive Aneurysm?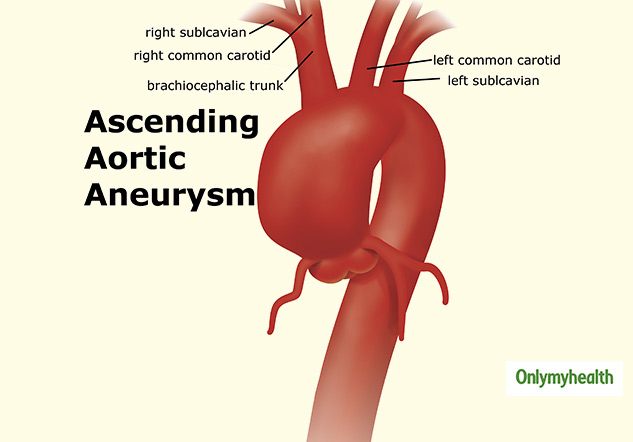 It is not possible to prevent aneurysm formation inside the brain. Its rupture can be prevented by keeping reasonable control of blood pressure. Berry aneurysms are seen in patients with chronic uncontrolled hypertension, which can be prevented by strict BP control. Uncontrolled diabetes can also damage the wall if blood vessel. Ruptured aneurysms are fatal in about 50 per cent of cases. Of those who survive, about 66 per cent suffer some permanent neurological deficit. People with a ruptured aneurysm (roughly 15 per cent) die before reaching the hospital. Most deaths are caused due to massive and rapid brain injury (from the initial bleeding). The best thing to prevent future aneurysms is taking care of your overall health. Measures you can take include: Limit caffeine, eat a healthy diet, exercise regularly, quit smoking and avoid stimulant drugs. If you have a family history of heart stroke or heart disease, make changes in your lifestyle to improve your health.
Also Read: How Inner Engineering Helps to Beat Depression? Know From Expert
What is the treatment of Aneurysm?
Treatment of brain aneurysm is an emergency if it has ruptured. There is a high chance of re-rupture in the first month. The second rupture can be more dangerous or fatal. Incidental aneurysms should also be treated early to prevent rupture or to reduce the mass effect. Brain Aneurysms can be treated by clipping or coiling. In clipping, we open a small part of the skull and locate the aneurysm with an operating microscope's help. This is a time tested method for many decades and has a good outcome. Another technique is endovascular obliteration of aneurysm in a Neurocathlab using coils, stents, balloon, etc. This is a new, evolving and Minimally invasive method with promising results—shape, size, and aneurysm location help to choose either of these methods. Patients profile and proximal access also play an essential role in deciding. Can aneurysms be cured without surgery? A clot is formed by the remaining blood in the blocked-off aneurysm, reducing the chance for it to grow or rupture. The aneurysm will completely go away while healing around the stent.
Also Read: Top 5 Foods To Help You Sleep Better This Winter
How is it living with Aneurysm?
The aneurysm is like an atom bomb, and there is a risk of its rupture. About 30% of patients cannot reach the hospital after aneurysm rupture and succumb to haemorrhage at home. About 20% reach the hospital in a coma and cannot be cured after a haemorrhage. Rest of the patients are managed with medicines or surgery and can have a good outcome. Patients who have aneurysm without bleeding need surgery or intervention if the aneurysm is more than 3 mm in size. Can you live a normal life with a brain aneurysm? Yes, as many aneurysms cause no signs or symptoms at all. Do you know that various people live for years without knowing they have an aneurysm? How long can you live with an aneurysm? You can have surgery to repair the aneurysm and live your entire life with no issue. If the aneurysm is in a dangerous location, large (then doctors believe the rupture risk is significant), surgery is typically recommended.
(With inputs from Dr Rahul Gupta, Director- Neurosurgery, Fortis Noida)
Read more articles on Other Diseases