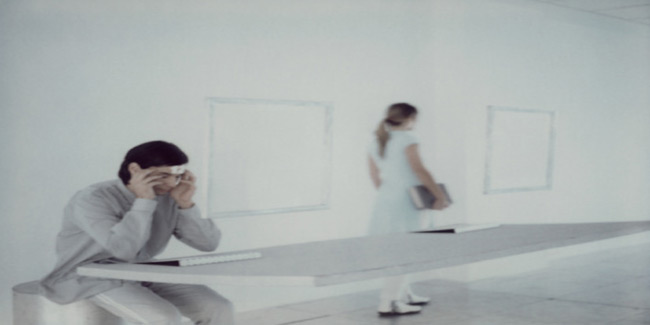 They sit around you, sometimes either side of your seat. They will try to pry on your privacy by peeping into your computer screen every time the chat window pops up. They are sometimes arrogant, sometimes too wise, sometimes just plain stupid, and most times very cunning.

We spend most of our day at our workplace. We are there for the stipulated eight and a half hours, and some of us unlucky ones are stuck for 12 to even 24 hours. Well, such is life, what can be said. But what makes things worse is that our dear colleagues make it even more difficult for us to live in peace and harmony. What is wrong with them? Don't they have a life to get on with? Why are they always playing tricks, or gossiping, or getting you angry? Why cannot they just come in to work and leave after slogging for eight and a half hours. Yes, a cuppa coffee is fine to ward off the stress, but that doesn't mean we are nursery buddies! Buzz off!

Hold it right there, before you do something stupid, try these ways to handle your annoying colleagues.




Do not Bother
Here is what we will serve you for starters today; a bit cold, but never the less very tasty. Remember revenge is a dish best served cold? Well, here is that dish for you. Never ever bother about these people, and this will get them mad. This works the best for those attention seekers who want everyone to pay heed to them. Well, you are not going to bother about any of it, they will have no chance to annoy you then! Just think that you are there for eight and a half hours and that is it. So go home and get some rest.
Be a Little Kind
Show your annoying coworker some kindness by not getting angry. Never show that you are angry and do not get into a fight, argument or a heated debate. You will only make things worse and for all you know people might start to dislike you. Because, annoying people do not do these annoying things in full public view, but you will throw your wrath at him or her in full public view. You will lose, so just let it be and be kind.
A common Interest
This is how you become a diplomat, think diplomatically. Forget about his or her annoying habits, focus on the human being. You can do this by bringing out a common interest. Hey, you like football? That's it, you two are game for some intense conversation on the game. Common interests bring people closer together and this is a very good way to handle someone who is annoying. You are giving this person a chance to be better by bringing out a good side.




A Positive Attitude
Never be sulking or making sad faces that says how sad a day it is for you to have seen his or her face. Be positive and maintain a healthy relationship at a distance. So do not dwell in the negative and see it as a negative personality trait that this person has, because everyone has one, yes, even you do. So, instead of planning ways in which you can make his or her life miserable, you should focus on your work and be happy. There is nothing like a happy face at work, people do not like that a bit. They will be jealous and let you off the hook.
Say No
This is one of the greatest life lessons that you can learn. Learn to say no, and many of your problems will disappear. Most times we get into unwanted situations because we cannot say no, we just cannot! We should ideally say no to something that we are not quite interested in. So, if your annoying colleague is at it again, just say no, and ask him to leave. But you have to do all this in the most polite and professional manner possible.

So, now that you know how to handle those very annoying colleagues of yours, you should do yourself a favour. Check for traits in you that may be annoying to your colleagues! Oops!

Image Source: gettyimages.in

Read more articles on Office Health.