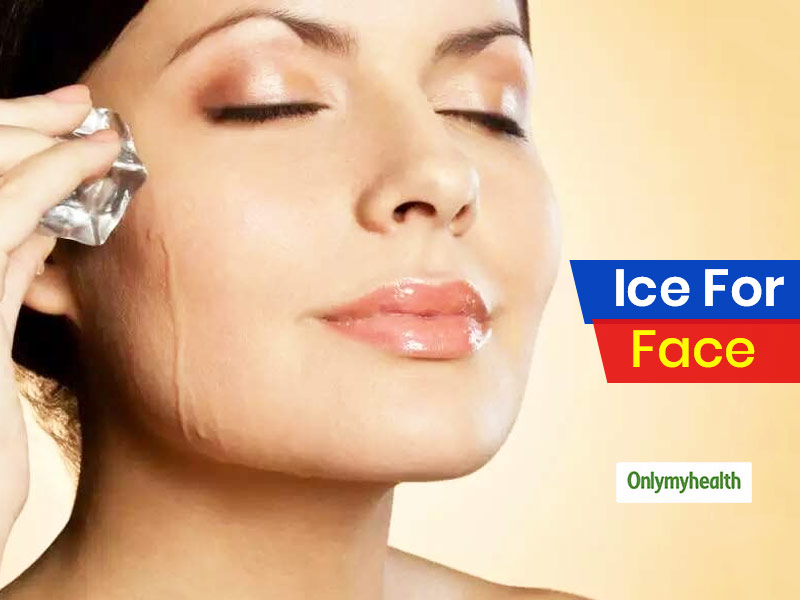 Have you ever rubbed an ice cube on your face? No, this is not some crazy experiment but a proven skincare remedy to bring back the lost glory. Climate is probably the biggest enemy of your skin. Either it is summer or winter, it takes a toll on your skin, especially face. Prevention is better but damage control is also important.
Forget all those skincare products lying in your cabinet and try this ultimate solution that is there is your refrigerator, Ice. Whether you got sunburn on a sunny day or dry, flaky skin due to breezy winters, an ice cube is one solution that works for all skin-related woes. Here are 5 different ways to use ice cubes for 5 different problems.
1. Treat Puffy and Tired Eyes With Green Tea Ice Cubes
Green tea is high in antioxidants which treat inflammation around the eyes. It would instantly reduce the swelling to make your eyes look fresh.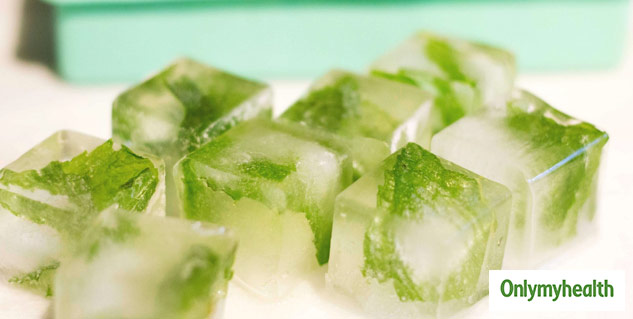 You need: Green tea bags, water and ice tray
Method
Brew green tea by putting tea bags in the boiling water.
Pour the green tea in the ice cube tray.
Keep the tray in the deep freezer.
Take out one cube and rub it around your eyes.
2. Soothe sunburnt skin with Aloe Vera Ice Cubes
The best you could do to your skin after coming home from a hot and humid environment is applying aloe vera ice cubes. Aloe vera has impeccable cooling and soothing properties which makes the skin feeling calm and relaxed.
You need: Aloe vera pulp or aloe vera juice
Method
Pour aloe vera juice or aloe vera pulp, whichever is available to you in the ice tray.
Freeze it for 4 about -5 hours.
As you come back from sun exposure, rub these cubes on the sunburnt skin.
You may also add glycerine for moisturizing effects.
3. Soothe irritated skin with Cucumber Ice Cubes
Cucumber and lemon both are extremely cooling, soothing and rejuvenating. These soothe skin inflammation and reduces free radical damage.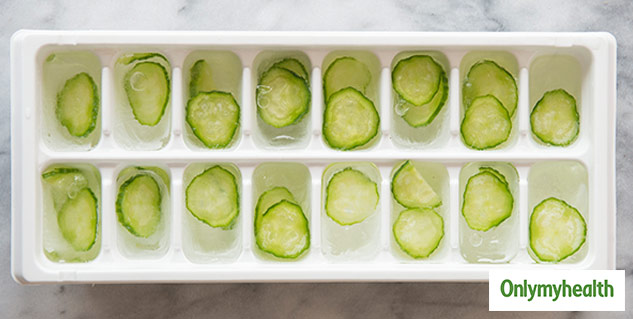 You need: Cucumber and lemon juice
Method
Fine blend cucumber and mix lemon juice to it.
Pour the mixture in the ice tray and place slices of cucumber in it.
Freeze them for 4-5 hours or until the ice cubes are formed.
Every day after coming back, rub an ice cube and your skin will feel refreshed.
4. Treat acne with Cinnamon Ice Cubes
The antibacterial properties of cinnamon help in treating acne breakouts. On the other hand, the second ingredient, rosehip oil has Vitamin C to induce antioxidants in the skin for a brighter glow.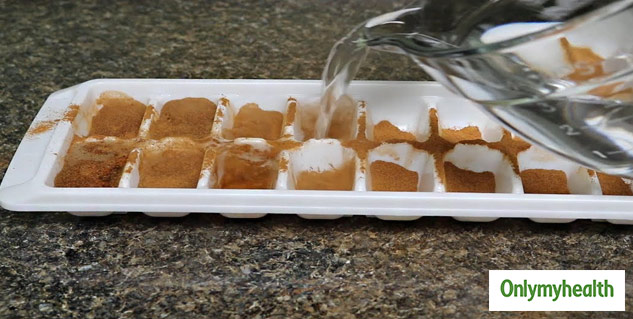 You need: cinnamon powder or cinnamon essential oil, rosehip oil and water
Method
In a bowl, add cinnamon powder or cinnamon essential oil and rosehip oil.
Now add water to it and mix well.
Pour this liquid in the ice tray and freeze.
Rub the cube on the acne-prone area three days a week.
You'll see a visible difference within a few weeks.
5. Antibacterial Rose Petal Ice Cubes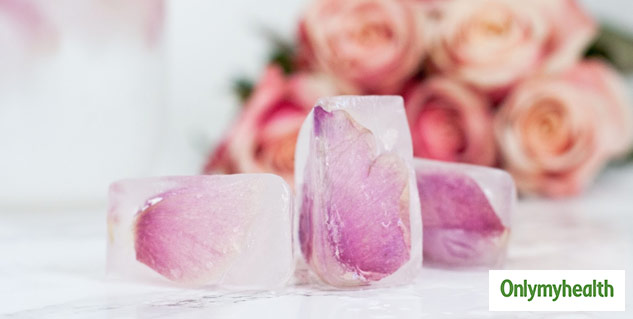 You need: rosehip oil rose petals and water.
Method
In a bowl, mix all the ingredients.
Pour the liquid in the ice cube tray and place the tray in the freezer.
Let it freeze.
Rub this rose petal ice cube on your face and neck for a relaxing experience.
Read more such articles on Skin Care