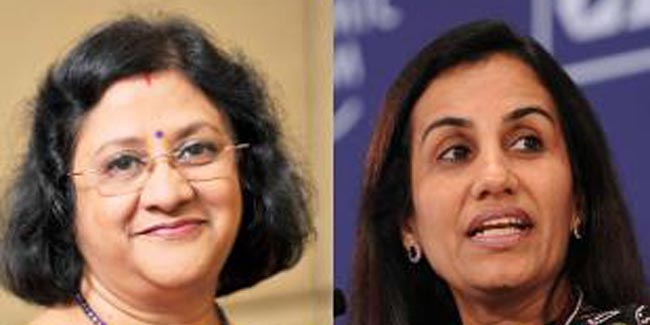 In yet another moment of pride for India, Forbe's 12th annual list of 100 most powerful women has four Indian women. SBI Chief Arundhati Bhattacharya, ICICI bank head Chanda Kochhar, Biocon founder Kiran Mazumdar- Shaw and HT Media Chair Shobhana Bhartia are among the world's 100 most powerful women.

Two women of Indian-origin, PepsiCo Chief Indra Nooyi and Cisco Chief Technology and Strategy Officer Padmasree Warrior also make it to the list.

59-year-old Bhattacharya has been ranked 30th on the list, followed by Kochhar on the 35th spot, Mazumdar-Shaw (85) and newcomer on the list Bhartia is on the 93rd spot.




Although every woman has her own definition of success, certain common traits are shared by most successful women. You too can achieve great things like the abovementioned women by learning and practising what they do differently.
Their passion is unfathomable.
"Without passion, all the skill in the world won't lift you above craft," wrote dancer Twyla Tharp in her book, The Creative Habit. If you aren't passionate about your job, you won't go above and beyond, you won't innovate and stand out in your workplace. But passion integrated with your job makes putting time and effort put into it pleasurable.
They don't expect perfection
Wasting time and energy trying to be perfect only leads to unhappiness—is a thought backed by research. Successful women understand that they can't do well all the time, and that applies to others too. So, they don't beat themselves up for perceived flaws which will only dampen their abilities at work, and their mental health. Don't try too hard to be perfect, this is not to say that flaws shouldn't be rectified.
They take the lead
When you take the lead, you can set your rules. This is why many successful women often become the boss. Going higher in a corporation makes it easy to get more control. And being in control enables you to create a happier and more balanced workplace for yourself and your employees.
They believe in their own success
No matter how crazy the idea might be, believing that it will happen gives you immense strength. You have to be comfortable that you can think your way through and actually execute the idea through to the desired outcome. Confidence and faith in yourself is key.
They take risks
To bring change in your career and beyond, you'll have to stop playing it safe every once in a while. Successful women don't make reckless decisions, but they do know how to take a calculated risk.
They understand failure isn't the opposite of success
Failure and success go hand-in-hand. Successful women know they can't excel all the time and falling down is an inevitable part of taking leaps in the career. Don't believe us? Well, FYI, J.K. Rowling's first Harry Potter book was rejected by 12 publishers!


They're okay with their never-completed to-do lists
Sometimes, you can increase your productivity just by accepting that not everything on your to-do list can be completed in a day. This makes you prioritize goals and let go of certain tasks and responsibilities. This can be difficult but is freeing. Getting rid of the emotion accompanied by constantly unmet expectation can truly be great.

Another secret of successful women: they schedule alone time on their calendar. Be it inviting yourself to manicures or an extra 20 minutes in bed, or taking yourself out of the city once in a while—be your own date and don't cancel on yourself.

Image Courtesy: http://images.mid-day.com/images/2014/dec/Arundhati-Bhattacharya-2.jpg/ http://images.indiatvnews.com/businessindia/IndiaTv051264_ICICI-Bank-Q-ne13583.jpg/ http://economictimes.indiatimes.com/thumb/msid-47434467,width-310,resizemode-4/chanda-arundhatti-bccl.jpg/ http://www.cbc.ca/live/images/j-k-rowling-harry-potter-cast.jpg

Read more articles on Office Health.