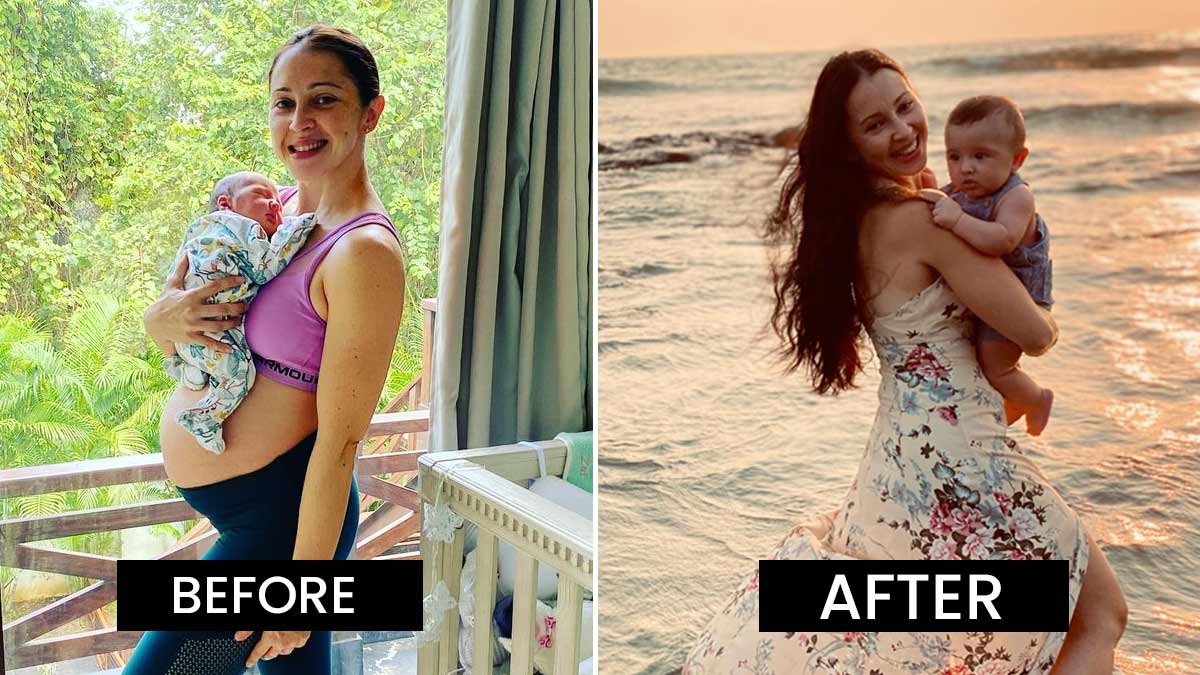 Zoe Modgill is a renowned fitness trainer and Under Armour athlete who delivered a baby boy about an year ago but if you look at her, you won't be able to tell that her body has undergone the birthing process. All her postpartum weight is gone and how! Onlymyhealth got in touch with the fitness icon for new moms to know her personal experience of pregnancy and postpartum care.
"As a certified fitness professional and pre and postnatal certified, I've trained and encouraged thousands of women to improve their relationships with their minds and bodies. All the while, developing my passion to experiment with all kinds of strength both, the physical and mental. Having just had a baby, I've first hand experienced the biggest changes that a woman will ever experience during her life", shares Zoe.
Pre-Pregnancy Fitness is Important
Every pregnancy, delivery, and healing experience is different. Postpartum recovery time is different for every woman. Pre-pregnancy level of fitness and lifestyle habits will be the biggest factor to determine how you'll do in postpartum recovery. If you have good habits and practices in place and a level of conditioning, you will likely have an easier transition back to your fitness routine.
View this post on Instagram
Talking about her postpartum sufferings, Zoe shares "Emotionally we are tested beyond what we can imagine. We solely are responsible for keeping this little being alive. If that isn't enough pressure, on top of this, my core was stretched and separated. Unsurprisingly, virtually all women experience diastasis recti (when the right and left abdominal muscles separate). Diastasis recti aside, our core remains overstretched and I was left with a belly and body that feels very different and moves differently too. So much of this last 1 year postpartum I've felt so much disconnection, combined with a weakened pelvic floor, which made returning to fitness quite challenging and left me needing to repeatedly do one of my focused strengthening programs to regain strength and stability. It's tedious but required. And that takes another form of mental strength and pressure."
Exercise Routine During and After Pregnancy
Against the popular belief that pregnant women should eat for two, Zoe focused on nourishment both for her body, the baby in her womb and her mind.
"My training program during pregnancy was a strength-based workout 5 times a week. Lots of walking and a good healthy balanced diet! Along with the right workout clothes to ensure that I had optimal support for my growing body. Having the right sportswear helped me power through my workouts. The Under Armour gear, especially the bottoms and sports bras I used during this time helped me a lot as it gave me the comfort, and support I needed to push myself safely," Zoe added.
View this post on Instagram
Gained 12 Kilos During Pregnancy
We are celebrated for our size whilst pregnant and then made to feel bad about it once the baby arrives expecting us to suddenly shrink back to our earlier bodies. Getting your body back postpartum is a constant battle of our own bodies and minds versus Instagram images of women bouncing back overnight.
"Gaining weight is important for a healthy pregnancy- I gained 12kgs. It's different for everyone. And honestly how much doesn't matter, it's more important to eat healthy, keep active, and be positive and kind to our bodies and selves. This was my approach both while pregnant and post."
Fitness tips for new moms
Here are some tips that Zoe would like to give to new mothers:
Be kind to yourself and believe in yourself.
Take it easy and know it's worth the effort. It is everything.
Despite all the challenges with being a new mama, it's extremely worth it to find the time for exercise.
The time we spend on ourselves is so important.
There are so many benefits to postpartum exercise- the most important being a happy confident mama.
Be patient with yourself, with your baby, and with your family.
Your support system around you should encourage you to take the time out. It will be good for you.
View this post on Instagram
The final word
Motherhood will change you for the better and will highlight what's truthfully important! Bouncing back is a complete myth. It takes time, patience and commitment. Moreover, how can you bounce back when you are now an entirely new You!
Give yourself plenty of recovery days so you don't burn out, especially as your body has been doing so much. Remember to drink water all day long, and follow a well-balanced diet. Be proud of small achievements and try to appreciate your new body and the remarkable work it has just done! After all, you grew a human.
Photo credits- Zoe Modgill