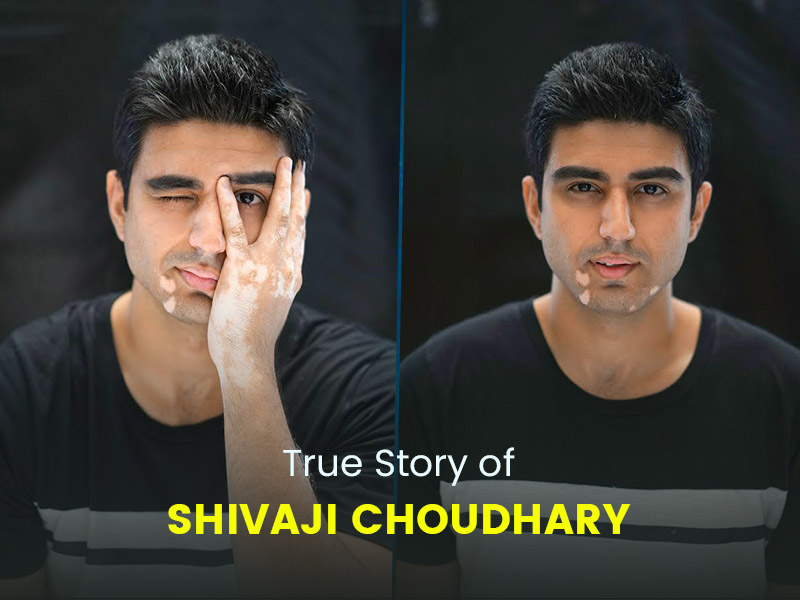 Vitiligo is a common condition where some part of your skin colour leaving behind white patches. As per statistics, over a million people in India get vitiligo every year! Yes, this condition is common but still seen as an unacceptable situation. People who have vitiligo often feel insecure about their look just because other people look at them sympathetically. It is high time that we change this mindset and accept vitiligo as a normal condition. Here is the inspirational story of Shivaji Choudhary who is dealing with vitiligo since he was 9 years old. He took this as his powerful asset and started to influence others with vitiligo. Shivaji is a Branding Specialist has also Founded Vitiligo India to spread the word. Scroll down to read this story.
Diagnosis of Vitiligo
When asked about how and when he got to know about his vitiligo, Shivaji shares, "The first few signs of vitiligo came to my notice when I was only nine years old. I saw a few white patches on my body; over my eyes, wrist, etc. Usually, it starts from a few spots, and the same was in my case. It was tough growing up with vitiligo because you yourself didn't know what this was. The mental battle that why did it occur only to me and not anyone else around me made me feel miserable. It also brought in a lot of negative thoughts and apprehensions because everyone saw me differently and called me by different names. My mother realised that I have a problem and that can cause severe damage to my mental health if ignored now. So, she started encouraging me to participate and keep myself busy in outdoor games like basketball. Later, my constantly improving performance in sports helped me to focus on my strengths."
View this post on Instagram
People's Comments Made Me Feel Like A Victim- Shivaji
As vitiligo is more about how you look or how you appear in somebody else's eyes, especially in a country like India, you will be looked upon differently, that's because you actually look different. But, when you get these disgusting, staring looks or people coming to you and asking over and over; they look at you as if you are a victim and at times they treat you like one.
A lot of teasing and name-calling happens and due to that people lose self-confidence and lose their respect for themselves thinking that they are a problem in society.
"I get a lot of messages from people about how to deal with vitiligo in relationships and how somebody's parents are not willing to accept vitiligo for their son or daughter's marriage and this is just the tip of the iceberg. Societal issues are deep-rooted and have fewer chances of being inclusive and accepted," shares Shivaji.
View this post on Instagram
Also Read: Do You Have Sensitive Skin? You Must Follow These 11 Rules for Sensitive Skin
What treatments shivaji pursued for vitiligo?
"Kudos to my mother, she took me to numerous medical centers and tried every popular pathies like Ayurveda, Allopathy, Homoeopathy and what not. I went to so many different cities for treatments some were good and some didn't work. But, every time, there was a constant hope that it will get better."
Shivaji started 'Vitiligo India' with a clear thought in his head that as he has gone through and he has overcome all these fears and trauma, he should speak about this problem and make people aware and give people a platform to share their stories. He also tries to motivate people who have vitiligo or any kind of problem. And, you see it's mostly a mental problem, it's a mindset game. "I try to boost their confidence and a lot of people tell me that they like the way I carry my life and would like to know how I was able to achieve this kind of mindset."
View this post on Instagram
Here is a message from shivaji to fellow people dealing with vitiligo
People should not have fear of society and what others think about them. If you are concerned about their remarks and opinions, then you are giving others the key to your happiness or sadness. Ask yourself, how you are letting others dictate your emotions? Always remember, you just have one life so go out there and explore. Try picking up some new hobbies, develop some skills or pick up some sports that are better for your mental and physical health.
Read More Articles in Other Diseases