Also known as Leucoderma (white-Skin) or White Leprosy, vitiligo is an autoimmune disorder where the immune system of a human body attacks the healthy pigmentary cells called melanocytes, eventually affecting the body. The condition is characterized by white patches on the skin, which develops as a result of melanocytes destruction within the skin. Emphasizing precisely, these cells are responsible for the skin pigment melanin that gives colour to your skin. The white patches appear when the melanocytes die off. While vitiligo is widely considered amongst the common skin disorders to occur, it is of sheer importance to debunk some common myths associated with it. So without any delay, let's start the debunking procedure, with inputs from Dr B.L Jangid, Dermatologist and Hair Transplant Surgeon, SkinQure Clinic: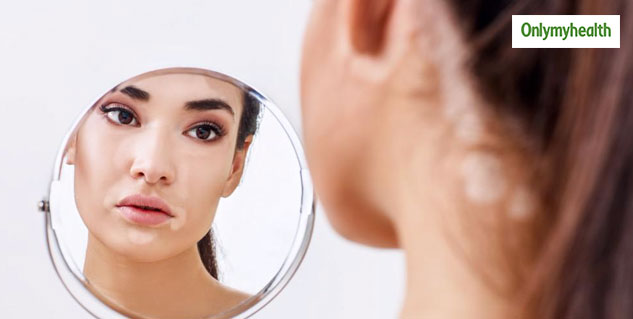 Myth 1: People with vitiligo disorder are lesser in their mental or physical proficiencies.
Fact 1: Vitiligo is entirely limited to the skin. Therefore, it has no influence or impact on any other body organs, be it mental or physical attributes.
Myth 2: Vitiligo is related to other chronic skin diseases like cancer, albinism, and leprosy.
Fact 2: Despite being a skin disorder, there's no linkage of vitiligo to any skin cancer, leprosy, or albinism. Instead, it's an autoimmune disorder where a human's immune system starts attacking and killing its cells that are responsible for skin colouration, melanocytes. Sometimes vitiligo can be associated with other immune-related conditions like hypothyroidism, alopecia areata.
Also Read: Learn About Different Types Of Skin Pigment Disorders And Tips To Reduce It
Myth 3: Vitiligo may get worse by eating a certain combination of foods.
Fact 3: It's irrefutably a false statement. There's no connection between food and the Vitiligo condition. It's a disorder that's entirely unaffected by any of the food choices you are willing to consume.
Myth 4: Vitiligo can only appear on face and hands.
Fact 4: White or light patches that are initiated by vitiligo occur more commonly in sun-exposed areas like hands, feet, arm, lips, and face. In some cases, sort of patches can also happen in the armpits, eyes, genitals, navel, and rectal areas as well. Similarly, the patches may also appear on both the mucous membrane and the retina area..
Myth 5: Only dark complexion/skinned people are exposed to vitiligo.
Fact 5: Vitiligo is a skin complexion independent disorder that's capable of affecting all types of skin simultaneously. However, the after-effect of vitiligo is more prominent in people having dark skin tones.
Myth 6: Treating vitiligo is possible by rubbing various oils on your affected skin area, taking certain supplements.
Fact 6: Unfortunately, there is no cure for vitiligo yet, nor there is a natural or suitable treatment that marks the disease process. Though, there are several therapies that people with vitiligo may try: UV light therapy, surgical skin and cellular grafts, tattooing, steroids, and medications. There are some people who opt to cover their skin with some special cosmetics. If you are dealing with vitiligo, consult with your doctor to learn about all the options available or suitable to address the colour loss of skin. Besides, research is always a suggested option to find better therapies.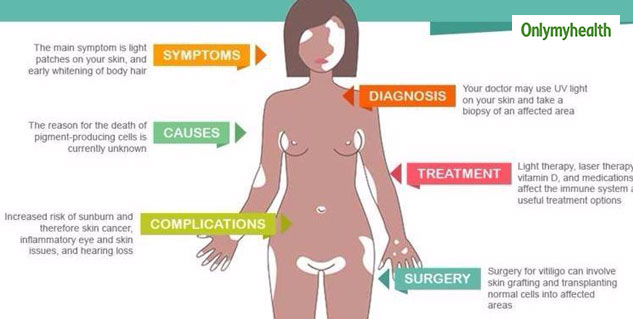 Also Read: Sunburns: Symptoms, Causes, Risk Factors, Treatment and Prevention
Myth 7: Vitiligo is contagious and infectious.
Fact 7: Vitiligo is neither a contagious nor an infectious disorder. Therefore, there's no need to run away from a person suffering from the same or avoiding any contact with them. Instead, you can utilise this fact to help them fight against the bias and stigma generated regularly.
Read more articles on Other Diseases