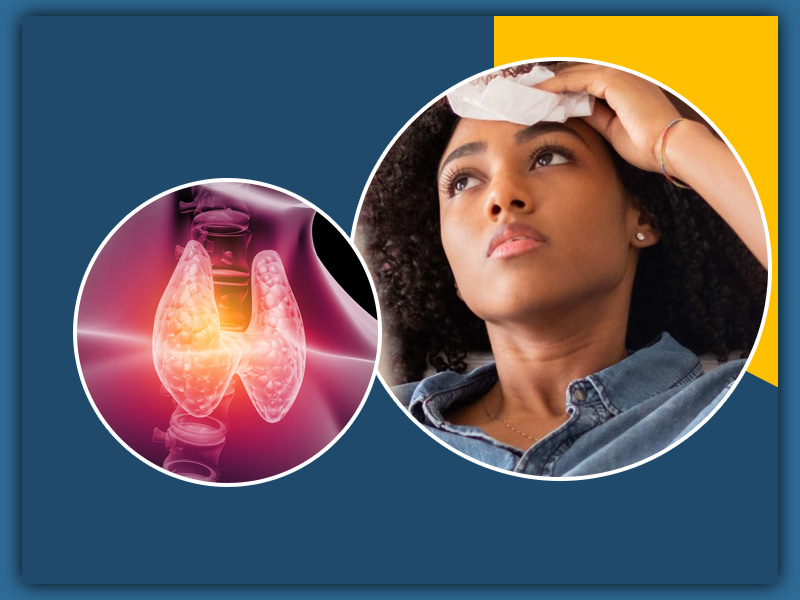 As we are progressing, thyroid problems are also increasing. In the current scenario more people are getting affected by thyroid than it was 5 years before. This is resulting to other health problems associated with it like Graves' disease. Graves' disease is a less known health disorder which results in imbalance of thyroid hormones. Thyroid hormones affect many functions of the body and hence it is becoming evident in the recent times. Majorly affected age group is around 40 years or little below and it is more common in women. Today, let us know briefly about this disease from the expert and know in and out of Graves' disease.
What is Graves Disease?
Graves Disease is an autoimmune disorder which is caused in thyroid gland. We have Dr. Sumeet Nigam, General Physician at Sahara Hospital, Lucknow to tell us more about this disease. He says people who have more thyroid hormones in their body are more likely to get this disorder. It is one of the common forms of hyperthyroidism. In this disease your body creates antibodies that attach to healthy thyroid cells. These anti-bodies called thyroid stimulating immunoglobulin, cause rise in production of thyroid hormone.
Graves's disease may affect your nervous system, prove fatal to brain development and disturb many other parameters of your health. This autoimmune disorder needs to be treated with immediate action otherwise it may lead to weight loss, anxiety, irritability, depression and mental health disorders.
Symptoms of Graves' disease
Here are some symptoms which a person experiences if he is suffering from Graves Disease-
Weight loss
Hand tremors
Intolerance to heat
Rapid heart rate
Nervousness
Irritation
Muscle weakness
Difficulty in sleeping
Frequent bowel movements
Goitre
Fatigue
Not everyone experiences all these symptoms, some of them are evident ones while other may differ from person to person. Some people also face redness and thickened skin around shin area. This condition is called dermopathy in Graves' disease.
Also Read- Pinched Nerve: Causes And Remedies To Get Rid Of The Pain
What Causes Graves' Autoimmune Disorder?
When the immune system fights against the healthy tissues of the body, then it produces more proteins which keep the viruses and bacteria away. In case of Graves' disease, it assumes the healthy tissues to be invaders and hence the anti-bodies produced in the body fights its own cells which make thyroid cells weak. The anti-bodies meant to attack its own healthy cells make the person weak and causes infection in the person. Thyroid stimulating immunoglobulin inherits the ability to fight against body's healthy cells which causes Graves' disease to develop.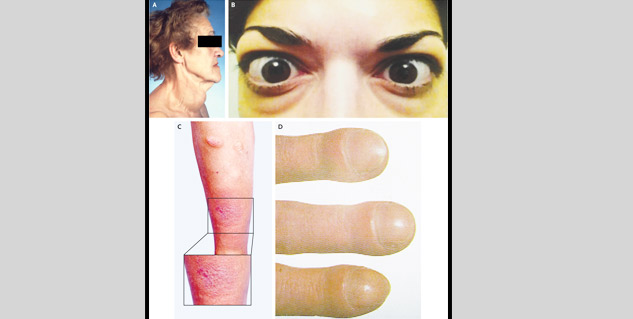 Risk of Developing Graves' disease
According to Dr. Sumeet Nigam, these factors may influence the risk of graves disease in a person
1. Heredity- If a person has someone in his family who is suffering from thyroid or graves disease then the chances of him being infected becomes high.
2. Stress- Stress can cause hormonal imbalance and thus cause hyperthyroidism or graves disorder.
3. Age- Age of a person also plays a big role in determining the risk, middle aged people especially women are more vulnerable to this disorder than rest population. The age gap remains around 35-40 years of age.
4. Gender- As mentioned above, women and more vulnerable to Graves' disease than men. Women develop this disease 7-8 times more frequently than men.
Having any other autoimmune disease also increases the risk of this disorder as it affects the immune function and nervous system. Rheumatoid arthritis, type-1 diabetes and Crohn's disease are common examples of autoimmune diseases.
How Is Graves Disease Treated?
This autoimmune disorder can prove to be fatal if the treatment is delayed and can affect many body functions including brain. There are three treatment options available for this Graves' Disease, they are-
Thyroid surgery
Anti-thyroid drugs
Radioactive iodine therapy
Consult a doctor before choosing the treatment option and know the proper procedure.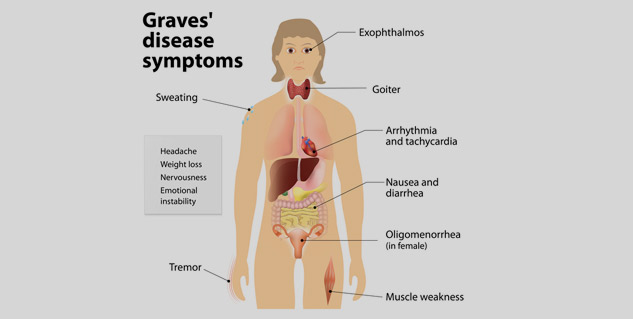 Complications of Graves' Disease
It can also cause many complications as it disturbs many important functions of the body. Here are some major complications which normally arise after Graves' disease.
Heart Disorders- if the disease is left untreated, then it cause heart rhythm disorders or change in the function of heart muscles which can result to inability of heart to pump blood in the body.
Pregnancy Problems- There could be possible complications during pregnancy if your have graves' disease. It can lead to miscarriage and preterm birth, cause fatal dysfunction or maternal heart failure.
Brittle Bones- Untreated disorder can be a cause of weak bones, brittle bones and imbalance in calcium in bones. Too much thyroid hormone can cause inability to incorporate calcium in the bones.
Thyroid Storm- This is a rare complication but life-threatening. In this disease, there is a drastic increase in thyroid hormones inside the body which can cause sudden sweating, vomiting, diarrhoea, yellow eyes and severely low blood pressure etc. This can all happen frequently and the person needs to taken into emergency immediately otherwise can lose his life.
Also Read- What Is Pilonidal Sinus? Know Causes, Symptoms, Treatment
Conclusion
Graves Disease is an autoimmune disease which is responsible for attacking its own healthy cells. This causes many dysfunctions in the body including nervous system and brain functioning. People affected by this should consult doctor as soon as they feel the symptoms of Graves' disease. There are three treatment options available for curing this disorder. One must be aware of the complications and get himself treated as soon as possible to avoid mishaps.
Read More Articles on Other Diseases