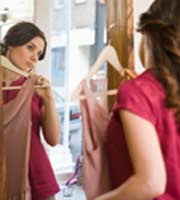 Women Dressing Tips for a First Date - The way a woman dresses up for the first date conveys a lot about her personality and character. She should not overdo or under do her dressing.
For the first date a woman should dress her best. A dress depicts a person's personality, so a woman should wear something that enhances her personality and suits her body type:
For the first date a woman should not dress in a provocative manner. She should look sexy rather than sleazy. Dressing sexy does not mean that you need to expose. You can look sexy by showing your confidence and smartness. Don't overexpose, just be yourself. If you can carry a mini-dress then mini-skirts are good for you, but if you can't then opt for knee length dresses.
Dressing for your first date also depends on the location of the date. If you are meeting indoors, such as in a restaurant or pub, wear something casual. If you are meeting the guy outside, wear a top or shirt with a pair of jeans. You should feel comfortable when you are out as you will have to move a lot. Don't wear strapless tops and spaghetti tops as skin show is not required for the first date.
Always put on comfortable footwear for the first date. Heels look sexy, but if you are not comfortable in them, simply replace them with low heel sandals or leg-lengthening wedges. A simple sandal with laces can enhance your short dress and make you look sexy and smart.
Don't wear too much of make-up on your first date. Let the guy see your natural beauty. Impress your guy with your charm, confidence and smartness, not by your fake beauty. On the first date, a guy will be keen about you and therefore, minimal make-up will help him concentrate on talks rather than your make-up.
Wear a neat and clean dress on the first date. This shows that you have the ability to take care of yourself. Guys like women who show personal hygiene and ooze self respect in their personality. Always wear safe colours such as blue, black and the earthy colours if you don't know the guy's favourite one.
A first date is the time when you have the opportunity to meet and know someone you admire. A successful first date can make a strong foundation for a long lasting relationship. Try to dress up in such a way that it magnifies your positive attributes and make a long lasting impression.
---
Related articles