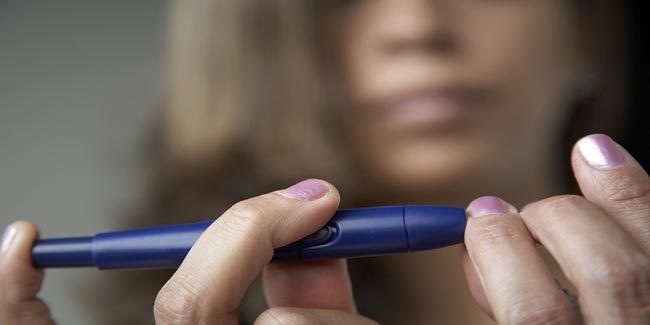 Diabetic patients need to take care. A pregnant woman needs to take care too. A diabetic and pregnant woman thus, given the facts, needs to doubly take care.
Pregnant women who have been diabetic before getting pregnant have important health concerns to take care of. Supplementing the care needed for pregnancy is a screening and controlling of their blood sugar levels, as well as management of their medicines.
Dr Dhreej Kapoor, an endocrinologist at Artemis Hospital in Gurgaon states that a diabetic woman has greater chances of pregnancy related complications, both for the mother and the child. "But with advancements in medical science, most women have almost normal pregnancy and child birth these days," he further adds.
Some crucial steps to take to ensure that both the woman and the baby stay healthy are:
Preparation
Meeting with your physician before becoming pregnant is very important. With a blood test, your physician evaluate how well your diabetes has been controlled over the past 8-12 weeks, and if it is thus safe to go off the birth control pills.

Having other medical tests – like urinalysis, cholesterol tests as well as an eye exam for glaucoma, cataracts, and retinopathy – can help your doctor prevent the development of diabetic complications during pregnancy.

A pre-conception counselling appointment with your physician is another important step. It assists in educating women to be physically and emotionally prepared as well as healthy for pregnancy.
Control Blood Sugar
A proper control of blood sugar pertains to keeping blood glucose levels within the ideal range - besides balancing meals, exercise, and diabetes medications.

One needs to keep their blood sugar under control, as usually it takes two to four weeks after conception to realise that they are pregnant. A high blood sugar level in the first trimester can lead to defects during birth. And in case of high blood sugar levels in later trimesters can make you susceptible to miscarriage as well as other health problems pertaining to diabetes.
Effect of Diabetes on the Baby
Women with diabetes tend to give birth to big babies – and this condition is called macrosomia. Due to the mother's high blood sugar levels, the foetuses get excess sugar. Babies of diabetic women are apt to be considerably larger than others (also called 'macrosomia'). These babies receive too much sugar because their mothers have high blood sugar levels. When the extra sugar is converted to fat, it goes to make a fat baby. Sometimes the baby becomes too large to be delivered vaginally, and a cesarean delivery becomes necessary.
SK Wangnoo, senior endocrinologist at Indraprastha Apollo Hospital says babies of diabetic mothers are not borne with diabetes. But they may develop low blood sugar after birth if the mother's diabetes was not controlled during pregnancy. "Thus, they need to be watched closely," confirms Wangnoo.

If you have high blood sugar levels consistently during pregnancy (especially in the 24 hours before delivery), your baby may develop dangerously low blood sugars right after delivery. Your baby may also have mineral imbalances such as calcium or magnesium, which can be replaced with medication.
Diabetes Medication
The physician can tell you how to adjust your medication/insulin intake during pregnancy. Generally your body will require more insulin during pregnancy, especially during the third trimester.
If you take oral medications to control your diabetes, your physician may switch your medication to insulin during pregnancy, since the safety of using certain oral medications may not be known and/or better sugar control may be achieved with insulin.
Diet Plan during Pregnancy



Your doctor and you should work together to adjust your meal plans in such a way as to keep your blood sugar level in check as well as to provide more calories for your growing baby.
Pregnancy Span
Women with mild diabetes or who are very well controlled often carry their baby to term without any problems. However, many physicians prefer to plan for an early delivery of the babies of diabetic women, usually around 38-39 weeks.
It is imperative to keep blood sugar in control during labor as well – as it is a taxing time for the mother as well as the baby. Though insulin can be given during pregnancy, it is vital for it to be given either through injections or intravenously when labor begins. Right after delivery, the need for insulin cuts down instantly.
Quit Smoking
Besides keeping these facts in mind, one also needs to quit smoking – smoking can harm your baby and increases the chances that you will have problems from diabetes. Taking folic acid supplements before getting pregnant may help prevent neural tube defects in the baby.
Thus, though being pregnant is not much smooth sailing, for diabetic women it is doubly so. However that will also not be impossible either. "If properly monitored and under right supervision, a diabetic mother can have normal delivery and a healthy baby," says Dr Asha Sharma, head of Gynaecology at Rockland Hospital.
With the right assistance from one's doctor, a healthy diet and exercise, as well as loving support from the husband and the family – a diabetic woman can too enjoy the joys of motherhood!
Read more articles on Problems during Pregnancy