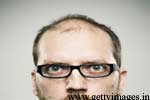 Some of the common causes of hair loss are dandruff, excessive oiliness of the scalp, illness, thyroid imbalance, stress, nutritional deficiency, as well as hair damage caused by repeated hair colouring, dyeing, bleaching, straightening, perming etc. Nutritional deficiency is probably one of the most common causes of hair loss. That is why diet is so important.
Causes for hair loss



Among men, hormonal or hereditary factors can also trigger off hair loss. In fact, hair loss, progressing to balding, is more common among men than women. It is called 'male pattern baldness'. Doctors believe that the male sex hormone testosterone is an important factor in male pattern baldness. It is a good idea to consult a dermatologist (skin specialist) or trichologist (hair specialist) to determine the cause of hair loss. Alopecia areata, which is characterised by bald patches, can strike men, women and even children. In many cases, the patches merge and lead to baldness. For alopecia too, it is necessary to seek professional advice.
How often one needs to wash hair



The hair should be washed according to hair type and the season. In hot and humid weather, the hair should be washed more often, in order to remove sweat and oil deposits, along with dirt. If the hair is oily, it should be washed three or four times a week. For dry hair, wash twice a week. In modern times, cleansing of the hair has assumed more importance, in order to remove dirt and chemical air pollutants. Hair washing does not lead to hair loss, provided one uses mild herbal shampoos. Use less shampoo and rinse well with water. For short hair, take half teaspoon shampoo and for long hair, take one teaspoon shampoo. Dilute it with a little water and then apply. Only one application of shampoo is enough, unless one has applied too much oil.
Diet should be rich



The diet should be rich in Vitamins C and B-Complex. A small bowl of sprouts daily is recommended. Sprouts contain amino acids, which are beneficial to the hair. Include fresh fruits, raw salads, leafy green vegetables and curd in the daily diet.
Options to get rid of baldingIn cases of balding, especially among men, there are other options, apart from wearing a wig, like hair weaving, hair extensions and hair transplant. Hair weaving is done if the person is partially bald. The hair is actually woven to the roots of the existing hair.
The hair is sometimes glued on. Then it is said to grow naturally. Partial hair extensions are becoming more popular, in the hair weaving method. However, washing the hair and keeping the scalp clean poses a problem and one has to go periodically to get the weave tightened when the hair grows out. Hair transplant is a surgical procedure, in which a portion of the scalp which contains hair is taken, along with the hair follicles and grafted in the bald areas. The hair then begins to grow in the bald areas. Nowadays the procedure has become very advanced and is said to be better than hair weaving. It may be done in one session, or may take several sessions. Precautions are taken before and after the procedure.
Read more articles on Hair Loss.