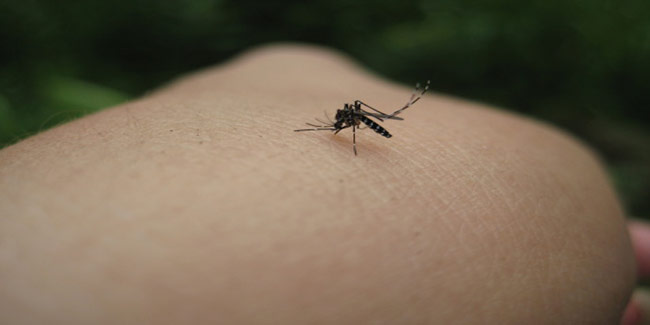 Mosquitoes are known to be those really irritating creatures that ruin your taste for life. The constant slapping of your own skin until it turns red can be very frustrating. But apparently, mosquitoes do not bite everyone!

It has been found that mosquitoes are biting you because you are especially delicious to them, yes that can happen. An estimated 20 percent of people tend to attract mosquitoes because they are more delicious than others. The sad bit is that scientists do not have any cure for this ailment as of now, other than preventing them with insect repellent. The interesting thing to know is, why or how do mosquitoes find you more delicious than others? Here is a way to find out whether you are a delicious option or not.




Blood Type
Mosquitoes bite so that they can take the protein from human blood. The fact is that, mosquitoes find certain blood types appetizing than others. A study showed that mosquitoes landed on people with Type O blood nearly as twice as often as those who had Type A. Those with B type Blood were somewhere in between.

Carbon Dioxide
Mosquitoes tend to locate their targets by smelling the carbon dioxide which humans emit from their breath. Mosquitoes use something call maxillary palp, which is an organ that can detect carbon dioxide from as far as 164 feet away. If you are exhaling too much Carbon Dioxide then you will be a mosquito magnet!

Exercise and Genetics
Mosquitoes find their victims by smelling their lactic acid, uric acid, ammonia and other substances which are released via sweat. Also, people with higher body temperatures are attractive to mosquitoes. Exercises build up lactic acid and also increase body heat, which will make you susceptible to mosquitoes. Genetics also tend to influence the amount of uric acid and other substances mentioned here.




Drinking Beer
Beer guzzlers beware. Just a bottle of beer can make you attractive to insects, as per one study. The mystery behind this is not yet known. Although researchers previously believed that it was because drinking increases the ethanol excreted in swear and the body temperature increases. But it is neither of these. Well, maybe they like to get drunk every now and then!

Skin Bacteria
Particular types and volume of bacteria that live on human skin could be la matter of choice for mosquitoes. Scientists found that having large amounts of certain types of bacteria can make the skin more appealing to the mosquitoes. Mosquitoes bite mostly on the ankles and feet because they have stronger bacteria colonies.

Everything has a reason to it, and the most mundane of events are often the most interesting ones. Now you know why a mosquito would bite some people more than others, go share the message! It would be fun to see whether you are a delicious dish or not.
Image Source: gettyimages.in

Read more articles on Blood Diseases.