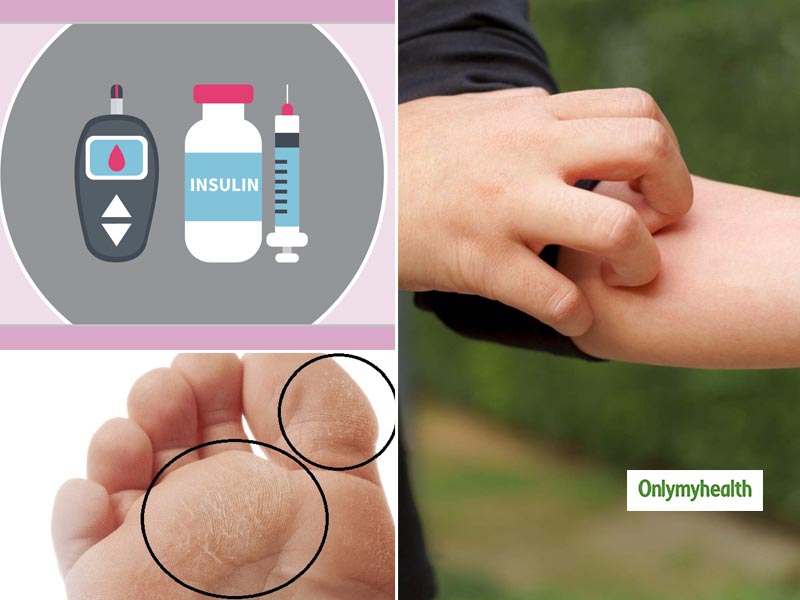 What skin conditions are caused by diabetes? Beware! These skin diseases can be caused by diabetes. Tips to take care like this.
What are some skin conditions caused by diabetes? It is widespread for patients with diabetes to have skin problems, yet they do not pay attention to it. According to statistics, about 30% of people with diabetes have skin-related disease. One out of every five people who go to a dermatologist for the treatment of skin disease caused by diabetes. How to prevent skin diseases in diabetes? If you do not have any skin-related discomfort, but you or someone in your family has diabetes, keep a check your skin regularly. For example, while taking a bath, see if there are any spots, red marks, rashes etc. on the skin. This will help in identifying the disease in the beginning and control blood sugar better. Taking care of sugar in food, reducing weight and limited intake of carbohydrates make it easier to control insulin levels and prevent skin diseases (as well as other diabetes-related disorders). Avoid smoking and adopt a nutritious diet prescribed for diabetes.
What kind of skin diseases can occur?
Acanthosis nigricans: The colour of the skin changes in the areas (such as the neck or armpits) and looks like velvet. This disease is called acanthosis nigricans and is due to increased insulin levels (such as hyperglycemia). This problem is common in women. You can overcome this problem if you keep blood sugar under control with regular exercise.
Diabetic dermopathy (shin spot): Diabetic dermopathy is one of the most common skin problems found in diabetic people. In this, round, light, small red spots appear below the knees. This complaint occurs in fifty-five per cent of people affected by diabetes, especially men. In some cases, this happens due to particular medicines.
Rubeosis faciei: Do you know that reddening of the face is also a sign of diabetes mellitus? Even then, people do not pay attention to. In such a situation, if there is high blood pressure, too, then the situation becomes worse. This problem points out that you are not capable of managing the sugar level properly. However, this difficulty is less known in people whose skin colour is dark.
Skin warts: You may have seen small soft blemishes on the neck and back of many people. They are more in those people, whose body mass index (BMI) and blood sugar are both significantly increased. This problem can also happen in people with pre-diabetes (fasting blood glucose 110 to 125 mg / dL).
Dry skin (xerosis): Dryness in the skin (diabetics) is also another problem that people do not pay attention to. Depending on the climate/weather (such as in hot or cold weather), up to 44% of people with diabetes may have this problem.
What to do if you have any of these skin infections?
If you have any skin related problems mentioned above, then you should go to the nearest doctor and get diabetes checked. If your weight is above average or if someone in your family is already affected by diabetes, then you are more likely to get this disease. Some of these symptoms, such as warts, twisted skin and hyper-pigmentation, can also be seen on the skin. These symptoms make it easier to detect problems, and treatment can be started early. High blood pressure and other diabetes-related issues can also co-occur in people affected by diabetes. If you have any skin problem related to diabetes, get your blood pressure checked. Also, get blood tests done so that it can be known whether your other organs are functioning correctly or not.
Read more articles on Diabetes