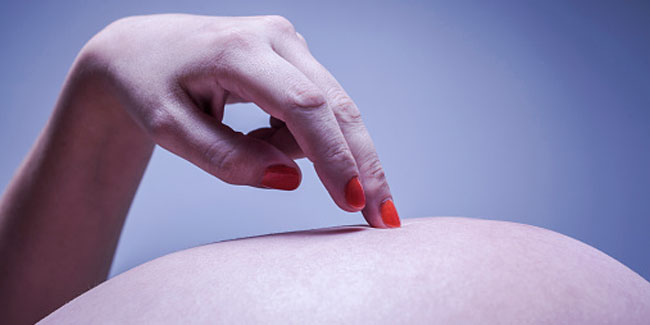 As two horizontal lines queue parallelly on the pregnancy test wand, a woman is filled with an irrefutable excitement. You assume a lot to look forward to such as the baby's coming home and thereafter, watching and learning embryonic laughter develop into the huskiness befitting an adult. But, before all the colorful harbingers, you will have to deal with some changes such as weight gain, bigger breasts and swollen ankles. But, that is not all. Here are some more changes that may occur.
A Diving Sex Drive
Most mothers do not feel like they are really in the mood for sex until at least a year later. Blame it on the responsibilities that precede a baby's birth, which makes sex drop to the tail end of a woman's priority list. Moreover, the rise in estrogen levels during pregnancy also makes a woman's sex drive to fall drastically. The good news is that your sex life will be better after you have recuperated completely.
Belly Bulge
You may think that post pregnancy you will be able to lose your belly easily. But, that doesn't happen that easily or that fast. It takes about 6-8 weeks before the uterus is back to its pre-pregnancy size. During and post pregnancy exercise and diet are key to getting your body back in shape, though these must be done under the direction of the ob-gyn.
Unfitting Shoes
If you thought pregnancy mostly affected only the mid-section, you are wrong. It is true that a woman's feet swell during pregnancy, but post pregnancy she may permanently have a different shoe size. One of the reasons for this is an increasing weight during pregnancy which puts pressure on the feet. Hormones may also have a role to play here because they relax the muscle ligament n the body to prepare it for childbirth, though it is not really exclusive to the pelvic area. So, with loosened ligaments in the feet and an increased body weight, your feet are bound to flatten and increase in length.
Hair Loss
Most women tend to have fuller, shinier locks at the time of pregnancy. But, post delivery, the hair goes back to being normal. During pregnancy, higher estrogen levels tend to keep the hair from falling out at normal rate. So, once you have delivered and the estrogen levels have fallen down, the hair will catch up by falling out. The hair sheds heavily one to five months following pregnancy, but returns to normal within 6-12 months.
Saggier, Smaller Breasts
A lot of women expect their breasts to get bigger before as well as after their baby is born, but once the baby is born and the mother has stopped breastfeeding, her breasts start to not only appear saggy, but they also become smaller. It is not uncommon for women to drop a cup size post pregnancy. The thumb rule is that the more children a woman has, the more her breasts are likely to sag.
Read more articles on Childbirth and Pregnancy Complications.