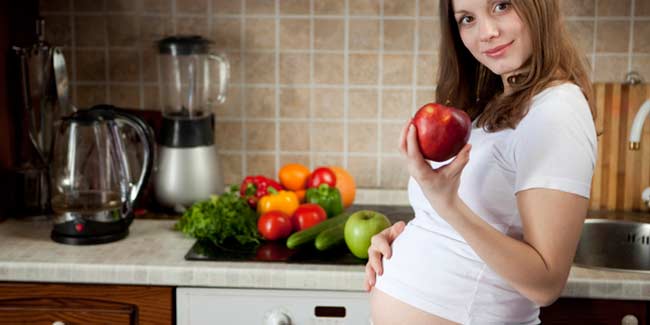 During pregnancy, you may need to change your diet and take good nutrition if you have developed gestational diabetes. When your body is unable to produce or use insulin into usable fuel, gestational diabetes develops. In diabetes, large amounts of glucose accumulate in your blood and cells do not get the essential fuel (energy) they need. Gestation diabetes can be harmful for you and your developing baby, so it's important to try to control it.
[Read: Effects of Gestational Diabetes in pregnant women]
Gestational diabetes can be controlled by following a particular diet plan. Oral hypoglycemic medications are not recommended during this delicate time, so it is important to contact your doctor and dietician to discuss your diet plans. He or she will help you in keeping your blood sugar levels under control by suggesting a specific meal plan. The nutritionist will create a diet particularly suited to you, based on your weight, height, physical activity, and the needs of your growing baby. He or she will also take into account your personal food preferences.
In some cases, the dietary changes aren't sufficient to keep the blood sugar of the pregnant woman in a healthy range. In these cases, insulin injections are prescribed by the practitioner to control the sugar levels and diet plan gets changed to avoid any complications.
A dietitian suggests a diet by determining calorie intake and then he or she determines the portion sizes to balance your meals with just the right amounts of protein, carbohydrates, and fat. Your current eating habits will also get monitored to ensure you are getting enough vitamins and minerals.
[Read: Gestational Diabetes and Babycare]
Here are some dietary guidelines that can be beneficial in gestational diabetes:
Add variety to your meal; distribute calories and carbohydrates evenly. You need to ensure that all your meals and snacks are balanced. The American Diabetes Association recommends that you eat three small to moderate size meals and two to four snacks every day, including an after-dinner snack.
Your meal must include complex carbohydrates (those containing more fiber) in your diet. Pair lean protein with carbohydrates as protein helps to make you feel fuller, sustain energy, and control blood sugar level.
Take short meals throughout the day; be consistent with your portion sizes. Don't skip your meals. In this way, your blood sugar will remain stable.
Take healthful breakfast to keep your blood glucose levels under control in the morning. Have protein rich breakfast, which includes eggs, cheese, peanut butter, nuts, etc, to keep your level in a healthy range, and limit carbohydrates like breads, cereal, fruit, and milk in the morning.
Include high-fiber foods, such as fresh fruits and vegetables, whole grain breads and cereals, and dried peas, beans, and other legumes. These foods can be absorbed more slowly than simple carbohydrates, which may help keep your blood sugar levels from going too high after meals.
Include plenty of fluid as part of your diet. While fruit and vegetable juices are acceptable, it is best not to drink these alone, enjoy small amounts at a time with meals. Water is the best option as it contains no sugar. Limit your intake of beverages that contain simple sugars such as soda, fruit juice, flavored teas and flavored waters as these can quickly elevate your blood sugar.
[Read: What triggers Gestational Diabetes?]
To effectively manage gestational diabetes, it is important to control your blood glucose levels by maintaining a healthy diet and doing regular moderate intensity physical activity in consultation with your doctor.




Read More Articles on Pregnancy.