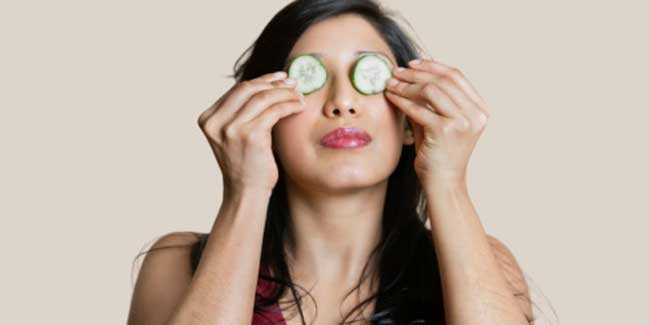 Dark circles, puffiness, and redness of the eyes are a result of your haphazard lifestyle and abnormal diet. Don't let your eyes pay the price for your chaotic schedule. Care for the eyes with these easy tips.
Your eyes are windows to your soul and if your eyes are tired, they can give out uninteded signals. Excessively long working hours, sleeplessness, and stress form an integral part of our lives and all these come with a price tag attached to them. Your lifestyle has a direct affect on your body and also your appearance. Too much stress and fatigue can make you look older than your age. Just like any other part of the body, these harmful conditions can have an effect on your eyes also. A busy and hectic lifestyle is something you cannot avoid but, thankfully there are some remedies which make your eyes glowing and avoid there wearing out before time. So, if you are thinking how to get rid of tired eyes, read on.
Potatoes
Your answer for how to soothe tired eyes lies right there in your kitchen. Potatoes are rich in catecholase, which is an enzyme that can lighten the skin. Take two slices of potato and soak them in cool water. Place these slices on your eyes for five minutes or more. The coolness of the slices and the enzyme together will reduce the puffiness of the eyes and will give them a soothing effect.
Tea Bags
Tea contains tannis which is the best remedy to cure puffiness of eyes. Soak two tea bags in warm water and keep them in the refrigerator. Once the bags cool down, you can place them on your eyes for five minutes. Your eyes will start to feel fresh and much less tired.
Avocado
Constant fatigue that you experience throughout the day can make your eyes look tired and cause dark circles. To combat this problem, place a ripe avocado slice under each eye and relax for some time.
Cold Spoons
Place two metal spoons in cold water for a few minutes. Place the mounds of the spoons over your eye lids and let them stay on for a minute. Your eyes will feel fresh and the worn-out look will go away.
Cucumber
Cucumber has been an age-old remedy for treating eye problems. Lie down and relax for some time. Put few slices of cold cucumber on your eyes and let them stay for some time. This will refresh your eyes and brighten them.

Fighting dark circles or puffiness of the eyes can be a nightmarish experience when you don't use the right remedy. Follow these tips to get those bright eyes instantly.
Image courtesy: Getty Images
Read more on Beauty and Personal Care.