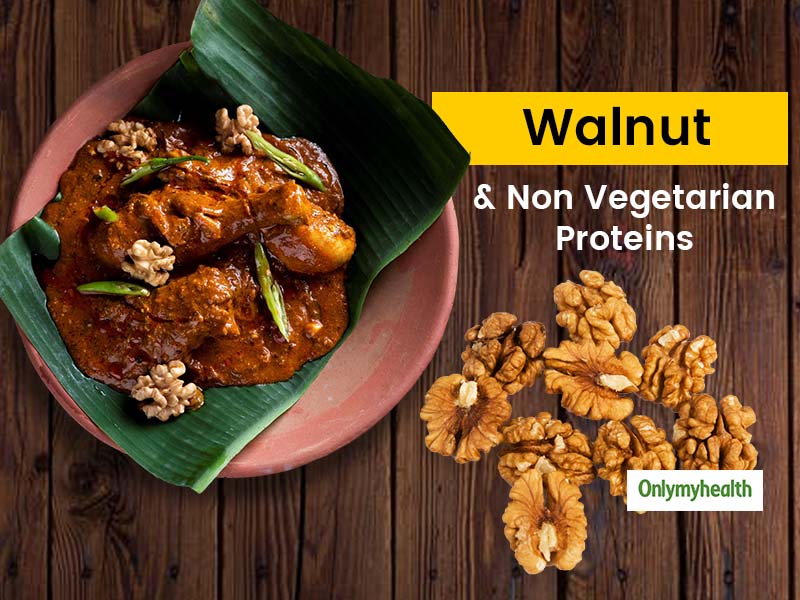 Since the pandemic has struck, cooking has become a hobby for many people. Earlier, when ordering food was always a solution, now the best way is to experiment with ways to enhance immunity by eating healthy food. One of the essential elements to consume daily is proteins. We all love our proteins in various forms, but those who relish non-vegetarian food look for multiple ways to spruce up their dishes. Why non-vegetarian protein but? Non-vegetarian protein is not just extraordinarily delicious but helps in smooth functioning and healing of body muscles too. Animal protein is packed with amino acids and helps keep the body warm internally. So why not add a few walnuts in proteins to ramp up its nutritional value.
Watch: Why one should eat walnuts for its plethora of health benefits:
Follow these drool-worthy recipes made exclusively by Celebrity Chef Varun Inamdar:
California Walnuts Akhroti Seekh Kebab
Ingredients
2 cups minced mutton
1/4 California walnuts, crushed
For the marination
1 tablespoon ginger-garlic paste
1 teaspoon red chilli powder
1 and a half tablespoon salt
1/4 teaspoon black pepper, powdered
1/4 teaspoon garam masala
Skewers to make the kebabs
Oil for brushing
For serving
Chaat masala
Lemon halves
Preparation
In a large bowl, mix minced meat with all the other ingredients and massage the meat for 5 minutes till it starts feeling warm.
Shape the meat mixture into long cylinders and insert a skewer lengthwise through the centre.
Brush them with oil and cook for 2 minutes on high flame.
Sear the meat and cook on a medium flame for 10 minutes, rolling intermittently.
Sprinkle chaat masala and splash some lemon juice. Serve!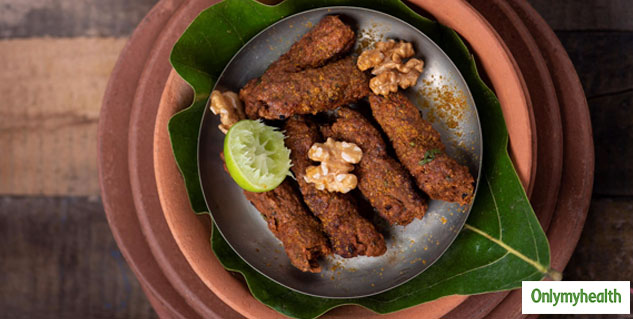 Also Read: Walnut Dessert Recipes: Give A Twist To Your Midnight Sweet Cravings With Walnut
California Walnuts Paneer Dum Biryani
Ingredients
2 cups basmati rice, parboiled
1/2 California walnut halves
2 tablespoons oil
1 cup paneer, cut into cubes
1/2 cup fried onions
1 tablespoon ginger- garlic paste
1/2 cup curd
1/2 cup California walnut milk
1/2 cup tomato, sliced
Salt as required
Dry spice mix
1/2 stick cinnamon
1 tablespoon red chilli powder
1/2 gram saffron
1 teaspoon turmeric powder
1 teaspoon green cardamom seeds
1/2 teaspoon cloves
1 tablespoon coriander seeds
1 teaspoon peppercorns
1/2 teaspoon cumin seeds
1/2 cumin seeds
1/2 teaspoon fennel seeds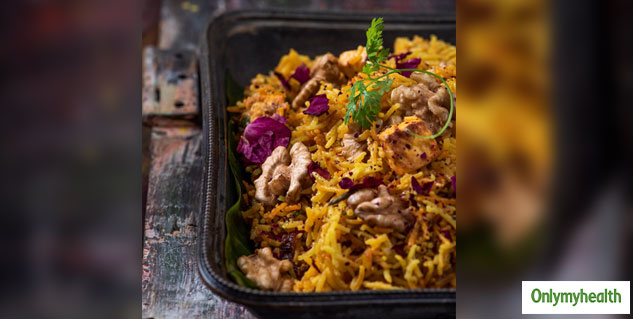 Garnish
Dried rose petals
Coriander leaves
Preparation
Gring dry spices for further use
In a pot, take curd and California walnut milk. Whisk till lump-free.
Add the spice mix, fried onions, tomatoes, ginger-garlic paste, tomato slices and salt.
Mix well. Add paneer cubes and California walnut halves, and one cup water on medium gas flame.
Top with parboiled rice.
Furthermore, top with dried rose petals and coriander leaves.
Cover with a lid and cook on medium-low flame for 20 minutes.
Fluff with a fork and serve with kachumber or raita.
California Walnut Chicken Kadhai
Ingredients
4 chicken drumsticks
1/2 cup brown onion paste
1 tablespoon ginger garlic paste
1/2 cup fresh tomato purée
1/4 cup California walnut powder
1/8 cup California walnut milk
4 tablespoons refined oil
Dry spice mix
1 tablespoon coriander seeds, toasted and crushed
2 tablespoon red chilli flakes
1/2 teaspoon turmeric powder
Salt as required
1/4 teaspoon garam masala powder
1/8 teaspoon dry mango powder
Topping
2-3 green chillies, sliced
A handful of California walnut halves, deep-fried
1/4 cup onions, cut into quarters, petals separated and deep fried
1/2 cup green capsicum, cut into dices and deep fried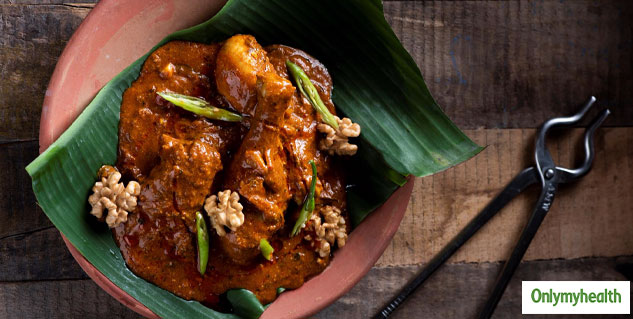 Also Read: Replace Yellow Butter With Walnut Butter For Its Various Health Benefits With These Delectable Recipes
Preparation
Heat a pan on high flame. Add onion paste, ginger-garlic paste and walnut powder. Cook till oil starts releasing the sides of the pan.
Add in tomato purée along with dry powder spices.
Add California walnut milk, chicken drumstick and allow it to simmer on a medium flame for 15 minutes or till the chicken is well cooked.
Finally top it up with fried California walnuts, chillies, onions and capsicum. Serve!
Read more articles on Healthy Diet