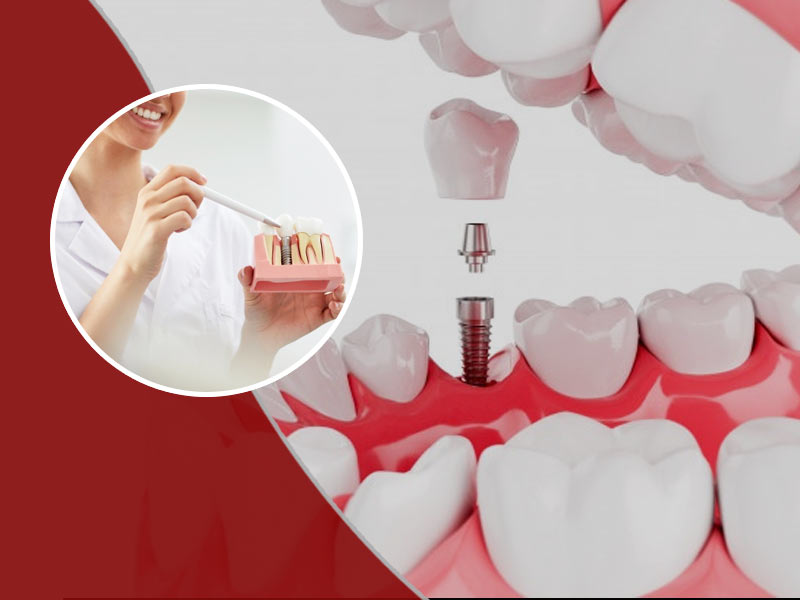 Dental implants are very popular today, since they offer a stable foundation for a patient's tooth restoration. A dental implant is an ideal replacement for a missing tooth's root. There are several advantages of dental implants, such as improved appearance, clearer speech, convenience, easier eating, etc. For many dentists around the world, dental implants are considered the best recommendation to replace their patients' missing teeth permanently. In this article, Dr. Darshini Vikram Shah, Director, Dental Cosmetics & Implantology, Shalby Multispecialty Hospitals explains about different types of dental implants and what they offer unique for one's oral care.
#1 Endosteal Implants
The most common types of dental implant, they are usually made of titanium. Protruding through the gum to hold the replacement teeth, they are shaped like small screws and are inserted in the jawbone. They can be used for various purposes, and are usually used to support a dental crown, bridge, or denture. It is the safest type of implant, with a high success rate for patients. However, since it is a little intensive procedure, a patient needs to meet the following requirements to get an endosteal implant:
Good quality and quantity bone
Good oral health
Gum tissues that are healthy
Avoiding tobacco products
#2 Basal implants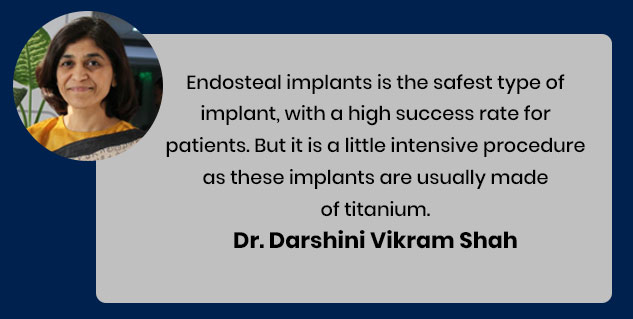 Basal implants are very unique, because they are the type of implants that get attached to a very strong part of the bone by dentists, which is the cortical bone. Also called immediate loading implants, they bring a lot of stability since they adhere to a very hard bone in the oral region. Basal implants offer several advantages, and their cross arched stabilization gives them an edge over the conventional implants, as they can be formed in one syringe unit and the chance of failure reduces. Minimally invasive, they are also highly flexible and can be loaded easily.
Also Read: Debunked! Myths About Wisdom Teeth That You Might Be Believing
#3 Mini Dental Implants
Mini implants are just smaller versions of dental implants, and are made to serve the same purpose as dental implants. However, they are around half the diameter of traditional implants. In most cases, mini dental implants are temporary, and a replacement for people who do not want permanent replacements for extracted teeth. Often termed as temporary anchorage devices, they are the ideal alternatives for people who find traditional headgear difficult to wear. The process involves getting X-Rays done, post which the dentists know exactly where the implants need to be placed.
One of the greatest advantages of a mini dental implant is that the procedure does not require any sutures or stitches.
Mini dental implants are also flexible, based on one's dental needs. Furthermore, recovery from the procedure is also fast and easy, in most cases.
Most patients can also actively resume their activities and normal life within 1 or 2 days of the mini dental implant procedure.
However, the implants require utmost dental hygiene and they can wear down or decay without proper care.
Their roots do not go as deep as traditional headgear, and the implant can be done in a single setting.
Comparatively, mini dental implants are required to be replaced sooner than traditional implants and they are not as strong and durable.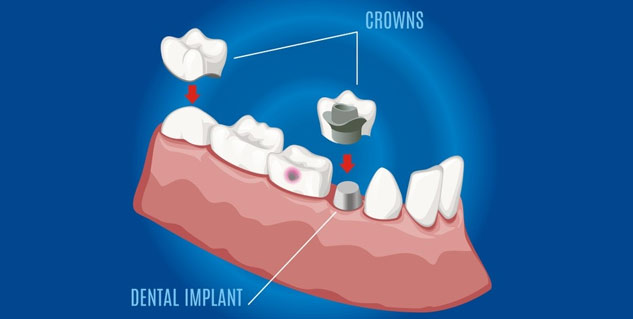 #4 Zygomatic Implants
These kinds of implants are very rare. The major differentiator for zygomatic implants is that it is placed in patients' cheekbone rather than the teeth. The procedure should be done only if one does not have enough jawbone for the Endosteal implant. Although it is a very complicated procedure, it does have a high success rate and is considered a very safe procedure and an effective alternative to bone grafting.
The dental implants market is ever-growing, and is expected to reach USD 11,801 million by 2026, registering a CAGR of 8.6% during the forecast period, 2021-2026. Offering countless advantages, and fixing several oral problems, picking the right dental implants can be a stepping stone to transform one's health.
Image credits- freepik