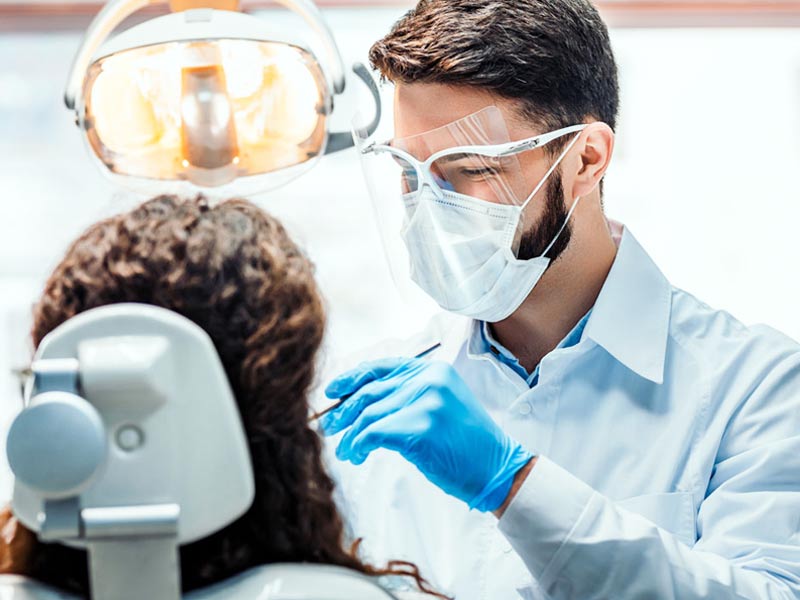 Dental clinics across the globe are slowly restarting and the good news is – they are safe! You have to take off your mask, when on the dental chair- But, does this mean you are at a higher risk of infection from Covid -19? Evidence shows otherwise. Dr. Payal Agarwal, Dental Surgeon- Periodontology, Implantology & Pediatric Dentistry, Co-Founder- Healthspace Clinic explains, COVID-19 pandemic has changed the way we access health care, and dental care is no exception. Even before the pandemic, dental clinics were required to maintain fairly strict hygiene practices.
Is Dental Treatment During Pandemic Safe?
Dentists are trained in sterilization protocols and in protecting themselves and their patients from infection. Now, due to COVID-19, there are additional safety precautions in place, many of them recommended by the Ministry of Health and with the newly enhanced safety precautions, the dental clinics are, therefore, safe to visit. If sterilization protocols are adhered to the likelihood of cross infection is negligible or zero.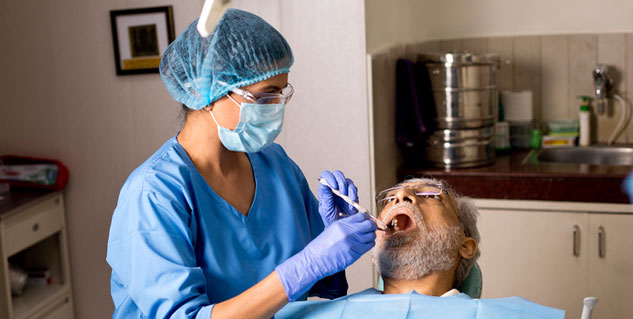 Tips for getting dental treatment during pandemic
While some people might be hesitant to visit the dentist during the coronavirus pandemic, here is what you need to know before making an appointment.
Make a prior appointment- avoid walking into crowded clinics with too many people in the waiting area. Maintain social distancing with front desk staff.
Adhere to the appointment time and avoid getting an attendant, with an exception of dependents and children.
Make an appointment at the smallest indication of pain- waiting for too long means more invasive procedures like root canals.
Always use a chlorhexidine based mouthwash pre and post appointment. It has been proved it reduces the viral load in the mouth. The dentist will give you this mouthwash to swish around your mouth before you begin treatment.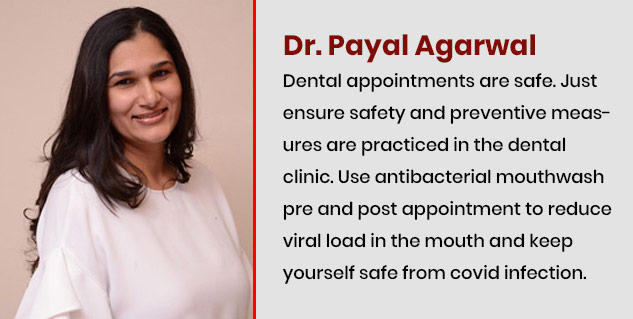 Sanitize your hands or wash them thoroughly with soap and water before entering operatory and after leaving it.
Make sure dentist and staff are in Personal protection equipment with proper mask, gloves and a shield.
The dentist will give you patient protection gear to wear. This can include a combination of things depending on procedure from shoe covers to headcap.
Dental clinics should be well ventilated with windows to allow sprays to diffuse out of the clinic. Avoid clinics which have no ventilation or methods of removing aerosol from their operatory rooms.
A rubber dam is placed on the tooth which can isolate the tooth and cover the patients' airway as well. If procedure can be done with the rubber dam in place it is highly recommended.
The temperature and pulse oximeter reading of anyone entering the clinic is recorded for screening purposes.
Dental Treatment for Children
The question dentists get asked often is whether children can start visiting the dentist? In case of an emergency like severe pain or swelling, I recommend visiting the dentist immediately. If you wish to avoid going to the dentist for routine checkups you can make an online appointment with the dentist. In our online consult, we check the diet of the child. We customize a home care program with preventive gels and toothbrushing techniques and solve any query the parent may have. Inculcating correct habits in children will help prevent cavities.
Also Read: Know 5 Most Common Dental Issues & How To Tackle Them From Expert
Most people think that our oral health only relates to our teeth and gums, while in reality there are multiple potential connections between our oral health and overall well-being. With the growing amount of research in recent years, it has been found that people with teeth decay and gum problems have a higher chance of developing health issues. This has shown to worsen diabetes and increase risk for arteriosclerosis or heart disease. It has also been shown that pregnant women who have periodontitis, i.e., gum infection are more likely to have preterm, low birthweight babies.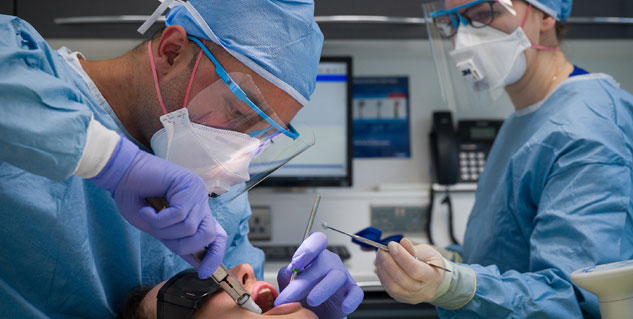 Dental problems cause a large number of bacteria to grow in the mouth. IF left untreated they spread to distant organs through the bloodstream. This can easily be prevented with regular clean ups and checkups. Preventative dental care is always the best remedy.
Anxiety over a dental visit is a common problem. In the pandemic this anxiety was increased manifold. However, there is absolutely no need to be worried. We are here to help you through a safe and comfortable dental experience. Just remember to follow the steps enumerated and you will be all set to visit the dentist!
Read More in Other Diseases