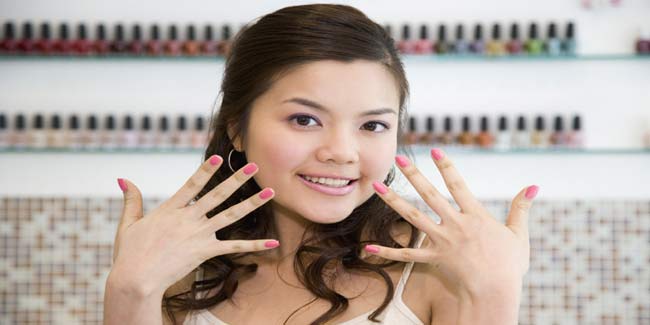 Manicures provide the much needed rejuvenation to your hands which are often over-worked. To meet your special needs, various kinds of manicures are available.
Nails need as much attention as body and hair. Do not ignore nails every time you pamper yourself. Give them the much-needed manicure and pedicure.

Getting a manicure is not just confined to looking pretty. It restores the lost supplements by treating the nails. The massage during the manicure rejuvenates the hands.


But with so many types of manicures sold in the market, which one should you go for? We can help you make the decision, just read about various kinds of manicure below and choose what charms and suits you best.
Regular manicure
This basic treatment involves soaking hands in soapy water. It helps shed dead cells by softening the skin. After a hand massage and clipping the nail cuticles, the nail technician will apply the nail polish of your choice.

Regular manicure can easily be done at home. You can dissolve shampoo in hot water to soak your hands and use a rich vitamin-e hand cream to massage. Applying nail paint and removing cuticles are no Hercules task.

French manicure
If you want to opt for a classy, elegant, simple, clean and chic manicure, you must opt for a French manicure. It is a one-stop solution for all the above beauty needs for your nails. It involves the application of neutral translucent nail polish with white tips. Oval, square or round, the nail shape is of your choice.

French manicure leaves the hands moisturised to maintain their health. Though it can be done at home, the idea can prove to be a little tricky. Little mistake can leave your manicure messy. It is better to get it done at the salon if you are not sure about doing it yourself.
Reverse French manicure
As the name suggests, it is the complete opposite of French manicure. In this treatment, the nail tips are painted in vibrant colours, while the area near the cuticle in nude or white nail paint shade.
It is also known as the "moon manicure" as the moon of the nail is painted white, while the rest is done in a darker shade. One can go for a black and wine combination during winters and yellow and pink during spring.
Paraffin manicure
If your hands are super dry and over-worked, paraffin manicure is a must for you. In this treatment, hands are soaked in heated wax, which infuses the skin with instantaneous moisture and leaves the hands smooth and supple. It is usually followed by a hand massage. Some salons offer paraffin manicures infused with various oils like, grape seed for extra moisturising benefits.

European manicure
Even some global versions have made to our list of different manicures for nails. For a European manicure, you should first remove the old nail polish and give your nails a break for 15-45 minutes. To shape the nails, in contrast to other techniques, the European manicure does not apply the use of scissors, but with saws. This type of nail manicure can either be dry or wet. The only difference is the removal of the cuticle.


In a wet manicure, the hand is steam out with special lotions. For better results, add a few drops of lemon juice or a favourite essential oil. After this, soften cuticles using a nail tool. After 5 minutes, push the cuticles using a rubber hoof (or orange stick). In dry manicure, lotions are not needed.
Hot Stone Manicure
Here, in this special kind of manicure treatment, hand massage is done using age old hot stone therapy, which helps to soothe and relax your hand. This indulgent treatment includes all of the delights of a basic manicure, plus the addition of heated stones, which are placed over the hands to provide relief and comfort.

Read more articles on Hand Care.