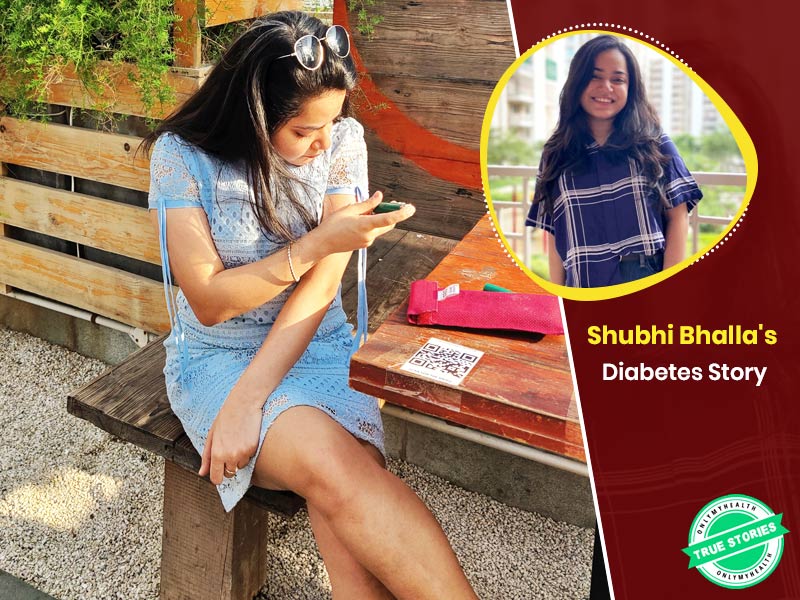 'Diabetes' sounds normal to those who have normal blood sugar levels. Ask people who are tackling for years what it feels like to live with diabetes. Honestly, no matter how much you know about diabetes, it would always be less unless you feel it. Shubhi Bhalla, a 24-year-old digital marketing enthusiast is battling diabetes since her teenage(when kids do not even know the ABC of diabetes). This World Diabetes Day, we thought of bringing forth her true story to encourage people to not give up on life with type-1 diabetes but learn to enjoy it to the fullest.
Shubhi Bhalla's Type-1 Diabetes Story
Shubhi was 16 years old when she got diagnosed with type-1 diabetes. But she was experiencing the symptoms since 2-3 years. Sadly, nobody got a hint of diabetes at that time. Recalling one incident she told me that 'while going on a school trip to Amritsar, I had to stop the bus 5-6 times to go to the washroom." Later, my mother also noticed that I am drinking a lot of water(used to finish 1 litre bottle in just 30 minutes!) and peeing a lot. I got tested many times in between but nobody sensed that it could be diabetes. By the time I was in my 12th standard, I was seeing all the possible symptoms of diabetes including weight loss." One day when she was feeling extremely low, she and her mother went to a hospital for a checkup and that is when the doctors revealed that she is severely diabetic. Her postprandial glucose value came 570! The blood glucose levels were so high that doctors were shocked to see her walking(which is difficult in high blood sugar). She was in the hospital for good eight days until her blood sugar was normalised through treatment.
View this post on Instagram
Negligence make diabetes worse
Finally, Shubhi came to know that she is diabetic and she tried to manage the condition at her best capacity. From monitoring blood sugar levels to following a healthy diet to giving up on unhealthy foods & sweets, she did it all but not for long. By the time she started her graduation, her diabetes seemed to interfere with her personal affairs which didn't go down well with her. One fine day, she decided to not let diabetes take over her life and she stopped diabetes management. She would eat her heart out, not check her blood sugar and be negligent towards her health. For 4-5 years, she neglected her diabetes condition and went into the denial phase.
One day, she was scrolling through Instagram when she spotted a diabetic blogger sharing her diabetes management tips and tricks. Then, Shubhi took her diabetes seriously and invested in a CGM device or continuous glucose monitoring device. Scroll down to know about CGM.
Also Read: Drinking Cardamom Tea Can Control Blood Sugar, Here's How This Tea Helps in Diabetes Management
CGM Helped Me Manage My Life Better: Shubhi
View this post on Instagram
In type-1 diabetes, blood sugar levels both increase and decrease. This is why it is important to keep a check on blood glucose values to manage type-1 diabetes. This is a lifetime thing and the person should learn to live with it. When blood sugar gets low, one needs to have sugar to increase the level. On the other hand, it is a task to lower down the levels when they hit high. Thus, glucose monitoring helps in proper management. For that, a glucose monitor is of great help. Shubhi uses a CGM to keep a tab on her blood sugar levels. Advanced CGM device comes with an alert system that alerts you when the sugar levels fluctuate. You can then manage your diet accordingly to prevent serious repercussions.
Is it necessary for diabetics to give up on favourite foods?
View this post on Instagram
NO. This might come as a shocker to many but this is true. You can have everything that you want including junk and sweets if you know how to manage the condition rightly. However, this might not apply to everyone. It is better to consult your doctor before planning your diet. For example, Shubhi loves Pizza which is high in carbohydrates and not good for type-1 diabetics. She eats pizza when she feels like but with proper caution. She takes her insulin dose accordingly so that the blood sugar levels don't spike abruptly. Besides, adopting a healthy lifestyle(healthy diet and physical activeness) also helps in managing diabetes. You must be vigilant of different foods and how your body reacts to them. This is a tip that can make your life easier.
Also Read: Diabetes Diet: Manage Your Blood Sugar Levels By Adding These Grains To Your Diet
Talking about insulin and why people feel embarrassed to admit that they use insulin injections to manage their diabetes, Shubhi tells that youth feels shy about taking insulin in public and believe in the myth that it is painful. Is it? No, insulin injection can be easily used and it is not painful at all. The cells present in the blood get sugar through insulin which gives energy to the cells. Insulin is a natural hormone that stops being produced in diabetes, so it becomes mandatory to take it through injection.
We(diabetics) do not fear injections but the opinion of people: Shubhi Bhalla
View this post on Instagram
More than an injection, it is the fear of opinionated people who judge someone based on their health and lifestyle. Diabetes is something that can occur to anyone at any age. Instead of encouraging and helping a diabetic, some people show sympathy and opinions toward them. Do this, do that and your diabetes would be under control, these are some words that look helpful but are harsh. Diabetes can be managed by exercising some tips. Especially for type-1 diabetes patients(that too teenagers and youth) who have less knowledge about diabetes management. As soon as they understand that they have to live with diabetes and how its management is done, their life would become much simpler.
We hope Shubhi Bhalla's story helps you in some or another way.