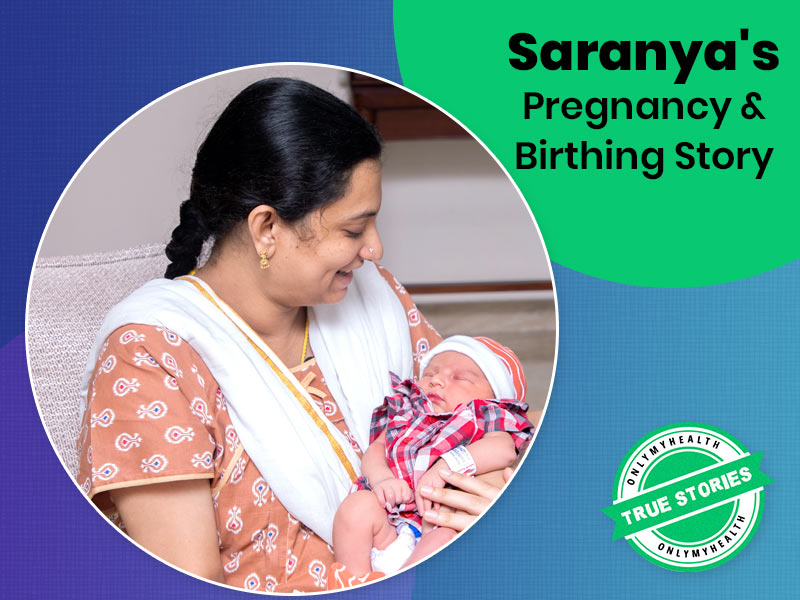 Visual impairment can bring a person's life to a standstill especially when the loss is gradual. It takes years to accept the condition and learn to live with this disability. The saddest part of this is unwanted dependency on others for important day-to-day tasks. Imagine, what a visually impaired woman has to go through during pregnancy and birthing process when even normal women face difficulties in handling themselves. Double the care, double the attention and double the fear. This is exactly what Saranya faced when she became pregnant and gave birth to a baby boy. The entire experience was overwhelming for her and her family but eventually they overcame all the fears and challenges to welcome their little bundle of joy. Read on to know what challenges a blind mother has to face and how to conquer them.
Retinitis Pigmentosa- Cause of Saranya's Blindness
Saranya was not visually impaired by birth but she lost her eyesight gradually over the years. Recalling the same, Saranya shared, "I was in my early 20s when I became totally blind. Mine is a condition called retinitis pigmentosa. The retinitis pigmentosa specialist explained to me that though a corneal transplant cures most blindness, it cannot cure the blindness of those who lose sight due to a genetic condition or if the nerves around the eyes are damaged, which was my case. Mine is a genetic condition and the nerves around my eyes kept getting weaker over the passing years. And even a transplant cannot restore my vision and eyesight."
Also Read: A Scientific Miracle Saves a Woman From a Rare Cancer
Pregnancy challenges for Visually Impaired Mothers
Different women come across different set of hurdles during their pregnancy journeys but one can take cues from someone else to prepare themselves for potential challenges.
Here are some issues that Saranya faced in her case:
Saranya is a working mother. It was hard to navigate way in her new workspace.
She had to wait for a colleague to be free/available to escort her to the washroom every time she felt the urge to go to the washroom which was quite often considering due to pregnancy.
She was afraid to move about alone as she feared that she would hit against the wall or some pillar and that could be dangerous for the baby.
She couldn't see the colour of the discharges she was having. So, she could never tell if she was bleeding or if it was a normal/usual vaginal discharge.
She was affected with Covid-19 twice during her pregnancy despite taking all the precautions.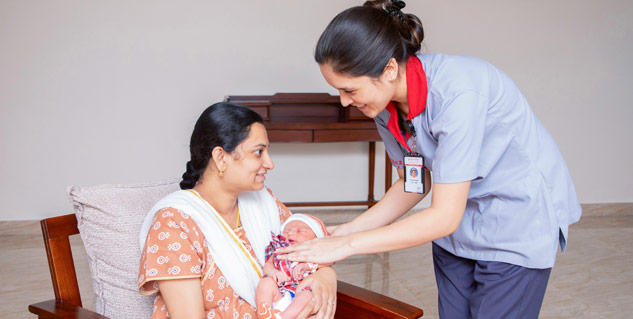 Need for sensitivity for blind people
Normal people are blessed to have all their senses intact but they should not be insensitive towards impaired people. Here is Saranya's personal experience that she went through and it is honestly an eye-opener for us:
"I wonder, if offices had good infrastructure, and were more accessible to people living with disabilities, things would have been better. If companies are to be truly inclusive, they need to maybe train or have some kind of session with workers to make them aware of how to behave employee with disabilities. Many people have never dealt with physically challenged employees and therefore they don't know how to react or help. They keep staring or whisper amongst each other when a blind person is in the room. This is so offensive and uncalled for. People don't even realize that they are doing something offensive. It's almost as if a blind person is deaf too and will not hear the hisses and will not sense that people are judging them and not treating them normally."
We just want to be treated the way you would treat any other person. How difficult is that? The weird behaviour of people can get really challenging once you are pregnant. Because you are already going through a hell lot of emotional ups and downs. The rollercoaster gets even more difficult. It would have been easy if people had behaved normally with me.
Also Read: Unbelievable True Story Of A Man Who Survived Four Different Cancers In Five Years
Motherhood Challenges
Indeed it is not easy to take care of a newborn when you are visually impaired. Saranya had her share of difficulties in feeding and taking care of the child. Here are some snippets:
I had a lot of difficulty in getting my baby to latch on. I couldn't see if I was breastfeeding correctly. I was always afraid of blocking his face and not knowing.
Many a times when my baby cried, I did not know why – I just couldn't figure out until I had someone sighted tell me that it was because his cap had slipped onto his eyes blocking his vision or because he was not comfortable in his clothing.
I couldn't tell when he was happy or sad as I am still getting used to the signs of his body.
My one and only tip to blind or physically impaired mothers is that get the trusted help for things you just cannot do due to your impairment. But don't let that hamper your innate ability as a mother to care for your child in the best way possible. There's a lot you can do – you are not disabled – you are just differently abled. Get used to the mommy life, find different ways to tackle and adapt to your baby's needs. Be confident and positive. If God has chosen you to be the mother, it's because you are worthy.
Doctors Made My Journey Smooth- Saranya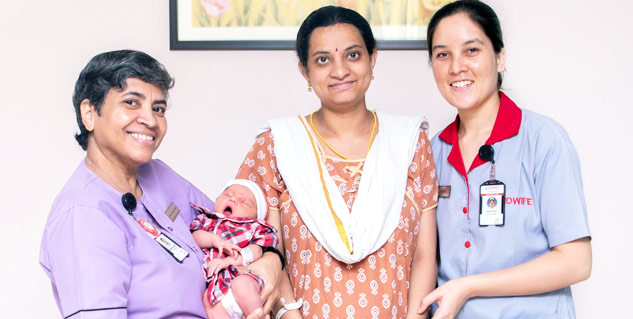 My body went through many changes. But I grew strong. Motherhood is something that Dr Geeta at Fernandez Hospital helped me embrace and accept well. Dr. Geeta used to hold my hand and talk to me lovingly. This was so different from my prejudice that doctors don't give enough time to their patients. She gave me all her time and special attention. Dr Geeta also counselled my husband and there was a personal touch to the interactions. That made it easy and joyful. I wish every blind mother or handicapped mother gets such doctors.
Dr. Latha B was very helpful. She was always available on call. The childbirth classes that started from the fourth month of my pregnancy were organized on zoom and my husband helped me follow the exercises. Even amidst the pandemic these classes were not compromised on. All the classes were online.
During the classes they would stop and help and invest more time if I couldn't understand anything. That's the kind of support a differently abled mother should get.
Unending support of doctors and family members helped Saranya sail through the difficult times. It was her zeal of embracing motherhood and safeguarding her child that helped her have a smooth pregnancy and birthing experience. It is high time that we do not see differently abled people as liabilities but as responsibilities. Extending our support can help them lead a better life.