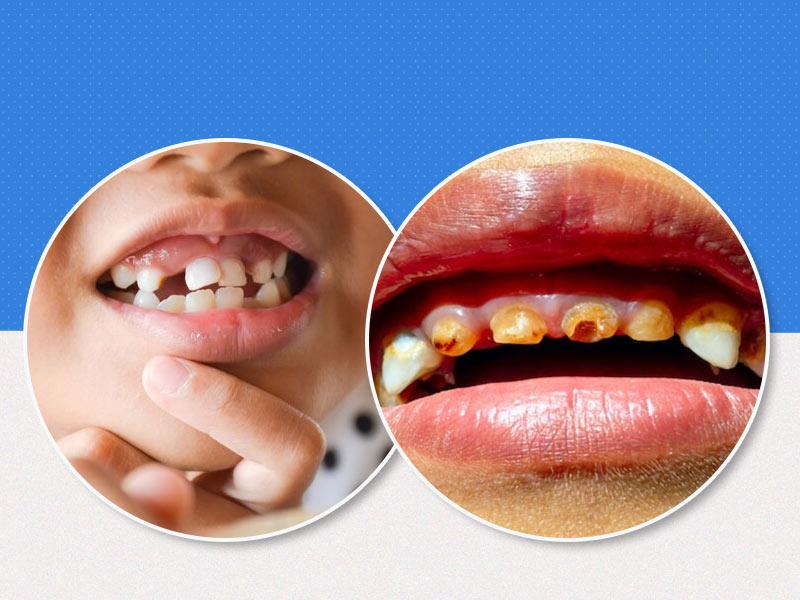 Dental Caries or Tooth Decay in children, which is commonly referred to as 'cavities' is a matter of concern for parents. It is one of the most prevalent health problems in this era. The sight of decay in a tooth, whether small or big is overwhelming for the parents, hence it becomes prudent to understand the process of decay so as to prevent its occurrences or treat it at the earliest. Onlymyhealth got in touch with Dr. Rajesh Shetty, Principal Dentist at Dazzle Dental Clinic to understand primary causes of tooth decay in children and how parents can prevent it.
Early signs of tooth decay in toddlers
The decaying of the teeth starts with a thin layer attached to the tooth know as plaque, which harbors many microorganisms leading to cavity formation. This process doesn't happen overnight, in fact it takes months for a cavity to occur. Initially it appears as a white spot on the surface of teeth which is visible when the tooth is dried. Later, if this process continues, then the surface gets weaker and breaks open, which ultimately leads to cavity– appearing to be black or brown in color. Cavity on one's tooth increases the possibility of spreading itself onto the adjacent one because of food impaction in between the teeth.
An infant mostly gets their first tooth when they are of around 6-8 months of age.
In a child, their milk teeth erupts when the child is of around two and a half years, after which, they get their first permanent teeth when they are of 6-7 years of age.
The process which revolves around shedding of teeth and eruption of permanent teeth, continues on until the child is of age 14.
Often times, parents ignore taking care of their children's milk teeth with the notion that eventually those teeth will shed, giving rise to new and strong ones. But issues such as discoloration of teeth which leads to a timid or no smile at all, sensitivity on having cold foodstuffs, and pain can be experienced by the child. And once the pain starts, the child's dentist is left with no option but to start with extensive treatment approaches. Though tooth decay is multifactorial, the main causes remain as - not maintaining proper oral hygiene and selecting a sugar inclusive diet.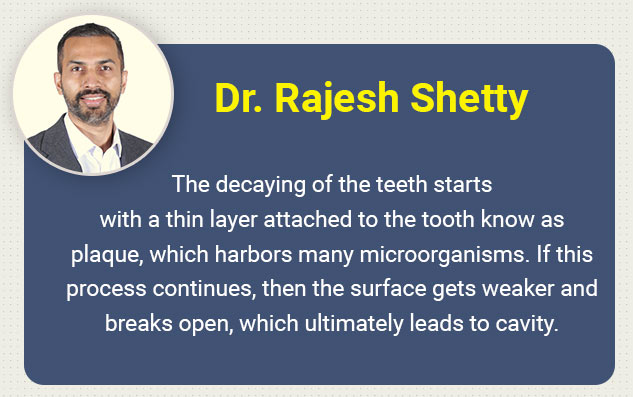 How To Prevent Tooth Decay In Kids?
Here are some suggestions by Dr. Shetty to parents to keep dental caries or tooth decay in kids at bay.
Avoid Giving Them A Lot Of Confectioneries
Nowadays, most of the kids have developed a penchant for confectioneries such as pastries, chocolates, biscuits, etc. due to the easy availability of these food items. The sticky chocolates, especially the caramel containing ones, are the main culprits and will eventually cause more harm by causing tooth decay in kids.
Dr. Shetty advises parents to be vigilant about what is consumed by the child, especially in between meals. In case of infants, bottle feeding is a very familiar practice hence in most households, milk with added sugar is fed to the child at night time. This practice of night feeding is detrimental to the teeth which leads to rapid tooth decay in babies. Even the syrups of medicines are sugar based and frequent consumption of these have become an emerging cause of decay.
Take them for annual dental screening
The recent era of Covid 19 pandemic has been challenging for everyone including the healthcare professionals in terms of managing dental caries for infants and children. Due to the fear generated by spread of virus during dental treatment, many parents have either avoided proper treatment of children or postponed it during the ongoing pandemic. This in turn, has resulted in magnified occurrence of tooth decay.
Management of dental caries has taken a paradigm shift, starting from drilling and filling of teeth to prevention of the caries as condition to occur.
That is why, dentists should educate parents and explain them about the importance of regular dental checkup as a part of their child's routine health practice in order to identify any possible dental illnesses.
Often times, a child goes through early onset of decay, which especially gets visible on the front teeth.
Parents are advised not to delay the checkup with pediatric dentist and make it certain that the problem is addressed.
Also Read: Dental Treatment During Pandemic Is Safe If You Follow These Instructions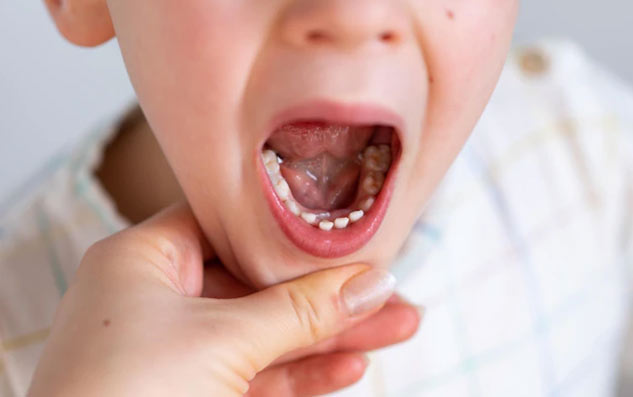 Ensure regular brushing twice a day
Dentists mostly asserts that regular brushing is of utmost importance to keep the teeth healthy and it is the duty of the parents to address it.
It is advised that the parents supervise the brushing of the children till the time when the child has developed manual dexterity to perform it themselves.
In a child till 2 years of age, a smear of toothpaste is recommended on the tooth brush. Afterwards, a pea sized toothpaste can be used until the child turns six years of age.
To treat the initial tooth decay, special creams are available in the market, which can be used as per the dentist's recommendation.
Pit and fissure sealants, and application of topical fluoride is always advised to prevent further onset of decay.
Once that tooth cavity has formed, a simple restoration of the tooth is sufficient to curb the decay.
If the child develops pain, they are evaluated clinically and with radiographs, on the basis of which, a treatment decision is confirmed.
Even after providing the above treatment options, it remains imperative that proper home care measures and routine dental visits are followed to warrant the success of the treatment.
Image credits- freepik