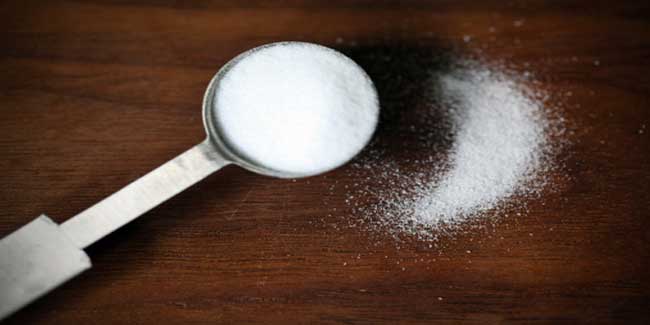 Baking soda has now moved out from your kitchen shelf and is making its entrance into your bathroom. Simply put, it is now considered to be one the best ways in which you can enhance your good looks. It is time you get ready for this transformation.
As is the case with many other things, the stuff that you can find in your kitchen is very useful in beauty treatments as well. One of the most useful things that you will find in your kitchen to use in beauty treatments is baking soda. This very common ingredient can do wonders for your skin and is perfectly safe when used properly.

[Read: Beauty Tips]
Deep Cleansing
Deep cleaning your skin and softening rough patches (yes, it's those elbows and knees we're talking about) is just one of several uses of baking soda. Mix three parts of baking soda with one part water to make a thick paste. Rub this mixture on your elbows or knees (or any other rough patch of skin) in a gentle circular motion. Let it stay for about 15 minutes and wash off to reveal visibly smoother skin. And as an added advantage, it can reduce the blackness of knees and elbows as well!
Sun Burns
If you have sun burns then you should soak a clean cloth in baking soda and water in order to make a cool compress. You could also take a bath in lukewarm bath with half a cup of baking soda in it, and this could soothe your irritated skin. So if you do not have aloe vera around then this could be of great help.

Exfoliating
For exfoliating you can add one teaspoon of baking soda to your cleanser and massage your face gently in order to remove the dead skin cells.In case if you have oily skin then you can add one teaspoon of baking soda to two tablespoons of uncooked oats.Then after mixing this with water scrub your face and skin in circular motions gently.

Foot Care

Your foot is most times ignored and it ends up looking really ugly. Ladies who wear sandals and heels should take special care of their heels and foot with baking soda. You should mix half a cup of baking soda for every four liters of water in a tub and soak your feet for at least half an hour.


While it is excellent for rough patches in such a concentration, it is not advisable to use such a harsh mixture on the soft skin of your face. But dilute this mixture in a mug of water and wash your face with the water to remove make-up, clean grime, and get rid of those pesky dead skin cells on your face. And if you thought that was all, sprinkle a little (no more than half a cup) baking soda in your bath water as well. It is an excellent natural cleanser and will leave your skin feeling fresh, smooth and supple. But if your skin is prone to get very dry, remember to rinse off very well. Baking soda is alkaline in nature and any residue left on your skin can cause irritation.
The humble baking soda is very useful in pampering your feet as well. Mix one tablespoon of common salt with two tablespoons of baking soda and stir this into bearably hot water in a tub. Soak your feet in it for 20 minutes to half an hour. This is a great way to remove embedded grime and dirt from your feet. Use the water and baking soda mix afterwards to rub around your ankles to get smooth and soft soles!
Read more articles on Beauty Treatments & Body Surgeries